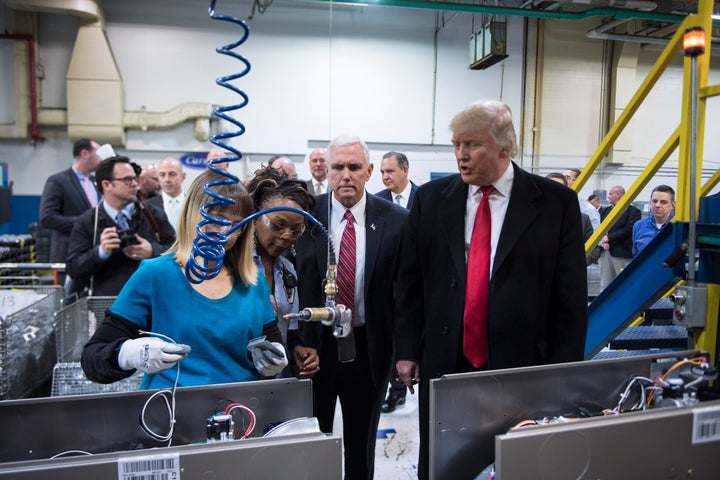 President-elect Donald Trump blasted Rexnord Corporation on Friday night for planning to move some 300 manufacturing jobs at a ball bearings factory to Mexico.
Rexnord's facility in Indianapolis, Indiana, is about a mile from the Carrier Corporation factory that Trump has made the showcase example of his agenda to preserve and restore domestic manufacturing jobs.
Trump did not include representatives of the local chapter of the United Steelworkers, the union representing the workers at both the Carrier and Rexnord plants, in the talks with the company over the factory jobs. Chuck Jones, head of the Steelworkers local, told The Huffington Post's Arthur Delaney that if Trump had consulted him, he would have asked for the president-elect's help saving the jobs at Rexnord as well.
In a Wednesday letter to Trump praising the Carrier deal, Sen. Joe Donnelly (D-Ind.) asked the president-elect for help saving jobs slated to be offshored at the Rexnord factory, as well as a CTS Corporation facility in Elkhart.
In light of his Friday tweet, Trump seems to have gotten the message about Rexnord.
The Trump transition team did not immediately respond to an inquiry about whether the president-elect would broker a deal with the ball-bearings maker similar to the agreement he struck with Carrier.
Trump made Carrier the poster child for his campaign promises to stop the offshoring of manufacturing jobs after a video of a Carrier executive informing distraught factory workers that the company was moving their jobs to Monterrey, Mexico went viral in February.
But the Rexnord factory, whose closing the company announced in June, has its own viral video. In October, Rexnord worker Draper Alumbaugh unloaded on his employer's "greed" in an interview with Indiana news station RTV6.
"It's pretty simple what these corporate people want," Alumbaugh said. "They want to pay people nothing and they want to profit everything."
Alumbaugh told HuffPost at the time that he was "probably" going to vote for Trump, since the then-Republican nominee was "trying to save my job."