WASHINGTON ― President Donald Trump didn't insult any war heroes. He didn't pitch conspiracy theories about millions of illegal votes. He didn't call the news media the "enemies of the American people."
For Republicans nervously watching the new president for signs of calm leadership, that was the good news, as Trump stuck to his teleprompter for nearly all of his 5,000-word, hourlong address to a joint session of Congress on Tuesday night, the first of his term.
"I am asking all citizens to embrace this renewal of the American spirit," Trump read, using language almost any president of either party might have used. "I am asking all members of Congress to join me in dreaming big, and bold and daring things for our country."
Now for the bad news: Trump provided no details on how a promised replacement of the Affordable Care Act would work; how, precisely, tax reform would be structured or paid for; or even the functioning of his "trillion-dollar" infrastructure plan.
And all of that's before Trump has had the chance to return to Twitter, as he is wont to do, where he's not reading off a prepared script and can say what he really feels.
House Speaker Paul Ryan (R-Wis.) blasted out praise immediately after Trump had glad-handed his way out the House chamber, calling the speech "a home run" and thanking Trump for taking the lead on repealing Obamacare and reforming the tax code, long a priority for the congressman.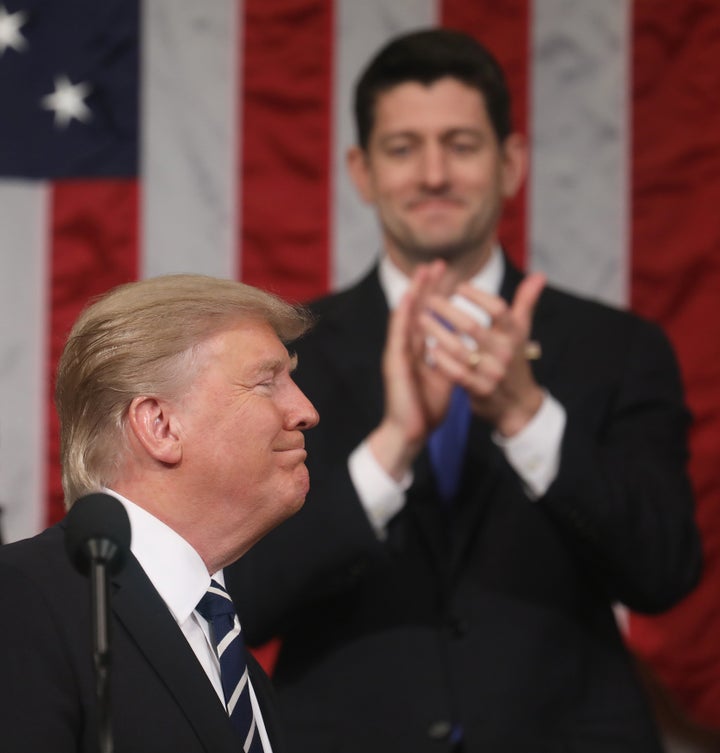 "I want to thank President Trump for putting us on a path to a better future," Ryan said in the statement.
Ryan, though, may come to rethink that enthusiasm in the coming weeks and months.
Because Trump in many ways boxed in his Capitol Hill party mates even as he provided scant details on what should be done.
On health care, for example, Trump called for a replacement of the Affordable Care Act that would "expand choice, increase access, lower costs and at the same time provide better health care" ― an impossible combination.
His new plan, he said, would continue to insure those with preexisting conditions and use tax credits and health savings accounts to help Americans pay for them. How big would the tax credits be, and who would be eligible? Trump didn't say, but he did promise: "The way to make health insurance available to everyone is to lower the cost of health insurance, and that is what we will do."
On tax reform, Trump voiced continued support for lower rates on both corporations and individuals ― an idea that Republicans leaders like Ryan can easily support. "It will be a big, big, cut," Trump promised. But then Trump added his support for including a feature to tax imports and subsidize exports, an idea that Ryan is backing, but it's already seeing powerful opponents in the business community and the Senate lining up.
On his much touted, trillion-dollar plan to rebuild roads, bridges and tunnels, Trump dispensed with it in 56 words. The only details offered were that it would include both public and private capital, and would create "millions of new jobs."
As for a "compromise" on immigration reform with a pathway to at least legalization for undocumented immigrants ― as Trump earlier Tuesday had suggested he could support ― there was not a word, making it easy for Democrats to conclude there was no reason to work with Trump at all.
"Everything that is broken in our country can be fixed. Every problem can be solved," Trump said. "Democrats and Republicans should get together and unite for the good of our country and for the good of the American people."
Trump probably should not be surprised if the reality of making that happen is a good deal harder than reading words off of his teleprompter.
Before You Go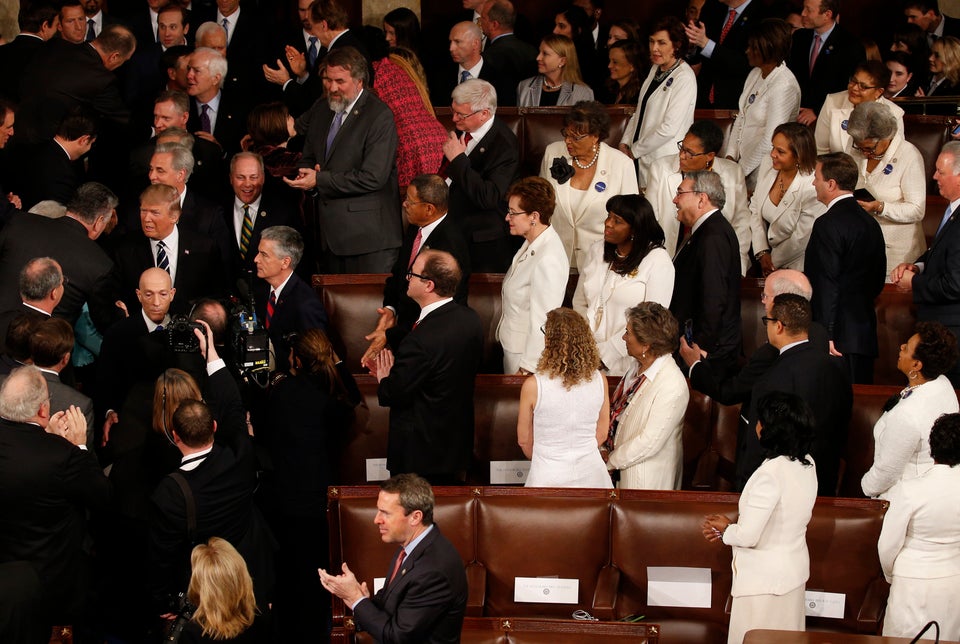 Trump's First Speech To Congress
Popular in the Community