WASHINGTON ― Ten weeks after the Trump administration unceremoniously pushed out several top-level State Department officials, their positions remain unfilled, and more than half of the positions listed on the agency's leadership chart are vacant or occupied by temporary acting officials.
Current and former State Department officials are concerned the government's main diplomatic arm is ill-equipped in a time of need. And the persisting vacancies raise questions about the White House's ability or willingness to find capable personnel to fill critical posts.
The staffing issue dates back to January, when, just days into his presidency, Trump notified some of the highest-ranking diplomats at Foggy Bottom that their services were no longer needed. In a move described by officials as an effort to "clean house," Trump pushed out the undersecretary for arms control, the undersecretary for management, the assistant secretary for administration, the assistant secretary for consular affairs and the director of the office for foreign missions. He did not line up replacements for those positions.
Veteran diplomats feared the Trump administration was executing a purge, prioritizing loyalty over know-how. And those fears intensified as several holdovers from previous administrations voluntarily quit their jobs.
Over two months later, the president has yet to find any loyalists to fill those top staffing voids and numerous others. Indeed, it appears that the only person Trump has nominated for a senior position at the State Department is someone with no prior diplomatic experience at all: Secretary of State Rex Tillerson.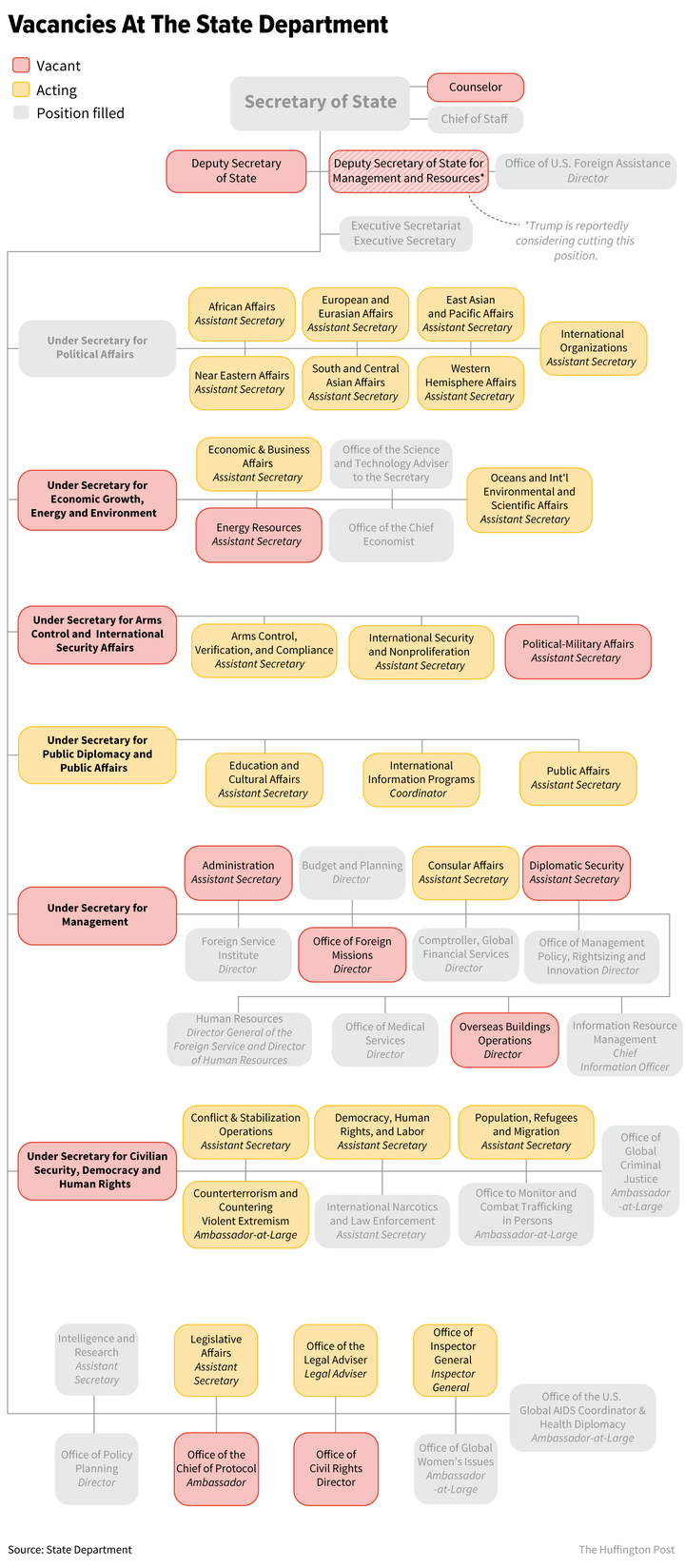 The Trump administration has made it abundantly clear that it sees the State Department as less valuable than past administrations have. The president's budget suggested paring back the department's budget by nearly one-third. And his appointment of an oil man with no diplomatic experience as secretary of state suggests he doesn't fully conceive of diplomacy as major geopolitical tool.
But the neglect goes well beyond financial commitments and the man at the top. Tillerson is currently running an agency with no deputy and significantly fewer undersecretaries and assistant secretaries than his predecessors had.
There are also nearly three dozen unoccupied senior positions designed to tackle specific current issues or conflicts. Right now, there is no State Department special envoy assigned to deal with the Six Party Talks aimed at curbing North Korea's nuclear program, the Israeli-Palestinian conflict, Sudan and South Sudan, Myanmar, or Afghanistan and Pakistan. There is also no special envoy tasked with outreach to Muslim communities, combatting anti-Semitism or climate change. The Trump administration is considering doing away entirely with several of these positions, Bloomberg reported in February.
Asked if there were plans to replace the high-level staffers who have left since Trump's inauguration, a State Department spokeswoman said only that the department had no personnel announcements.
"Acting career professionals are currently fulfilling positions as needed," she wrote in an email. "We continue to have a deep bench of experienced career professionals serving in key positions that are highly capable and able to help the Secretary lead the Department."
"Over time, vacancies will weaken U.S. diplomacy and force more and more business onto the desk of either the secretary or the White House. One wonders if that may be the point."
It's not unusual for new presidents to fill top State Department positions and ambassadorships with individuals of their own choosing. But for the sake of continuity and smooth governance, career officials are usually given advance notice before they're asked to resign. Tom Countryman, the former assistant secretary for international security and nonproliferation, found out he had lost his job while he was traveling to Rome for a meeting on nuclear weapons in January. He cut the trip short, headed back to Washington and cleared out his desk.
Previous administrations have often left career officials in place until their successors are named. That's because the scores of civil servants who remain onboard after the presidential transition rely on the heads of their departments for cues about changes in priorities and policies. Acting officials can be effective short-term managers, but the temporary nature of their tenure can limit their ability and willingness to decisively steer policy.
"'Acting' replacements can hold down the fort for awhile. But other countries pay attention to things like whether you've been selected by the president and confirmed by the senate," Jonathan Finer, former chief of staff and director of policy planning at the State Department, wrote last month. "Over time, vacancies will weaken U.S. diplomacy and force more and more business onto the desk of either the secretary or the White House. One wonders if that may be the point," he continued.
Trump appears to be in no rush to rebuild the neutered State Department. According to an analysis by Quartz, 57 countries and territories worldwide (including the Vatican) do not currently have a U.S. ambassador. That is partly due to a December order from Trump's transition team for all politically appointed ambassadors to leave their posts by Inauguration Day.
Since then, only two ambassadors have been replaced ― U.S. Ambassador to the United Nations Nikki Haley and U.S. Ambassador to Israel David Friedman. The Senate Foreign Relations Committee has received nominations for diplomats to serve in Japan, China, Senegal, and the Republic of Congo, committee spokesman Sean Bartlett told The Huffington Post.
There are no senior State Department nominations pending before the committee, Bartlett said.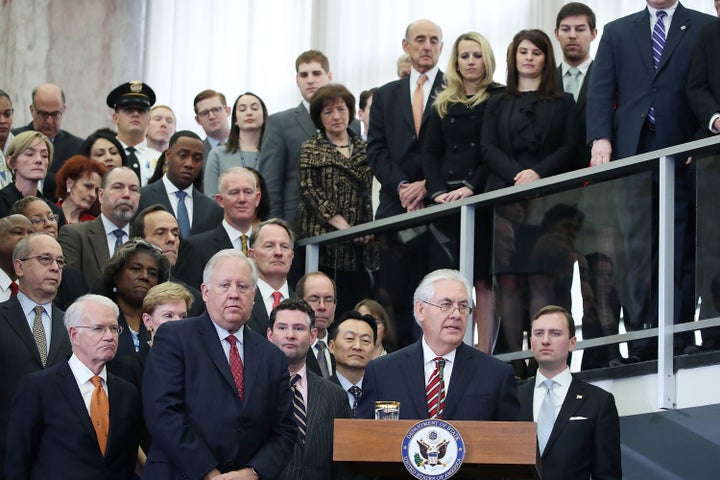 The sparse staffing at the State Department is consistent with Trump's call to slash the department's budget and his apparent willingness to dispatch close allies, including his family members, to conduct negotiations abroad in lieu of professional diplomats.
When the president wanted to send a representative to Israel and the Palestinian territories to explore options to broker a peace agreement, he chose his longtime lawyer Jason Greenblatt. (Greenblatt has worked closely with State Department officials.) Trump's son-in-law, Jared Kushner, has already served as one of the president's top advisers on relations with Canada, Mexico, China, Israel and the Palestinian territories. It appears Kushner has also added Iraq and counter-ISIS efforts to his portfolio.
When the staff exodus at the State Department began in January, there were indications that Trump planned to quickly replace at least some of the outgoing officials. The White House was expected to name a deputy to serve under Tillerson "within a few days," The Washington Post reported at the time. Neoconservative State Department veteran Elliott Abrams was reportedly a top candidate for the spot until Trump learned that Abrams had criticized him during the presidential race.
Tillerson still has no deputy.
Sign up for the HuffPost Must Reads newsletter. Each Sunday, we will bring you the best original reporting, long form writing and breaking news from The Huffington Post and around the web, plus behind-the-scenes looks at how it's all made. Click here to sign up!
Popular in the Community