WASHINGTON ― President Donald Trump claimed to be calling for Americans to come together on the issue of immigration in his State of the Union address on Tuesday.
But he couldn't resist painting immigration as an "us vs. them" struggle. Them: Immigrants, many of them violent gang members or terrorists. Us: native-born American citizens ― pointedly referred to using the same term often used for undocumented young people who came to the U.S. as children.
"Americans are dreamers too," Trump said.
He didn't refer to any foreign nations as "shithole countries" in his speech, say Mexican immigrants were rapists, or claim that other countries were sending their "worst people" through a diversity visa lottery. But Trump's framing of the state of U.S. immigration was as bleak and marked by falsehoods as ever. As he pitched immigration policy changes, Trump stayed on the morbid script he set when he launched his candidacy.
"For decades, open borders have allowed drugs and gangs to pour into our most vulnerable communities," Trump said. "They have allowed millions of low-wage workers to compete for jobs and wages against the poorest Americans. Most tragically, they have caused the loss of many innocent lives."
Trump is currently negotiating an immigration deal with Congress to avert a situation he caused: the imminent threat of nearly 700,000 undocumented young people losing deportation relief because he ended the Deferred Action for Childhood Arrivals program, or DACA. He made a fairly dramatic, albeit politically popular, shift when he came out in support for a path to citizenship for about 1.8 million so-called Dreamers, who consider themselves American in every way but on paper. But he's demanding conditions that could sink a deal. Dreamers can get relief, Trump says, so long as he can more easily deport other undocumented people, build a border wall and slash legal immigration.
In service of those policy changes, Trump highlighted immigrant stories solely in negative terms. He discussed the murder of two teenage girls, whose family members were guests at the speech, allegedly at the hands of MS-13 gang members. He also highlighted an Immigration and Customs Enforcement agent who has worked to arrest members of the gang. Later, Trump mentioned two terror suspects who legally immigrated to the country.
No one denies that bad actors exist within the immigrant population, but there's no evidence to support Trump's arguments that immigrants bring in more crime, or that immigrants who enter through the diversity visa lottery or through family-based visas are more likely to be terrorists.
Still, Trump's policies are based on convincing Americans that both are true. He wants to end the diversity visa lottery, which provides green cards to people from countries with low immigration levels, many of them in Africa ― some of which he reportedly called "shithole countries." (He denied making that remark.)
Trump also wants to end types of family-based immigrant visas, which he refers to derisively as "chain migration." The president wants to allow Americans and legal permanent residents to sponsor only spouses and minor children for green cards ― a move that would cut legal immigration dramatically. He claimed that as of now, "a single immigrant can bring in virtually unlimited numbers of distant relatives," which isn't true; in reality, U.S. citizens can sponsor only their spouses, children, parents and siblings. These desired changes would most heavily affect Hispanic and black immigrants.
In addition to those legal immigration changes, Trump wants to increase border security efforts, something Democrats broadly support as well. Some even said they were open to giving him his "wall," which he has already acknowledged is a term for wall, fence or nothing at all.
But Trump made closing "loopholes" another piece of his border security pitch, both in his demands to Congress and in his State of the Union address. The "loopholes," according to Trump, are policies that ensure unaccompanied immigrant children detained at the border are not deported without getting a chance to state their case for getting relief to stay in the U.S., that kids are not detained indefinitely, and that asylum-seekers are not turned away.
All of Trump's immigration demands have hit resistance from Congress ― even with Republicans, many of whom disagree with his desire to cut legal immigration levels. With only a week to go until another must-pass government funding bill and a bit over a month until DACA recipients begin losing protections in greater numbers, there's still no deal in sight.
The president gave ground on one thing, legal status for some Dreamers, and expects massive concessions on multiple facets of immigration in return. Or, as he called it during the speech, "a down-the-middle compromise."
"For over 30 years, Washington has tried and failed to solve this problem," Trump said. "This Congress can be the one that finally makes it happen."
Trump's immigration remarks got a positive reception from former Ku Klux Klan honcho David Duke.
They were less well-received by Democratic lawmakers, about 30 of whom brought Dreamers as their guests to the State of the Union.
Before You Go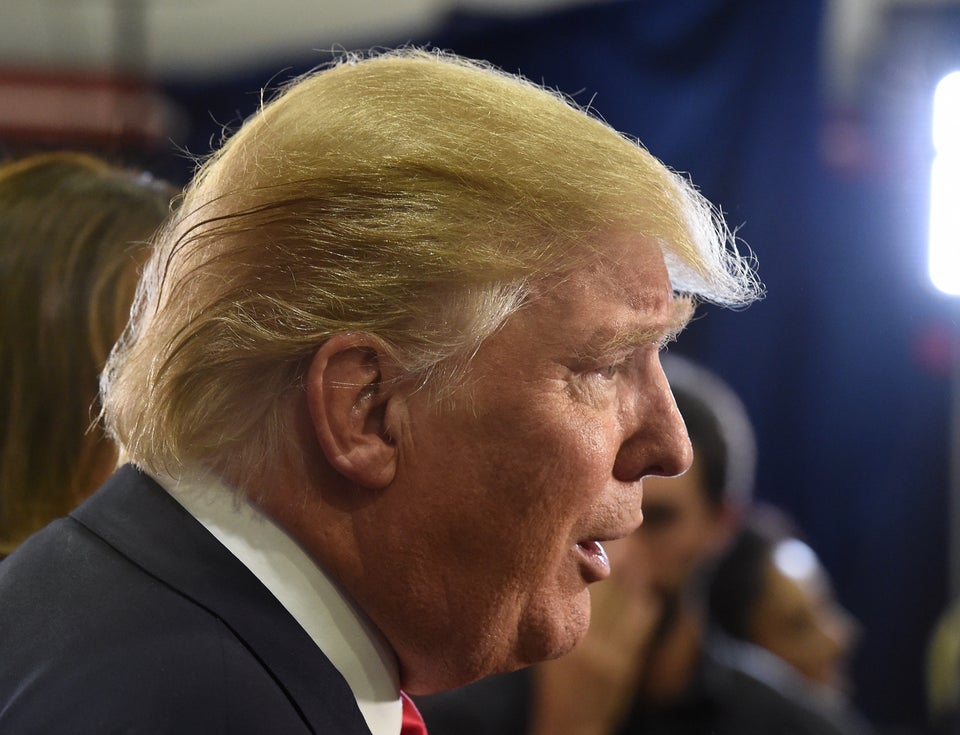 How Donald Trump Talks About Undocumented Immigrants
Popular in the Community