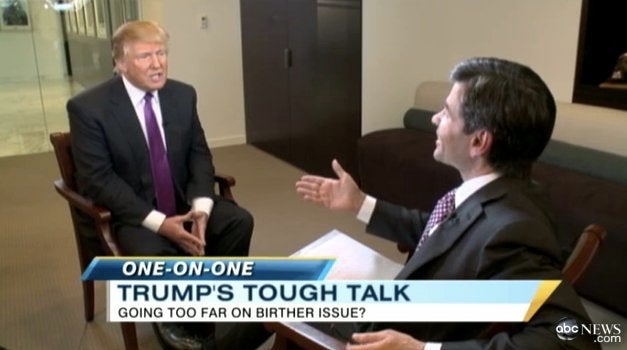 A rattled Donald Trump lashed out at George Stephanopoulos during a testy interview on Tuesday's "Good Morning America," accusing the ABC host of being "co-opted" by President Obama's "minions" due to his aggressive rebuttal of Trump's birther claims.
Trump has been on a fairly never-ending media tour since he announced that he was considering a run for the presidency, but Stephanopoulos was one of his toughest interviewers yet. He told Trump that "there is no question" about Obama's being a natural-born citizen of the U.S.
"I know exactly what you're getting at," Trump said. "The facts!" Stephanopoulos shot back. As he enumerated those facts, Trump cut in. "George, they've co-opted you," he said. "Who's they?" Stephanopoulos asked. "Well, obviously, Obama and his minions," Trump said.
"That's none of your business right now," Trump said. "We are going to see what happens." He repeated this phrase three or four more times, before saying, "George, next question, George."
WATCH:
Popular in the Community