WASHINGTON ― Donald Trump appears to have decided that the only way he can lose the November election is if it is stolen from him, thereby putting Republican Party officials in yet another no-win situation.
Either they defend their presidential nominee and impugn the integrity of this country's balloting, or incur the wrath of millions of his supporters who might believe his unsupported assertion of a "rigged" election.
So far, the consensus response has been silence.
The top two elected Republicans in the country, House Speaker Paul Ryan (Wis.) and Senate Majority Leader Mitch McConnell (Ky.), both of whom have endorsed Trump, declined to comment. Republican National Committee Chairman Reince Priebus' spokeswoman, Lindsay Walters, referred questions back to Trump. "I would ask the campaign to clarify what they mean," she said.
Trump's campaign did not respond to Huffington Post's requests for clarification. But at a town hall meeting in Columbus, Ohio, on Monday, Trump told his audience: "I'm afraid the election is going to be rigged, I have to be honest."
In an appearance on Fox News that aired later, Trump suggested there had been election fraud in 2012, and that it would likely happen again. "I'm telling you, November 8, we'd better be careful because that election is going to be rigged. And I hope the Republicans are watching closely or it's going to be taken away from us," he said.
And on Fox News again Tuesday, Trump said that with courts striking down voter ID laws as discriminatory, fraud was even more likely. "People are going to walk in there, they're going to vote 10 times, maybe. Who knows? They're going to vote 10 times," Trump said.
The campaign of Democratic nominee Hillary Clinton denounced Trump's remarks as irresponsible for a major party nominee. "Even for a reflexive conspiracy theorist like Trump, this is pathetic. It's dangerous, too," Clinton campaign spokesman Brian Fallon said.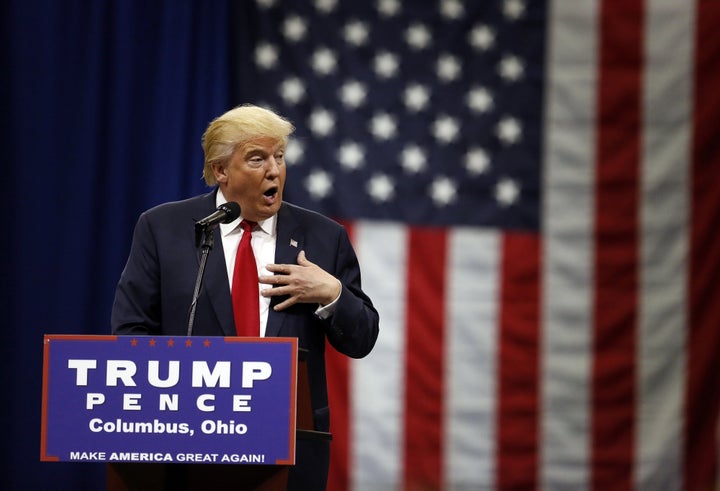 One RNC member who spoke on condition of anonymity could offer no defense: "What do you want us to say?"
Trump's claims ― for which he offered zero evidence ― appear to be following the advice of former campaign staffer and longtime adviser Roger Stone.
"I think we have widespread voter fraud, but the first thing that Trump needs to do is begin talking about it constantly," Stone told the conservative website Breitbart.
"He needs to say, for example, today would be a perfect example: 'I am leading in Florida. The polls all show it. If I lose Florida, we will know that there's voter fraud. If there's voter fraud, this election will be illegitimate, the election of the winner will be illegitimate, we will have a constitutional crisis, widespread civil disobedience, and the government will no longer be the government,'" Stone said. "I think he's got to put them on notice that their inauguration will be a rhetorical [one], and when I mean civil disobedience, not violence, but it will be a bloodbath. The government will be shut down if they attempt to steal this and swear Hillary in. No, we will not stand for it. We will not stand for it."
Stone, like Trump, pointed to the 2012 election and Ohio in particular. He cited GOP strategist Karl Rove's storied meltdown on the set of Fox News when he refused to believe analyses that Obama had won that state.
"The reason he was so certain is because it was bought and paid for. He knew the fix was supposed to be in. Therefore I can only conclude that sometimes things don't stay bought, and perhaps Obama came in with a better offer," Stone said.
That theory, that Democrats had committed widespread election fraud to win Ohio, was a favorite among internet conspiracy theorists after Obama's re-election. To counter that, the state's Republican secretary of state, Jon Husted, conducted an exhaustive investigation that found, out of 5.6 million votes cast, a total of 135 involved possible fraud. Most were instances of a person trying to vote twice, while two dozen involved people registered to vote in Ohio and another state.
Husted told The Huffington Post on Tuesday that while Democrats are wrong to say that Republicans have made it too difficult to vote, "Donald Trump is wrong when he says the system is rigged. Ohio is a place where it is easy to vote and hard to cheat."
This article has been updated to include additional remarks Trump made on Fox News.
Calling all HuffPost superfans!
Sign up for membership to become a founding member and help shape HuffPost's next chapter
BEFORE YOU GO
PHOTO GALLERY
Republicans Who Have Refused To Back Donald Trump