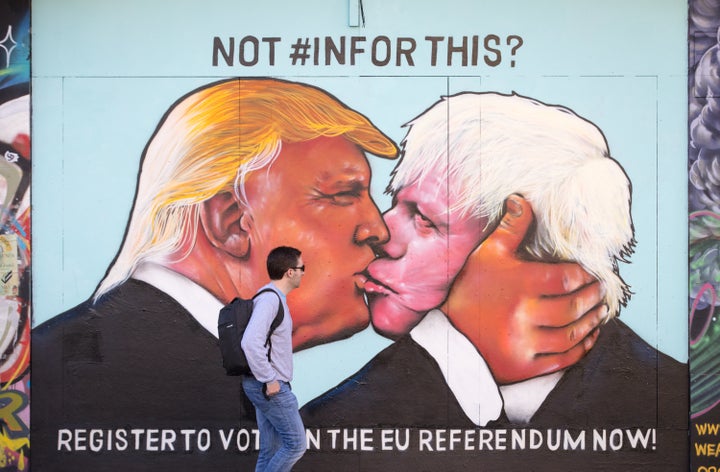 Donald Trump has added another political notch in his bedpost. Kind of.
The Paintsmiths -- Felix "FLX" Braun and Jack "Dones" -- painted the image onto a wall in Bristol, southwest England, on Monday. Photographs of the piece are now going viral.
The 15-foot-high artwork was commissioned by campaign group We Are Europe, which wants Britain to remain as part of the EU.
"People need to look at this image and think -- is this the future I want?" We Are Europe spokeswoman Harriet Kingaby said in a statement.
If more Britons don't register to vote in the upcoming referendum on June 23, she said, "It's likely the UK will leave the EU and this is the kind of 'special relationship' that might become a reality."
As with Mindaugas Bonanu's piece in Lithuania, The Paintsmiths' mural was inspired by Dmitri Vrubel's "My God, Help Me To Survive This Deadly Love" -- painted on the side of the Berlin Wall in 1990 and a riff on the "Socialist Fraternal Kiss" photograph, which showed former Soviet leader Leonid Brezhnev kissing East German leader Erich Honecker.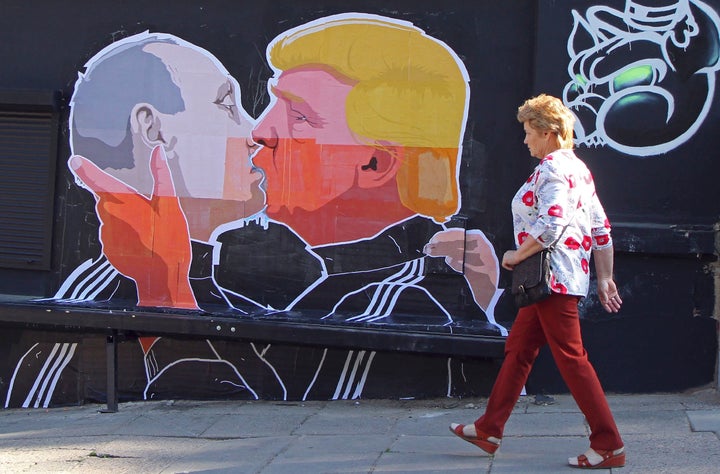 Reaction to the latest mural, which is down the street from Banksy's "The Mild Mild West" in the Stokes Croft neighborhood, has been overwhelmingly positive, said Braun.
"People were beeping their horns, stopping their cars to take pictures out of the window, shouting their approval, coming up and shaking our hands," he added. "I'm voting in and it was great to chat to so many people today who will be registering to do the same. It was a pleasure to be involved."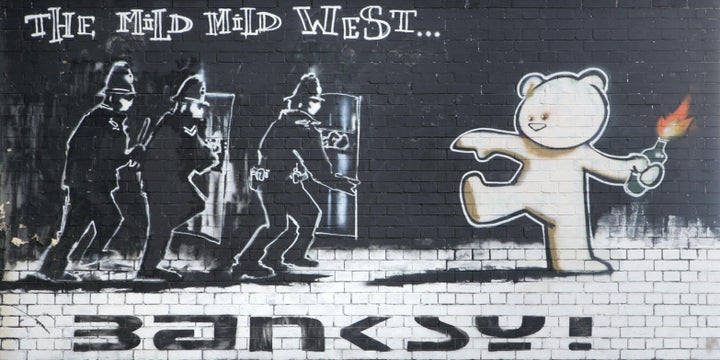 He said he faced death threats from Trump supporters after announcing he would be exhibiting a tweaked version of the piece at a show in Los Angeles in October. After the initial furor, he told The Huffington Post the attacks had died down.
Related
Popular in the Community