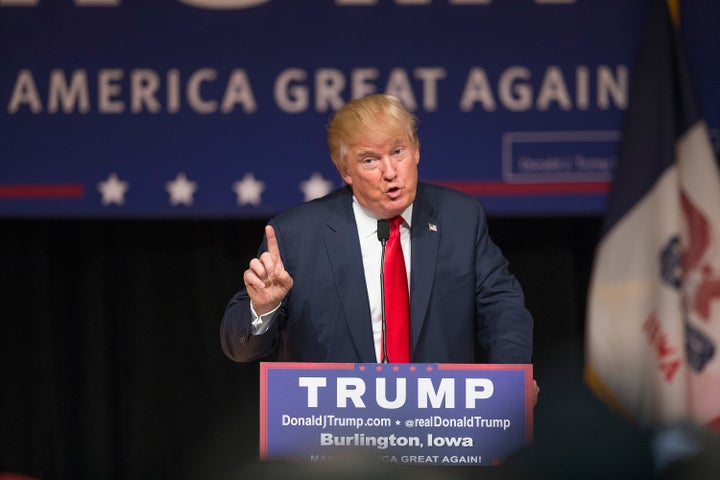 WASHINGTON -- Donald Trump, the eccentric billionaire leading the Republican presidential race, told all super PACs supporting him to return any contributions they have received.
"I am self-funding my campaign and therefore I will not be controlled by the donors, special interests and lobbyists who have corrupted our politics and politicians for far too long," Trump said Friday in a statement. "I have disavowed all Super PAC's, requested the return of all donations made to said PAC's, and I am calling on all Presidential candidates to do the same. The character of our country is only as strong as our leaders — the only special interest I am beholden to is the American people and together we will Make America Great Again!"
The statement comes after reports by the Washington Post showed that Trump and his campaign were connected to the Make America Great Again super PAC to support his campaign. The super PAC announced it would close down after the reports were published.
Trump further sent a letter to each of the super PACs that appear to support him to tell them to cease operations and to not use his likeness to raise money.
Every candidate running for the Republican presidential nomination is bolstered by a super PAC or nonprofit supporting their candidacy.
Sen. Marco Rubio (Fla.) is aided by both a super PAC and a dark money nonprofit. The nonprofit has already spent $6 million to boost his candidacy without disclosing the donors behind it.
Trump has not entirely funded his campaign without help from donors, as he claims. He has lent or contributed $3.7 million to his campaign and received $3.9 million from other donors. Most of those donations came from those giving under $200 and very well could represent people purchasing Trump's famous "Make America Great Again" hats.
Calling all HuffPost superfans!
Sign up for membership to become a founding member and help shape HuffPost's next chapter