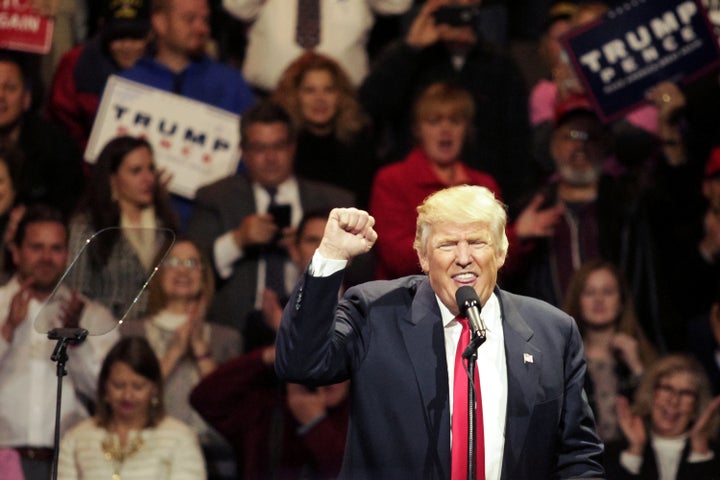 SPRINGFIELD, Ohio ― At times, the closing argument of Donald Trump's presidential campaign seems to be built around instilling paranoia in his supporters. The election may be rigged, stolen by a media complex obsessed with undermining his candidacy and by corrupt bureaucrats trying to fix the vote, Trump has warned.
This claim has intensified an already skeptical group's dislike of the press and sparked fear among Democrats and Republicans alike that there may not be a peaceful transition of power come Nov. 8.
But at a pro-Trump rally here on Thursday, there was little indication that the Republican nominee's passionate base of supporters were ready to take up pitchforks if the election didn't go their way. If anything, the vast majority of them seemed emotionally prepared for the possibility that their beloved Trump would lose, scoffing at the idea that it would prompt fantasies of political revenge.
"We've got better character than that," said Greg Grierson, 59. I may "go into mourning for a while," he added, but he mostly just plans on working hard and getting on with his life.
For the more than a dozen people interviewed inside and outside the Champions Center Expo on an overcast, windy fall day, the stakes of the election are high. They are worried about the spiking costs of health insurance; wary about government interference in schools; and petrified that an influx of immigrants would worsen their already precarious employment prospects. But they also say they are committed to the principle that election results should be respected, regardless of the outcome.
"It worries me a little bit. But I still believe in the process," said Tim Combs, 50, who believes Trump is "God-ordained" to win this year.  
Juli Cherry, 56, is a cancer survivor and runs a hair salon that employs nine people. She gets her insurance off the Obamacare exchanges ― and it doesn't come cheap. Her monthly premium is $1,000 and her deductible is $1,500, she says. She makes just over the amount needed to qualify for a subsidy, so the recent news of premium spikes on the exchanges has her spooked. If costs increase notably, she may have to drop coverage and pay the mandate penalty instead.
"I feel that politicians no longer serve the public," Cherry said. "They don't serve our interests. They serve their own."
For this reason, as well as for her distaste for Hillary Clinton's support of abortion rights, Cherry is a Trump fan. But if the election goes Clinton's way, she won't revolt, take to the streets or indulge in the conspiracies of vote rigging. "If she wins, we have four years to figure out the next time," Cherry said. "We won't be happy. But we will survive and figure it out." 
Marcia Zink is similarly troubled with Clinton's stance on abortion. A devout Catholic, she came to the Trump rally 31 weeks pregnant with her ninth child. If Trump loses, she said, she would have "a day of prayer." And then, she would move on.
"We have to trust the system," Zink said of the possibility that the election might be rigged.
In conversation after conversation, attendees at the rally echoed this message. There were exceptions, of course. Ashley Greer, 26, said that if Clinton wins, she might head to Washington D.C. to participate in rallies demanding her ouster. "She needs to be impeached," Greer said. "That's what needs to happen … they need to lock her up."
But, by and large, the crowd seemed content to let the vote count stand on its own. If Clinton wins, people said they'd regroup and try to elect Republicans in the next congressional cycle ― and a president like Trump in 2020.
"I will work even harder than now to get my fellow people involved and get them engaged," said Zoanne Bouche, who said she was "50-something." As for blood on the streets, she replied: "That's silly."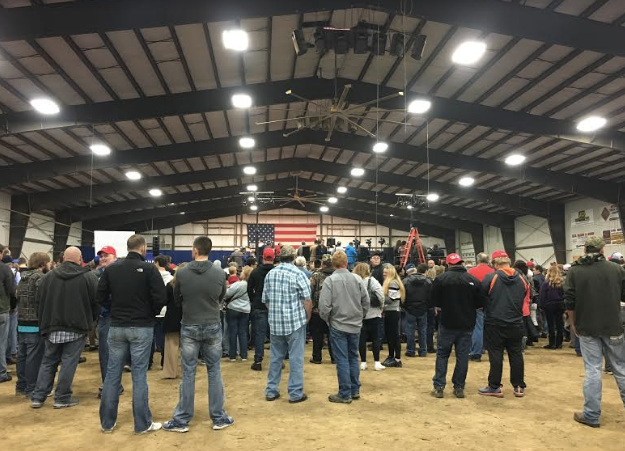 Bouche's mentality, and that of other Trump fans present, may be a product of culture and geography ― the crowd's Midwestern sensibilities overwhelming a more rebellious instinct. At other Trump venues, attendees have talked more openly about post-election protests if Trump loses. At a recent event in Colorado Springs, The New York Times found Trump fans speaking of "another Revolutionary War" come Nov. 9.
Still, this bloc of Trump backers' reluctance to indulge in such talk suggests it's just that: talk. And that after Election Day, much of the animus and fear will likely dissipate and life will go on.
This attitude doesn't only extend to the election results. Several Trump supporters at the Springfield rally also said they didn't support the idea ― pushed recently Sens. John McCain (R-Ariz.) and Ted Cruz (R-Texas) ― that a Republican Senate could simply refuse to confirm any Supreme Court justices nominated by Clinton if she becomes president.
"That's a little extreme," said Marquis VanDeMark, 60, who stood outside the rally, a red "Make America Great Again" hat perched on his head, handing out voter guide fliers made by the group CitizenActionUSA. "We aren't a banana republic. Come on now. Seriously."   
Instead, attendees seemed more focused on reshaping their own party and political ecosystem if Trump loses. Many expressed frustration with the way Fox News ― the usually reliably conservative TV stalwart ― had covered the election, saving particular umbrage for host Megyn Kelly, who has clashed with Trump surrogates about the nominee's boasts of sexual assault.
"Megyn Kelly posted for several pictures in GQ that were sexually explicit," said rally attendee Doug Tipton. "And now she is appalled with Trump? I'm getting tired of all that."
Others seemed more piqued at how Republican congressional leaders have handled Trump's nomination. None of the rally attendees interviewed for this piece had nice words for House Speaker Paul Ryan (R-Wis.) or their own Republican governor, John Kasich, who challenged Trump in the GOP presidential primary. Although Ryan has stuck by his endorsement of Trump, he has put as much distance as possible between himself and the GOP nominee. Kasich, by contrast, is an open Trump critic.
"I used to like Kasich, but he acted like a fool during this whole thing," Grierson said. "Paul Ryan is not a stronger fighter for conservatives than [former Republican House Speaker John] Boehner, and Boehner was weak."
"[I am] very disappointed," Sharon Bennett added. "I would hate to see their next election cycle because no one here is going to vote for them. They're cowards, they're babies."
HUFFPOST READERS: What's happening in your state or district? The Huffington Post wants to know about all the campaign ads, mailers, robocalls, candidate appearances and other interesting campaign news happening by you. Email any tips, videos, audio files or photos to scoops@huffingtonpost.com.
Calling all HuffPost superfans!
Sign up for membership to become a founding member and help shape HuffPost's next chapter