CLEVELAND ― Republican presidential nominee Donald Trump may be suspicious of Mexico, but his supporters can't get enough tacos, tamales and fajitas.
Trump backers at the Republican National Convention this week told HuffPost that they love Mexican food, though some expressed concerns that it might be prepared by undocumented immigrants.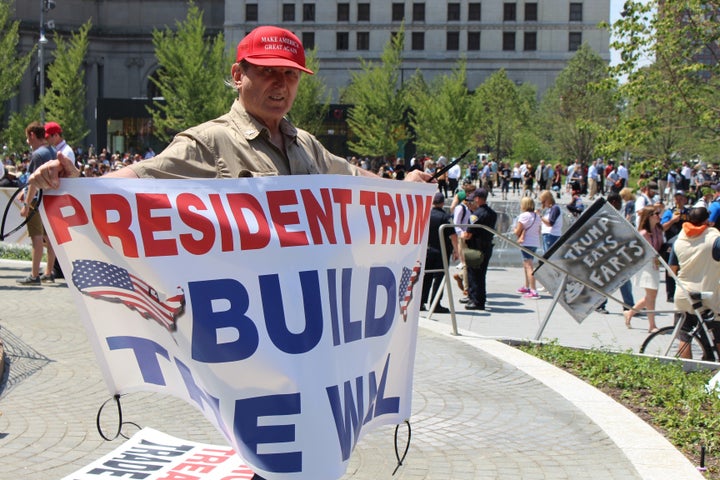 Vietnam War veteran Arthur Jones, 70, traveled from Chicago to wave a banner at Public Square near the convention site reading "President Trump, Build The Wall." He said he feared losing his country to a "Third-World invasion."
Jones added that he had "nothing against Mexicans, per se," and that his wife "works with a lady of Hispanic descent."
Asked to describe Mexican-Americans' greatest contributions to the United States, Jones said: "Drugs, crime, illegitimacy." Pressed to think of something positive, Jones added: "I like tacos."
Hispanic politicians and immigrant rights activists have lashed out at Trump since last summer, when he launched his presidential campaign by painting Mexican immigrants in broad strokes as "rapists" who are "bringing crime" and drugs. He promised to build a "big, beautiful wall" along the length of the U.S. southern border and make Mexico pay for it.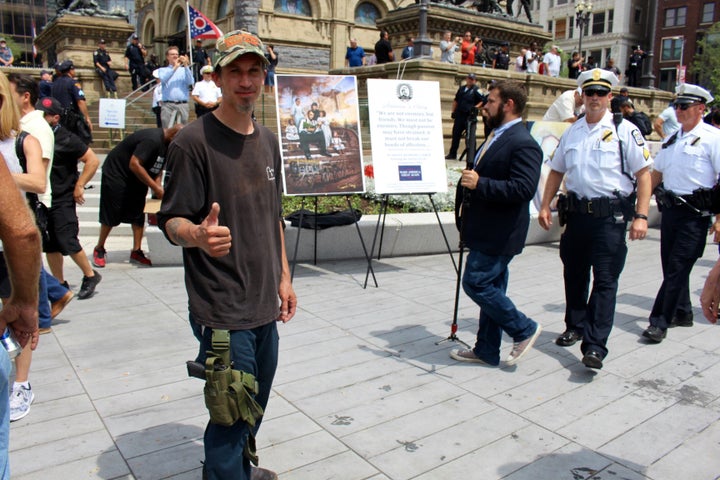 All the Trump supporters interviewed in Cleveland said they had immigration concerns, though most offered more sympathetic views of Mexican immigrants than Jones.
No matter how hardened their position against immigration, interviews with Trump supporters consistently revealed a soft spot for Mexican cuisine. Some viewed Mexican food as part of their regional identity.
Many cities along the U.S.-Mexico border are among the safest in the nation. But Hoss Winters, a truck driver from Phoenix, said he'd been told at times by local law enforcement to stay out of some areas near the border because of cartel activity.
During stops along the border, he'd walked into the neighboring Mexican cities of Juárez, Nuevo Laredo and Tijuana. He said he disliked them all, describing them as mired by corruption and crime. "The border towns [in Mexico] are garbage, just like on our side," Winters, 37, said.
But he did like one thing about those travels.
"I love Mexican food," Winters said. "How can I live in the Southwest and not?"
Don Manen, a GOP alternate delegate from Texas who lives in the Rio Grande Valley, likewise viewed Mexican cuisine as part of his heritage.
As a border resident, he said he favored Trump's wall idea because he was concerned about security. "I've got nothing against Mexicans," Manen said, noting that he had several undocumented friends, whom he described as "hard-working."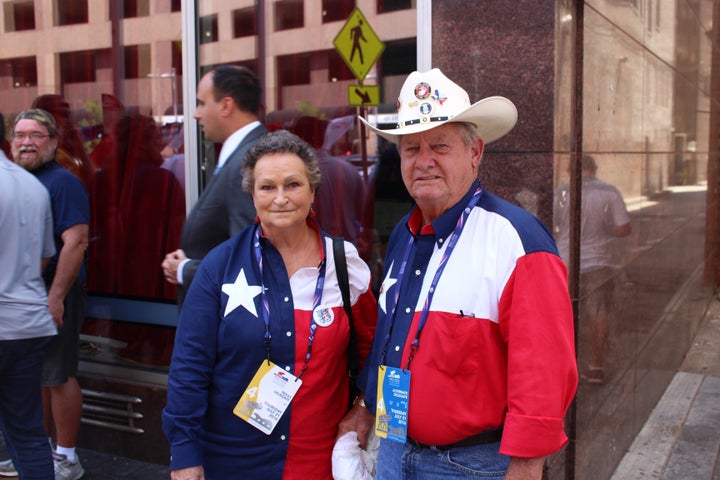 One of Manen's favorite dishes is beef fajitas. "I love it," he said. "I'm a Texan."
Bob and Marion Auray, retirees who split their time between Scottsdale, Arizona, and Pittsburgh, showed their support of Trump with baseball caps bearing his campaign slogan, "Make America Great Again."
But having lived in Arizona among immigrants, some of whom lacked legal status, they sympathized more with undocumented folk than with the candidate they're backing. They described Trump's hard-line stance on immigration as "tough" and indelicately communicated.
"That's not to say that we agree how the message was said, but we agree with the message," Marion Auray said.
"We eat a lot of nachos and stuff," she added. "A little bit of everything."
Asked to say the first three words that come to his mind when he hears the word "Mexico," college student Devin Conway, 21, said: "Cartels. Oppression. Culture."
But Conway, waving a blue flag bearing Trump's campaign slogan, described his experience with undocumented immigrants as largely positive. He especially admired his editor at the school paper ― who is undocumented and criticizes Conway's support of Trump ― as exceptionally industrious.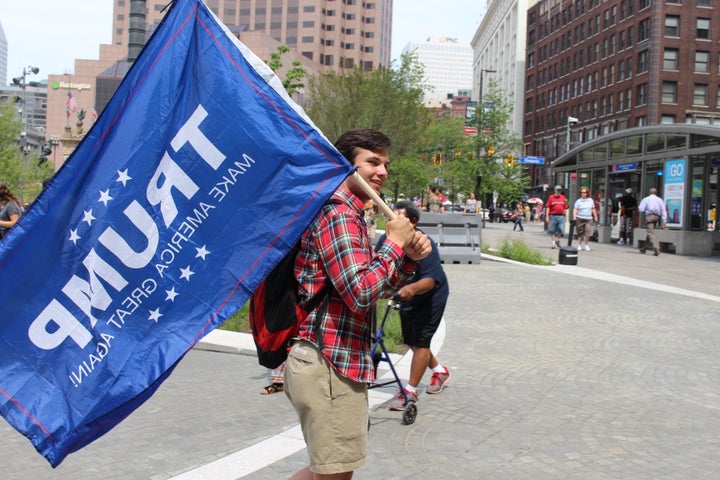 "Not to stereotype them, but I think they actually are very hard workers," Conway said of undocumented immigrants. "They have a sort of quiet dignity. They're more willing to work with their hands to support their families."
"We love their food," Conway went on. "It's become a huge part of our culture."
Enjoying Mexican food allows people who might otherwise feel prejudiced against Mexicans to rationalize their aversion as something other than racism, said O.C. Weekly editor Gustavo Arellano, the author of Taco USA: How Mexican Food Conquered America.
"Everyone hates Mexicans, but everyone at the same time loves Mexican food," Arellano said. "When they're eating it, they're able to disassociate it from the people who made it, or who picked it or slaughtered those cows."
Still, Arellano welcomed the gustatory enthusiasm.
"They're sowing the seeds of their own destruction," Arellano said. "We've already conquered your stomach. That's the beachfront we just won. Next step, we're going after your heart. That's been a long, arduous process, but hopefully it will happen as well."
Trump himself appears to share a fondness for Mexican food. He tweeted a widely shared photo of himself eating a taco bowl on Cinco de Mayo.
Some Trump supporters, like Robert Bigelow of Cincinnati, do think about who makes their food. Authentic Mexican dishes are hard to find in Ohio, but Bigelow got a taste for it when his truck routes sent him through the Texas border zone.
"That's good food, because they got Mexicans cooking it," Bigelow said. "The legal ones."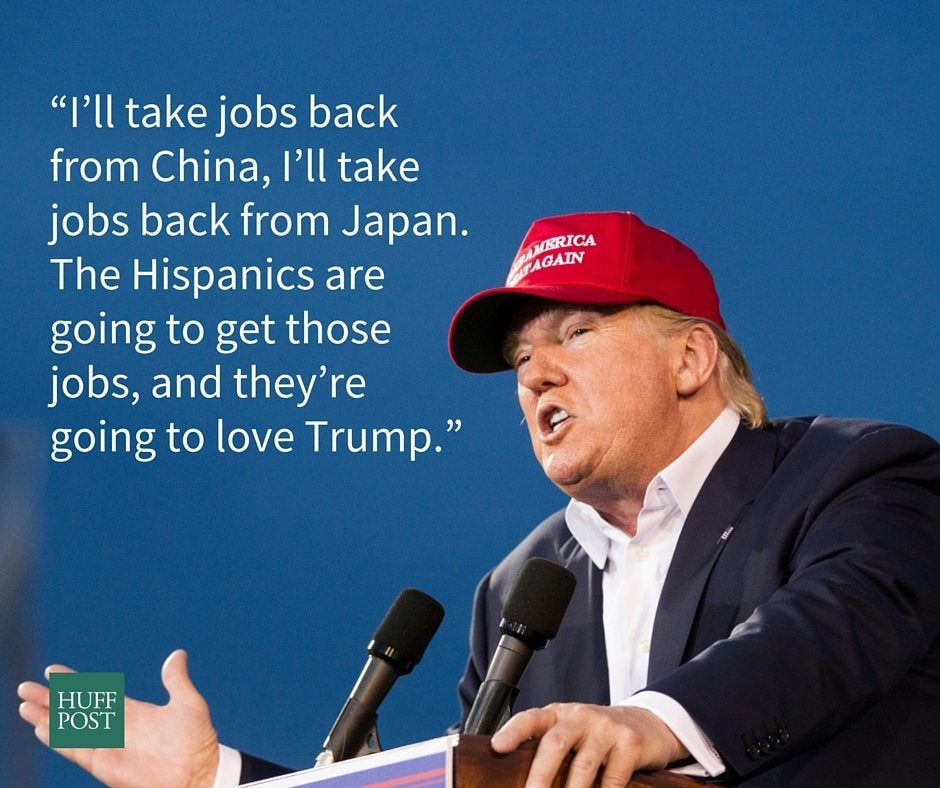 9 Other Absurd Things Donald Trump Has Said About Latinos
Popular in the Community