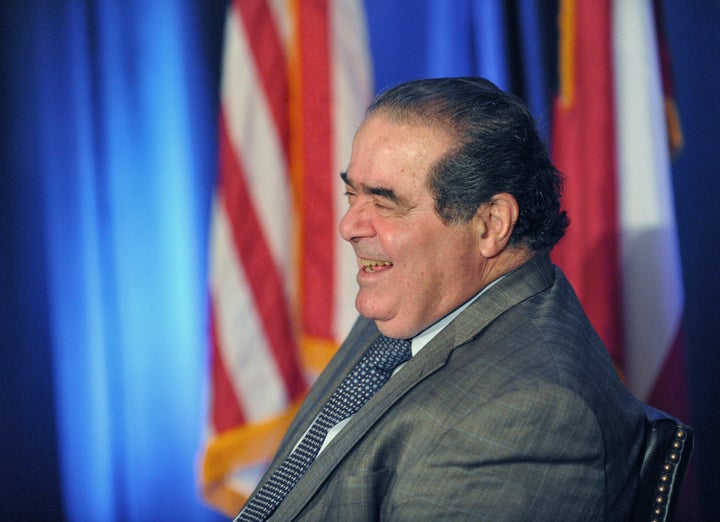 WASHINGTON ― Donald Trump won the election in part because he convinced conservative voters that he was the only one who could preserve the Supreme Court legacy of the late Justice Antonin Scalia.
Unmoved by Trump's rhetoric, the authors of the forthcoming "Searching for Justice Scalia" looked at each of his pre-nominees' judicial record and assessed it against variables that could be attributed to the late justice, who died in February and whose seat has remained vacant.
The three key variables are adherence to the doctrine of originalism, citations to Scalia's non-judicial writings and how often the candidate was willing to dissent or write separately from his or her colleagues on whatever court he or she sat ― something Scalia was known for.
"We thought there must be some way to at least put a number on it ― a quantifiable measure so we're not throwing out catchphrases," said Mercer University law professor Jeremy Kidd, one of the study's coauthors.
To get there, Kidd and fellow empiricists Riddhi Sohan Dasgupta, Ryan Walters and James Phillips scoured published opinions from a legal database and crunched the instances when each of Trump's potential nominees paid homage to Scalia ― by, say, writing about the Constitution's so-called original meaning or citing his treatise on interpreting the law.
The study acknowledges these benchmarks are "less than perfect" and offers areas where metrics fall short. But the goal, Kidd said, was to try "to add some substance to what otherwise has been a substance-less discussion" and to pinpoint which of Trump's picks might "fill [Scalia's] space in terms of the jurisprudence well enough."
Once all was said and done, each judge in the study was given a Scalia index score: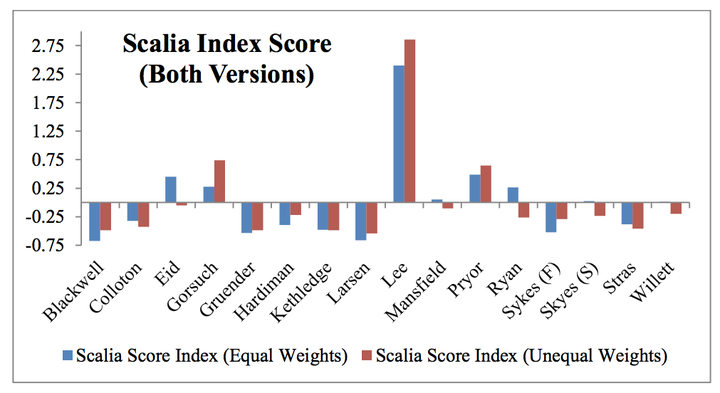 Unrivaled at the top of Trump's list is Thomas Lee, a justice on the Utah Supreme Court and the brother of Sen. Mike Lee (R-Utah) ― who, ironically, was left out of the study because he lacks a judicial record. (A staunch Trump critic, Lee didn't seem impressed by his high court nod.)
Also high up on Kidd's analysis are federal appeals judges Neil Gorsuch and William Pryor, relatively young jurists who are leading lights in conservative legal circles.
The study authors are quick to note a number of caveats to their methodology. For one, some candidates simply could not be assessed because they didn't have a paper trail, had no experience in a multi-member appeals court or were simply too old to realistically have a shot at leaving a lasting impression on the Supreme Court.
This meant several names were not given a score for Scalia-ness and thus were crossed out: Mike Lee, Michigan Supreme Court Chief Justice Robert Young, Florida Supreme Court Justice Charles Canady, U.S. District Judge Amul Thapar of Kentucky and U.S. District Judge Federico Moreno of Florida.
It's also quite a different ballgame to work on a state's highest court ― as do almost half of Trump's candidates, who may not get as many chances to interpret the U.S. Constitution ― than working as an intermediate appellate judge, who is constrained by precedent and may have less freedom to wax romantic about Scalia's legal contributions.
"Comparison of the two very different types of judges is a bit of an apples-to-oranges scenario: Not only are the two types of judges constrained differently by precedent, they also are unlikely to hear the exact same mix of cases," the study said.
Other judges, like Michigan Supreme Court Justice Joan Larsen, simply don't have enough of a tenure to measure their Scalia-ness, and thus their numbers should be taken with a grain of salt. (A separate project by the Northwestern University Law Review sampled key opinions by all the candidates.)
In the end, Kidd said he hopes the paper moves the conversation beyond broad promises by Trump to nominate "conservatives" to the Supreme Court to something more meaningful.
"I doubt there will ever be anyone that will come close to replacing Scalia," he said. "But as far as someone who could fill the same judicial role, I think there are people out there who probably could."
Support HuffPost
The Stakes Have Never Been Higher
Before You Go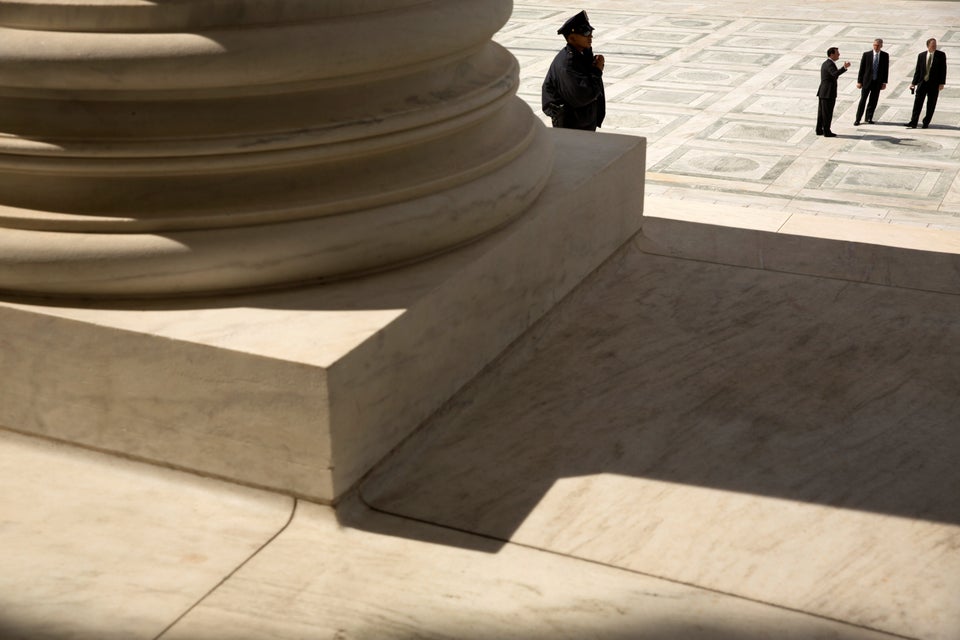 Exclusive Look Inside The Supreme Court
Popular in the Community