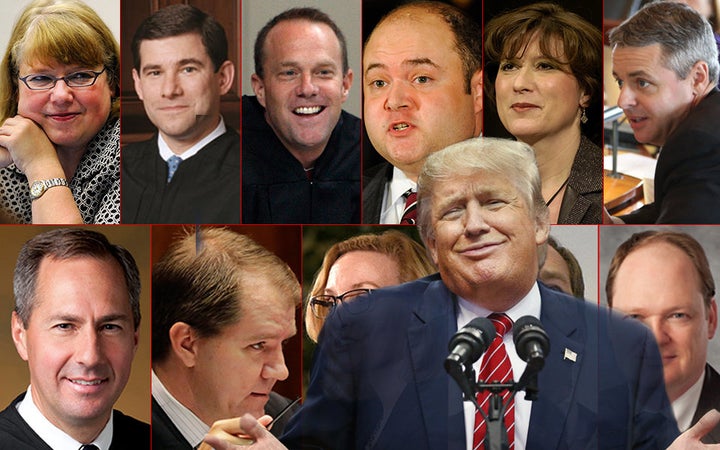 Donald Trump on Wednesday fulfilled his promise to release his list of potential Supreme Court nominees -- a group he has vowed would consist of conservative jurists with "great intellects."
The most notable names among his picks are Texas Supreme Court Justice Don Willett and U.S. Circuit Judges Diane Sykes and William Pryor, all of whom are well respected in Republican circles.
On Friday, Willett led the Texas Supreme Court in an unanimous ruling that the state's crumbling school infrastructure meets "minimum constitutional requirements" despite grave budget shortfalls. Last summer, a senior editor at libertarian publication Reason praised Willett for authoring "a full-throated defense of economic liberty" in a state licensing case.
The other judges on the list aren't exactly household names, and are drawn largely from federal appeals courts across the country.
They include Steven Colloton, an 8th Circuit judge who once clerked for former Chief Justice William Rehnquist and served as a Justice Department lawyer; his colleague Raymond Gruender, who worked as a federal prosecutor in Missouri for several years before Bush appointed him to the bench; 6th Circuit judge Raymond Kethledge, another Bush appointee with experience in both public service and private practice; and Thomas Hardiman, whom Bush appointed to both a district and appellate court position.
The list is rounded out by four state Supreme Court justices: Joan Larsen of Michigan, Allison Eid of Colorado, Thomas Lee of Utah and David Stras of Minnesota.
Trump included only three women and no minorities on his list of judges. But none of his suggested potential candidates graduated from Harvard Law School, and only one went to Yale -- something that addresses a common critique of the current Supreme Court, which only includes justices from Ivy League law schools.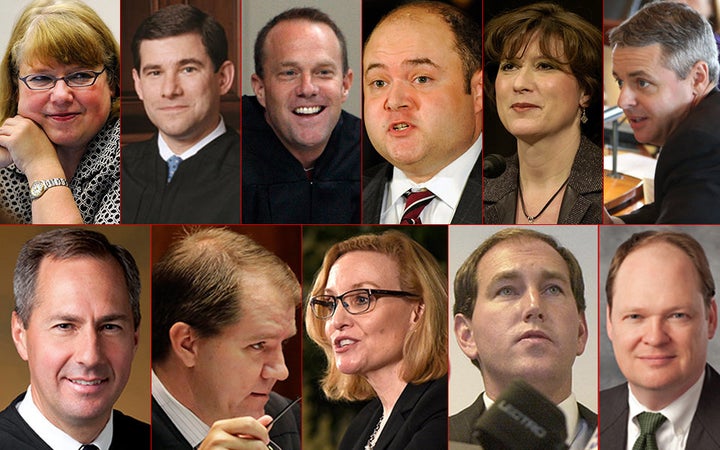 Of the names on the 11-judge list, five coincide with those put forward by Heritage: Willett, Sykes, Pryor, Colloton and Gruender.
Conservatives have warned that the presumptive Republican nominee, who has displayed shifting views on hotly contested issues such as abortion and same-sex marriage, may not be up to the task of securing the legacy of the late Justice Antonin Scalia, who died in February.
"Justice Scalia was a remarkable person and a brilliant Supreme Court Justice. His career was defined by his reverence for the Constitution and his legacy of protecting Americans' most cherished freedoms," Trump said in a statement accompanying his list of names.
"At a time when the future of the issues most vital to conservatives is more tied to the Court's composition than ever before, the Republican party is about to nominate a man who inspires little confidence in conservatives," senior political correspondent Jim Geraghty wrote.
Some people Heritage suggested, like former Solicitor General Paul Clement and Sen. Mike Lee (R-Utah) -- both of whom have served as clerks on the Supreme Court -- didn't make the cut. (Lee's brother, Thomas, did make Trump's list; the two are sons of the late Rex E. Lee, former U.S. solicitor general under Ronald Reagan and onetime president of Brigham Young University.)
The Judicial Crisis Network, a conservative advocacy group that has fiercely opposed President Barack Obama's choice of Merrick Garland for the Supreme Court, seemed to be pleased with Trump's selections.
"The names on this list would need to be vetted, obviously, but they all seem to share in common a record of putting the law and the Constitution ahead of their political preferences," Carrie Severino, the group's chief counsel, said in a statement.
Senate Judiciary Chairmain Chuck Grassley (R-Iowa) also looked on Trump's wish list approvingly. He had previously called Trump's clinching of the Republican nomination a "gamble" for the future of the Supreme Court, and for the last two months has roundly refused to hold a hearing on Garland.
"Understanding the types of judges a presidential nominee would select for the Supreme Court is an important step in this debate so that the American people can have a voice in the direction of the Supreme Court for the next generation," Grassley said in a statement shared by the Trump campaign.
The White House, meanwhile, downplayed the announcement as yet another sign that Republicans are not interested in meeting Obama in the middle on Garland, who is widely regarded as a moderate nominee.
"I would be surprised if there are any Democrats who would describe any of those 11 individuals as a consensus nominee," said White House spokesman Josh Earnest at his Wednesday briefing. "But the individual who President Obama has put forward is somebody that Republicans have described as a consensus nominee. I think that speaks to the wisdom of the Senate acting on the president's nomination."
This article has been updated throughout.
Support HuffPost
The Stakes Have Never Been Higher
Popular in the Community