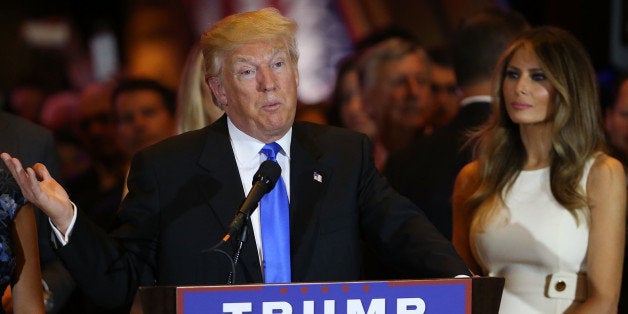 Ben Carson should have been sidelined from GOP politics forever after his presidential campaign tanked. In addition to his major foreign policy gaffes and his bizzaro tax plan, he'd defined himself as a complete troglodyte on social issues, particularly his horrific comments about homosexuality. He'd compared homosexuality to pedophilia and bestiality, and said prison turned men toward homosexuality, proving being gay is a "choice." He claimed that gay marriage would lead to polygamy and bring something akin to "the fall of the Roman Empire."
But no, Donald Trump has announced that Ben Carson will play a role on his vice presidential selection committee -- and Carson is reported to actually be on the VP running mate shortlist himself. Also reported to be on the shortlist is another enemy of LGBT equality, who's been advising Trump as part of his inner circle for months now and who endorsed Trump early: Senator Jeff Sessions of Alabama.
The GOP senator is among the most anti-LGBT senators in history, scoring a zero continually from the Human Rights Campaign, voting for everything anti-gay that ever came before the Senate, like a constitutional amendment banning gay marriage, and against everything remotely pro-gay, from a hate crimes bill to protect gays to the repeal of "don't ask, don't tell." He's said it would be "a big concern" to have a gay Supreme Court nominee and attacked the "activist judiciary" that ruled for marriage equality. He opposed Elena Kagan's nomination to the Supreme Court in part based on her support for LGBT equality as dean of Harvard Law School.
Also reported on Trump's short list, and another man who's been privately advising Trump and publicly praising him, is Newt Gingrich, the perennial homophobe who called gay marriage a "temporary aberration" and compared it to paganism. In 2014 he implied the LGBT rights movement was inspiring the left's "new fascism."
Others on the shortlist, all of whom have been talking with or advising Trump to varying degrees are: Oklahoma governor Mary Fallin, who said gay marriage violates "religious freedom," successfully fought hard against LGBT rights measures in her state, dropped benefits for all couples in the Oklahoma National Guard rather than give benefits to same-sex couples and whom Trump said would be a "great" VP pick; Chris Christie, who's opposed gay marriage for years as a bully to equality in New Jersey; and Florida governor Rick Scott, who fought marriage equality, supports allowing religious-based adoption agencies to turn away gay couples (and is opposed to adoption by gays altogether, though didn't fight a court ruling) and who signed an anti-gay law as recently as this past March.
Trump also will soon release his picks for Supreme Court justices, saying he would choose them in the "mold" of the late virulently anti-gay Antonin Scalia, and even floated in recent days the idea of putting that homophobe from hell, Ted Cruz, on the high court.
A few days ago I wrote a piece about The New York Times' bizarre attempt to portray Trump as "far better on gay issues" than much of the GOP since he had gay friends and business associates in his past and had congratulated Elton John on his civil union in 2005. I also pointed to all the anti-gay statements and positions Trump has recently articulated, which reporter Maggie Haberman left out of her piece. Looking at who he's surrounding himself with now, and the fact that he's received huge support from evangelical voters as well their leaders, like Jerry Falwell Jr., it's even more clear that, like Ronald Reagan, no gay friends from the past will likely get in the way of Trump dutifully bowing to moralists who helped put him in office.
Trump is himself opposed to marriage equality and told religious conservatives during a Christian Broadcasting Network interview to "trust me" to overturn what he called the "shocking" Obergefell ruling from the Supreme Court on marriage equality. While it would be quite difficult to overturn Obergefell, it's safe to say, looking at who Donald Trump is turning to now, that it's not likely there will be any progress on LGBT rights -- and quite likely there could be great harm to them -- under a Trump presidency.
Calling all HuffPost superfans!
Sign up for membership to become a founding member and help shape HuffPost's next chapter