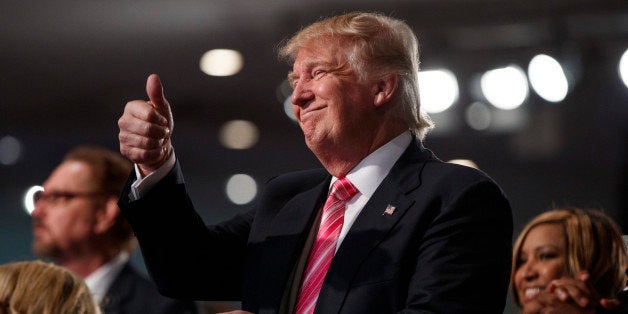 As I watched Donald Trump on Friday in Philadelphia meeting with Black Republican leaders, then visiting a Black Church in Detroit over the weekend, and also giving an interview to the Impact Network (a Black Christian religious network) I waited and waited to hear his policies on why Black America should try him as something new. Trump claims we have nothing to lose; he even said that he would be unveiling a new civil rights agenda. But the more he talked, the more I thought about a song that my surrogate father, the godfather of soul himself, James Brown, made that contained the following lyrics: "Like a dull knife just ain't cuttin/just talkin' loud then sayin' nothing."

After combing through all of the public reports, and after interviewing Bishop Jackson on my MSNBC "Politics Nation" show (Trump visited this Bishop's Detroit Church), I do not see a hint of an agenda or a suggestion as to how Trump would do anything to tackle our very real concerns. It is merely a bunch of slogans and themes that do not explain at all what he would do around the challenges of continued inequality from jobs to wages, to criminal justice reform, to health care disparities or to unequal access to education and more. We, the Black community specifically, are in dire need of more progress in all of these areas, but have unquestionably faired better under Democrats than Republicans. There is still no track record of Trump, who has been in business for three decades, that indicates a commitment to Blacks. What we do have instead is a record of housing discrimination and full-page ads to bring the death penalty back to New York against five Black and Latino teenagers.

For Trump to get national coverage all weekend about his so-called efforts to reach out to the Black community and not be clear about any sort of specifics would be laughable were it not so serious. There isn't even anything to debate here because he hasn't proposed a single thing. How do you contrast Clinton's criminal justice, health, economic and education policies -- all outlined at National Action Network's convention, the National Association of Black Journalists' convention, as well as other settings -- when Trump has not outlined anything or met with anyone? This weekend was just more theatrics without any concrete substance.

It is time that people understand that it is an insult to Black voters (or any voters for that matter), if you ask them for their support, suggest that they not support others, but not give any reason why they should support you. It is blatantly implying that we are dummies because we support Democrats for no reason, as if we don't see, hear and observe policies and realities that impact our lives. We know very well what happens under Republican leadership versus Democratic leadership on both local and national levels, and our votes coincide with that reality.

I understand from Bishop Jackson that Trump said he's willing to meet with civil rights leaders including Cornell Brooks of the NAACP, Mark Morial of the National Urban League and myself just as Clinton did. That meeting should be for him to not only hear from us, but for him to outline his agenda in all of the areas I mentioned and how he would put his background as a businessman to practice. Absent that, this weekend was just a series of photo ops. Maybe he can't lay out policies because he's appealing to a fringe right crowd that would object and he doesn't want to lose their backing. Maybe if he had a set target or percentage of how many Black businesses he would create or support in order to alleviate economic inequality for example, that would fly in the face of some of his base. Maybe this is precisely why he opted not to give any specifics and use a dull knife that didn't cut the butter in Detroit.

Just talkin' loud and so far, sayin' nothing.
Calling all HuffPost superfans!
Sign up for membership to become a founding member and help shape HuffPost's next chapter