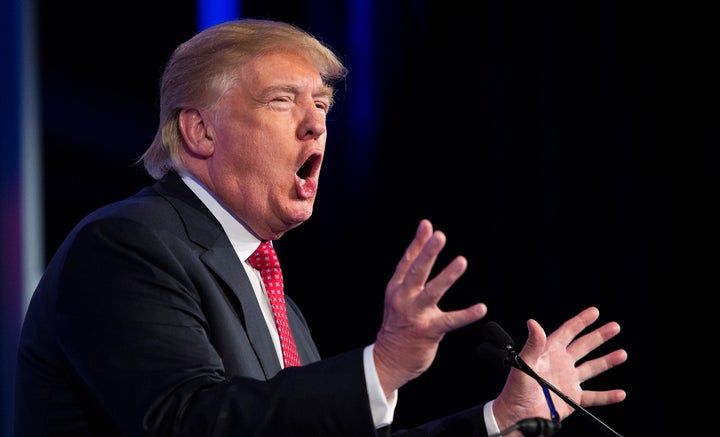 Trump claims on his website that his plan "doesn't add to our debt." But the businessman-birther, who believes wrongly that vaccines cause autism, should at least recognize when numbers don't add up.
The plan, introduced on Monday, promises massive benefits for wealthy Americans. Trump would reduce the top income tax rate from 39.6 percent to 25 percent, slash the tax rate for the largest corporations from 35 percent to 15 percent, lower the tax rate on stock and bond profits, and entirely eliminate the estate tax. That last tax applies only to the estates of dead millionaires, while securities earnings overwhelmingly flow to the very richest households.
As a result, the Tax Foundation found that Trump's plan would boost the incomes of the top 1 percent of taxpayers by 21.8 percent, while those of the lowest-income Americans would rise by only 1.4 percent. The national debt, meanwhile, would jump by $12 trillion over the next decade.
The Tax Foundation, which has received hundreds of thousands of dollars from the Koch brothers, presented another set of calculations based on favorable assumptions of economic growth that it said would be driven by Trump's policies. Under that scenario, the national debt would climb by just $10.2 trillion over the next 10 years. Under that more favorable scenario, the Tax Foundation concluded that the lowest-income households would see their incomes rise by 10.7 percent, while incomes for the top 1 percent would rise by 27 percent.
Trump's campaign has said his tax plan will make up for the massive drop in federal revenue due to all the tax cuts by also closing loopholes. But that is just not mathematically possible.
Fellow GOP presidential hopeful Jeb Bush has also pitched a tax platform featuring huge financial benefits for the rich. The Tax Foundation found that the Bush plan would cost federal coffers $3.66 trillion over the next decade -- or $1.6 trillion under its more forgiving projection assuming certain economic growth. Jeb Bush would cut income tax rates for the very richest to 28 percent and reduce tax rates on the biggest corporations to 20 percent -- levels far below those implemented by his brother, then-President George W. Bush.
Popular in the Community