WASHINGTON ― Republicans on the House Ways and Means Committee voted down a measure offered by Rep. Bill Pascrell (D-N.J.) to force President Donald Trump to release his tax returns to the committee.
In a party-line vote on Tuesday, 24 committee Republicans voted against the measure and 16 Democrats voted for it.
This is the second time committee Republicans have voted to keep Trump's tax returns secret and the third time the House has held a vote on the subject. In February, committee Republicans sunk a prior measure from Pascrell, and then, on the floor of the House, Republicans beat back a resolution, also from Pascrell, to force the release of Trump's tax returns. Both votes were along party lines.
Trump has refused to voluntarily release his tax returns for public review, though every other president since Gerald Ford has released some portion of their tax returns. Trump claims he can't release his returns because they're under a "routine audit," but has provided no evidence of one. There is also no law or regulation preventing individuals from publicly disclosing their tax returns when they are under audit.
In an often-testy committee hearing, Republicans argued that Democrats were simply playing politics. "Frankly, this resolution is a procedural tool being utilized, and I think abused, for obvious political purposes," committee chairman Kevin Brady (R-Texas) said.
Pascrell shot back it was entirely proper to use the law and added that the committee had a duty to ensure the president's business interests don't conflict with his work for the American people.
"It is our responsibility under the Constitution, Mr. Chairman ― very clear, very clear ― to provide oversight of the executive branch and root out conflicts of interest," Pascrell said. "That is our responsibility."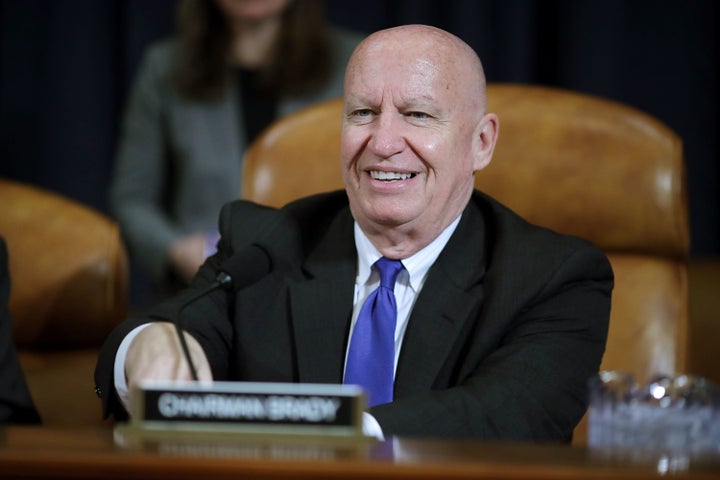 Republicans on the committee argued that Democrats were improperly using a law enacted after the Teapot Dome Scandal in the 1920s that permitted the committee to obtain the tax returns of executive branch officials under investigation at the time. The committee used the same law decades later to obtain President Richard Nixon's tax returns during the Watergate scandal. Republicans, including Brady, also used the law in 2014 to investigate allegations that the IRS improperly targeted conservative nonprofits.
Rep. Jim Renacci (R-Ohio), a former tax lawyer, argued that the president's tax returns would not reveal any items of interest.
"You're railing off on things that you would never find on a tax return," Renacci said, adding that Democrats were instead on a "political mission, not a mission of fact."
Rep. Jason Smith (R-Mo.) echoed that sentiment. "This hearing clearly has showed me that this is just a bunch of political grandstanding," he said.
This was the common theme from Republicans on the committee. One after the other, they argued that Democrats were only interested in politics and that Trump's returns would contain nothing of interest beyond what was already revealed in the financial disclosures he had to file with the Federal Election Commission.
Republicans' accusations that the measure was only about politics irked some Democrats. After Rep. Kristi Noem (R-S.D.) declared that the whole exercise was about politics, Rep. Joe Crowley (D-N.Y.) replied defensively.
"To impugn the integrity of [Rep. Pascrell] is irresponsible," Crowley said. He added, "Our motivation is to find the truth."
In addition to blocking the release of Trump's tax returns twice on the Ways and Means Committee and once on the House floor, Republicans also voted to block a measure in the House Judiciary Committee requiring the Department of Justice to inform the committee about its investigation into the Trump campaign's ties to the Russian government.
Without much power in Washington to hold hearings and call witnesses, Democrats are hoping to get Republicans on the record obstructing disclosures the public supports. The majority of Americans want Trump to release his tax returns, as every other president in the modern era has done.
Calling all HuffPost superfans!
Sign up for membership to become a founding member and help shape HuffPost's next chapter