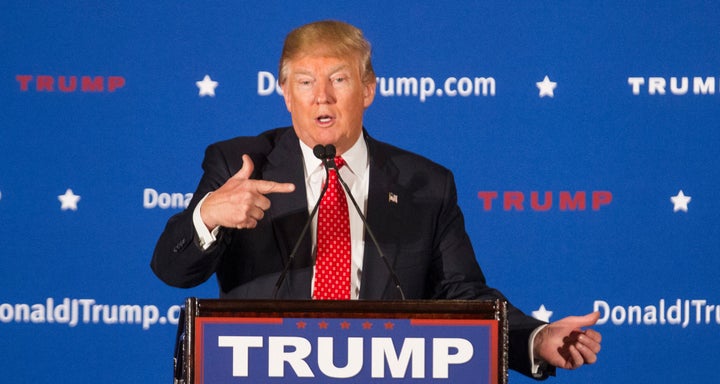 The "anchor baby" slur is back in the GOP presidential race, and this time, it's being thrown at one of the candidates.
Republican front-runner Donald Trump said Friday that Sen. Ted Cruz of Texas is an "anchor baby." It was all part of the real estate mogul's repeated riffing on the fact that Cruz was born in Canada.
"Now, Ted Cruz may not be a U.S. citizen. Right? But he's an anchor baby in Canada. No, he's an anchor baby. Ted Cruz is an anchor baby in Canada," Trump said at an event in New Hampshire, according to ABC News.
His insult doesn't make much sense, other than as an excuse to throw out the words "anchor baby." Cruz is definitely a U.S. citizen. He was born in Canada to a U.S. citizen mother, making him an American by birth. He also had dual citizenship with Canada, because the country automatically confers citizenship on people born there.
So, under the "anchor baby" idea, Cruz's mother supposedly went to Canada with the express purpose of having a baby there in order to obtain Canadian citizenship and benefits for her child and a permanent tie to our northern neighbor for herself. Really? In fact, the family moved back to the U.S. when Cruz was a child, and he renounced his Canadian citizenship in 2014.
Trump rarely misses an opportunity to slam Cruz over his Canadian birth or to criticize immigrants, and the phrase "anchor baby" neatly combines both. He also likes to claim that Cruz is ineligible to be president and that children born to undocumented immigrants in the U.S. aren't actually citizens -- neither of which most legal scholars agree with.
In the ongoing immigration debate, "anchor baby" is a racially loaded term, aimed particularly at the children of non-white immigrants. Cruz's father was born in Cuba, and Trump has used the slur for Latinos in the past.
"What happens is they're in Mexico, they're going to have a baby, they move over here for a couple of days, they have the baby -- [the lawyers are] saying it's not going to hold up in court," Trump said in August, claiming again that children born in the U.S. to undocumented immigrants are not citizens.
It should be noted that Cruz has used the "anchor baby" term as well and also wants to end birthright citizenship. He brushed off Trump's "anchor baby" remarks aimed at him when asked about them Friday.
"I like Donald," he said. "He's welcome to say whatever he likes. I like and respect him."
Igor Bobic contributed reporting.
Popular in the Community