MANCHESTER, N.H. -- Donald Trump liked it when a woman yelled out at his rally Monday night that Sen. Ted Cruz (R-Texas) was a "pussy." He liked it so much that he repeated to the audience what she said.
"You're not allowed to say it, and I never expect to hear it from you ever again. She said that he's a pussy," Trump informed the crowd at the Verizon Wireless Arena in downtown Manchester on the eve of the state's primary election.
The crowd loudly cheered. Trump then joked, for the sake of the press, that he was reprimanding her.
The woman's comment came after Trump said he was surprised Cruz didn't go further in support of waterboarding at Saturday's GOP debate, where Cruz and Trump sparred over whether the technique should be used to interrogate terror suspects. Cruz argued it should be used sparingly, while Trump said he would authorize tactics that are "a hell of a lot worse than waterboarding."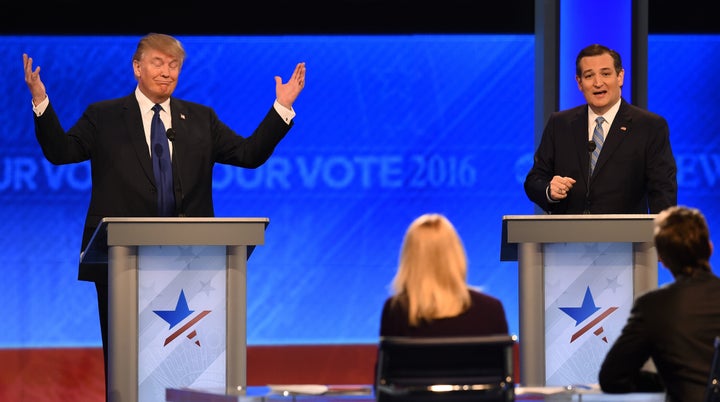 Trump reiterated on Monday that he believes waterboarding should be reinstated, inciting loud roars of approval.
Trump also went after another rival, Sen. Marco Rubio (R-Fla.), saying he was "sweating like a dog" amid his gaffe at Saturday's debate.
Sitting in Section 223, Tom Jones of Nashua, New Hampshire, cheered wildly as Trump went through his speech.  
"America has a cancer and he is chemotherapy," Jones said.
Jones said he was committed to supporting Trump on Tuesday, arguing that the two political parties had failed the country.
That Trump had indirectly called Cruz a "pussy" only added to the allure.
Many attendees said that they had gone to the rally just to see Trump put on a show. Doug Alderman, of Exeter, said he had been leaning against Trump before the rally. Afterward, he was 95 percent convinced he'd vote against him. "I think he tried to be too much of an entertainer," Alderman said. "He had the right idea but he wasn't presidential."
Others were hearty believers. Ron Bertolaccini, of Derry, said the bombast wasn't an issue for him. "I want someone who can get things done the way that I want them to get done -- conservative," he said.
Trump seemed to have moved on from his second-place finish in the Iowa caucus last week. He said someone told him that if he had attended the Fox News debate before the caucus -- which he skipped because of his dislike for moderator Megyn Kelly -- he could have won.
Trump replied that he told that person, "I did win Iowa."
UPDATE: 2/9 -- Trump stood by his remarks during an interview Tuesday with MSNBC's "Morning Joe," calling them a "great moment."
"I got a standing ovation, the place went wild. Somebody said mixed cheers. Let me tell you, the place went wild," he said. 
PHOTO GALLERY
Donald Trump and Ted Cruz's Love Affair Is All The Relationships
Calling all HuffPost superfans!
Sign up for membership to become a founding member and help shape HuffPost's next chapter