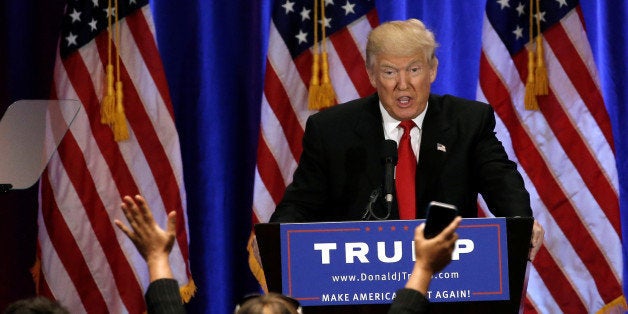 On Wednesday, June 29th, Ed Rollins, a good man and central Trump strategist was quoted by the Wall Street Journal as follows about his candidate for President, Donald J. Trump:
"He's gone from severe rhetoric to staying pretty consistent but with a more thoughtful approach," said veteran Republican strategist Ed Rollins, who is working with a pro-Trump super PAC. "It's getting to be a more structured campaign, but it's not like he's switching positions on abortion and gun control."
Is that a winning strategy for the most senior and important office in the land?
Mr. Rollins knows that the narrative of Donald Trump has been defined in this campaign: This man would be really bad for America and the American people know it.
So what will the GOP nominee grasp to do?
Re-introduce himself to general election voters by now reading from a prompter?
The outcome of that was a poor speech at best that removed the one quality Donald Trump had brought to this election: he spoke his mind. He WAS authentic even if many found him to be less then honorable.
In fact, Donald Trump often made fun of people that did the very same thing he is doing. In you focus closely, you will see a man who has adopted a speaking style markedly different from his own.
His remarks weren't without insults, however.
Donald Trump has attacked President Obama and his rival former Secretary of State Hillary Clinton -- prompter or not -- utilizing the same bullying tactics that he used against each of his Republican rivals.
And it should concern the American electorate as well, especially the Republican Party, when the nominee of the GOP is just that toxic to the future of America.
You know who is a smart man besides Ed Rollins?
Is America ready for a global depression?
What more convincing does the GOP need -- yet alone the Country?
We are all about to find out. The Republican Party is better than this.
Michael Duga has served in numerous roles beginning in the Clinton Administration. This includes serving Chief of Staff to Former Senator Max Cleland and as a Senior Policy Advisor to the Department of Defense. Mr. Duga is currently the Chairman of the Say No To Trump political action committee.
Calling all HuffPost superfans!
Sign up for membership to become a founding member and help shape HuffPost's next chapter