WASHINGTON -- Presumptive Republican presidential nominee Donald Trump made a pointed but subdued appeal Friday to religious conservatives, a group he has struggled to win over in the past.
Trump pledged during an address to the Faith and Freedom Coalition's annual Road to Majority conference to "restore faith to its proper mantle" in U.S. society.
"I'm with you 100 percent." Trump told the crowd gathered at the Omni Shoreham hotel and convention center in Washington, D.C. "We will respect and defend Christian Americans. " He added that he would work hard to advance "our shared values."
Trump told the mostly evangelical attendees that he would pursue a conservative agenda if elected. The businessman expressed his opposition to abortion, support for Israel and his intention to nominate conservative judges to federal courts, as he generally stuck to themes familiar to the GOP's religious base. "Marriage and family as building block of happiness and success," he said.
It was a low-key address compared to Trump's often boisterous and overtly provocative speeches, most closely mirroring the candidate's remarks to the American Israeli Political Action Committee in March, when he eschewed his extemporaneous speaking style for a teleprompter.
Though Trump's Friday address was delivered with the assistance of a teleprompter, he kept his off-the-cuff remarks to a minimum and was instead very deliberate, carefully outlining how he shared the audience's agenda. He also made a point of acknowledging several religious conservative supporters, including Liberty University President Jerry Falwell Jr. and Ralph Reed, the founder and chairman of the Faith and Freedom Coalition.
Trump's speech wasn't completely somber. "I happen to be Presbyterian," he quipped at the beginning of his remarks, "and there are about three of you out there." At one point, several groups of protesters had to be escorted out of the hall, after they chanted, "Stop hate! Stop Trump" and "Refugees are welcomed here!" The audience responded with chants of "USA! USA! USA" and "Trump! Trump! Trump!"
And the reality TV personality didn't stray entirely from his standard stump speech. He denounced "uncontrolled immigration" and "the threat of radical Islam" and attacked the presumptive Democratic nominee, former Secretary of State Hillary Clinton, for having a "Wall Street agenda."
Trump's relationship with religious conservatives -- one of the Republican Party's most influential constituencies -- has been tenuous at best. Many evangelical activists have viewed his past support for abortion rights with skepticism, along with other statements the candidate has made, including one praising Planned Parenthood.
During his remarks to the conference ahead of Trump's address, Senate Majority Leader Mitch McConnell (R-Ky.) pointedly did not mention the presumptive Republican nominee, nor did Sen. James Lankford(R-Okla.).
Trump's erstwhile rival for the Republican nomination, former Hewlett Packard CEO Carly Fiorina, preceded Trump, but she didn't mention the real estate magnate once. His relationship with Firoina has been strained, thanks in no small part to his remarks last September about her appearance.
However, Trump did receive a warm welcome from the conference attendees and earned a standing ovation before and after his speech. Several speakers, including Reed and Sen. David Perdue (R-Ga.), defended him vociferously in their remarks.
It was Trump's third appearance at the conference, and he expressed confidence that he would have their support in November, referencing his support among evangelicals during the presidential primary. "We've done very well with the evangelicals and religion generally speaking," he said.
Before You Go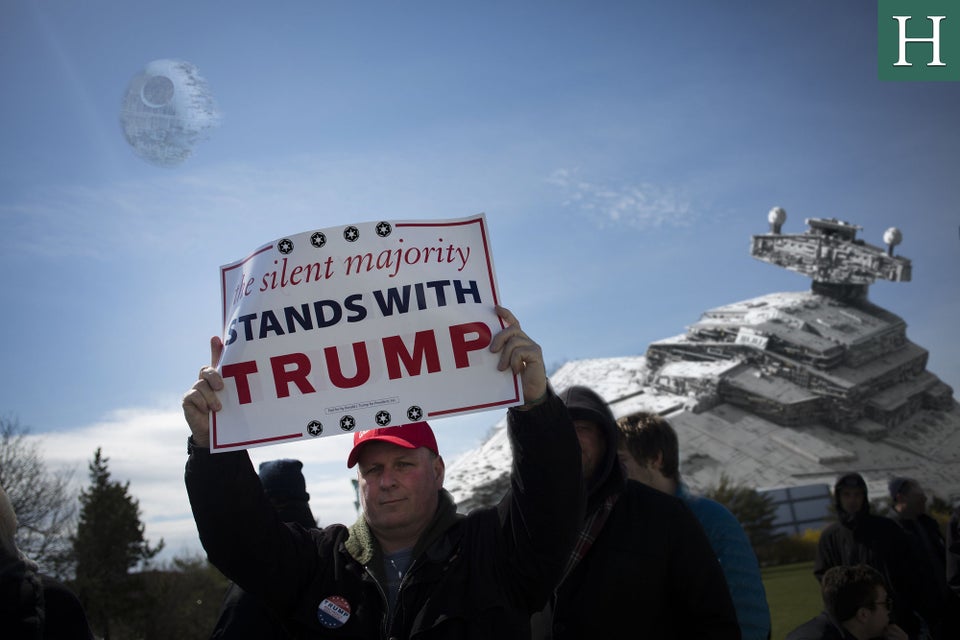 Darth Vader Has Nothing On Donald Trump
Popular in the Community