President-elect Donald Trump on Thursday appeared as if he never ended his campaign, attacking "the extremely dishonest media," boasting about his "landslide" victory, and dashing speculation he might pivot and start acting like a president.
At a rally in Ohio billed as the beginning of a "thank-you tour," Trump repeatedly pledged to unite the country and "find common ground." But his rhetoric, almost word for word, matched the raucous and incendiary rallies of his campaign.
The crowd chanted "lock her up" at the first mention of Democratic opponent Hillary Clinton, even though Trump since the election has backtracked on his pledge to prosecute Clinton for her use of a private email server. He galvanized supporters during the campaign by calling her "Crooked Hillary" and alleging she broke the law, even though the FBI cleared her.
"I'm going to discuss our action plan to make America great again," Trump said on Thursday. "Although we did have a lot of fun fighting Hillary, right?"
The two events were Trump's first public appearances since winning the election last month.
Trump showed at the rally that he prefers campaigning to governing. Since the election, he has reportedly turned away classified intelligence briefings and has resumed tweeting conspiracy theories and late-night ramblings. He has also said he wants to continue holding rallies as president.
Trump on Thursday trotted out a few lies ― as was his style at campaign events. He falsely suggested terrorists are "pouring into our country" and described a "violent crime wave" in America's cities.
He went on an extended riff slamming "the extremely dishonest media" and pointed at reporters covering the rally for admonishment. Trump's transition team has restricted press access to the president-elect, setting his administration on a path of secrecy.
Trump also took a stab at a GOP primary rival, Ohio Gov. John Kasich.
"Hey, in the great state of Ohio, we didn't have the upper echelon of politician either, did we?" Trump said, a mocking reference to Kasich, who refused to support Trump and was a vocal critic.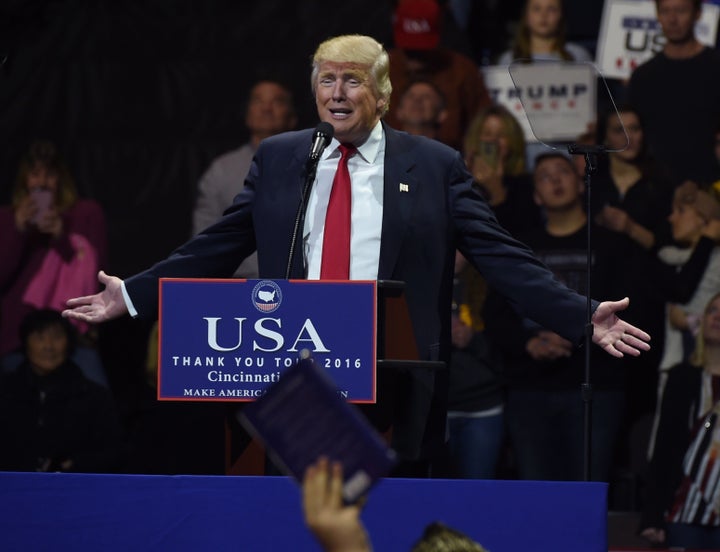 Trump bragged that world leaders have joined in celebrating his victory in phone calls to him.
"They all tell me, they sat in their magnificent rooms in wonderment," he said. "One of them told me, 'I truly respect the United States again because of what happened.'"
Those calls have sparked controversy with reports that Trump discussed his businesses with foreign leaders. Trump has already been dogged by conflicts of interest between his elected office and his businesses.
The president-elect also delivered a healthy serving of pie in the sky ― free of any facts ― just like he did during his campaign. He promised to unify the country and "overcome decades of stalemate and gridlock."
"Now that you have put me in this position, even if you don't help me one bit, I'm going to get it done, believe me," he said. "Don't worry about it. It would be easier if you helped, but that's all right. Don't worry, I'll get it done."
Before You Go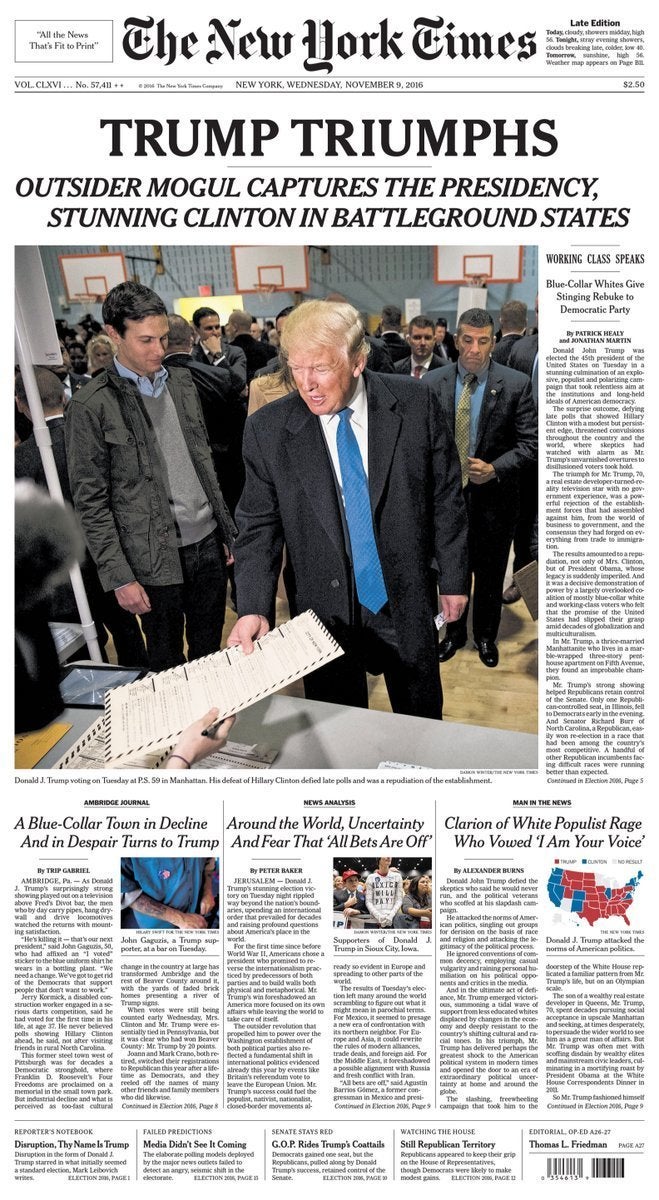 Newspapers React To President Trump
Popular in the Community