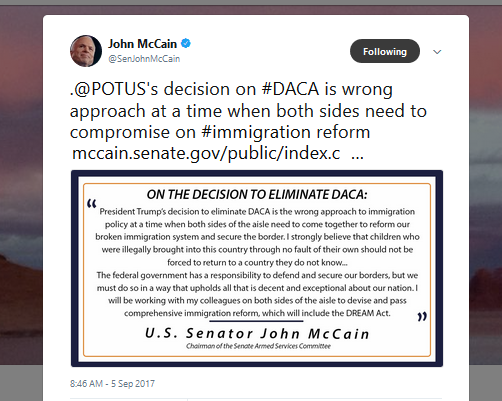 Donald Trump's administration is pulling a "Pontius Pilate" move with regard to the DACA program. Hardliner Jeff Sessions announced the ending of DACA today, however, we see this as a move by Trump that essentially leaves it up to the Numbers USA / John Tanton network "mob" so to speak and/or Congress to hash out a DREAM Act bill. It's clear to us Trump wants to "wash his hands clean" of the DACA / DREAM Act mess that is going to take place and he knows it. Like Trump, the governor of Judaea, Pontius Pilate faced a conflict of interests between the Roman Empire and the Sanhedrin Jewish council. In this era,the conflicts of interests Trump is facing are between the anti-immigrant hardliners and the people who are concerned about the current Republican administration's legacy that will paint the party in a negative light as they continue the downward slippery slope of this moral catastrophe.
Bloomberg's Francis Wilkinson was right to call Trump a coward as Trump dumps DREAMers on a hapless congress leaving nearly 800,000 people who won't "rest easy" in the hands of a chaotic, fractious GOP.
What we do know so far according to David Leopold (an immigration lawyer) is that the DACA cancellation details mean that new applications will no longer be received, and if DACA expires before 03/05/2018, recipients must apply for renewal by 10/05/2017. The other thing we are worried about is how DHS may use ICE to use DREAMers' data against them.
Immigration advocates are calling for Senator John McCain to support the 2017 DREAM Act. We know McCain would prefer to support the "whole enchilada" regarding Comprehensive Immigration Reform (CIR), however, we ask him to reconsider a piece-meal approach because desperate times call for desperate measures. We hope Senator McCain will consider supporting Senator Lindsey Graham's and Sen. Dick Durbin's Dream Act Bill.
Simply put: the hopes of a complete Comprehensive Immigration Reform bill are simply not there considering the hardliners who helped put Trump in the White House. We cannot treat the approximate 800,000 people as political footballs anymore. It's inhumane and an immoral catastrophe.
Over the course of the Labor Day weekend, Defense Secretary James Mattis  warned of a "massive military response" if North Korea threatens an attack against the United States, after the rogue nation said it completed the test of a hydrogen bomb, according to POLITICO.  The goal of the United States ought to be creating strategic allies – not showing other Nations in the globe how inhumane the current administration can be. Our priorities from the Twitter-in-Chief has taken Americans off balance and now Americans fear nuclear war and a nuke arms race.
It doesn't help when Americans know we are on the brink of nuclear war with North Korea and the billions it will cost in another new impending war, and it makes no sense to divide this Nation more than it is now while spending billions more to end DACA.   According to the Washington Post:  "....ending DACA and moving toward deportation of approved applicants would run up a bill of over $8.5 billion."
In addition to the chaos Trump continues to thrust our Nation into — we are now seeing the State of California preparing for a lawsuit. According to the SacBee: "Attorney General Xavier Becerra said he is readying a lawsuit against the Trump administration, while legislative leaders are discussing further measures to shield the unauthorized immigrants from deportation. Their legal and legislative routes to thwarting the Republican president over a federal program remain cloudy, however."
Today former President Barack Obama drew a distinct line between the compassion he had over the current administration. According to CNN:
"Obama bashed his successor's decision to rescind an immigration order shielding some children of undocumented immigrants from deportation, calling the move "cruel" and "self-defeating." "To target these young people is wrong -- because they have done nothing wrong," Obama wrote in a post on Facebook hours after the decision was announced by President Donald Trump and Attorney General Jeff Sessions. "It is self-defeating -- because they want to start new businesses, staff our labs, serve in our military, and otherwise contribute to the country we love. And it is cruel."
Things are in total chaos right now.
And as we sit here and reflect to what led us here, let this be a lesson to all of the "Tea DREAMers" who supported Republicans and thought that Republicans were their friends. Republicans used them to hijack the 2013 comprehensive immigration movement. Little did they know in their naive young lives that they would be used as pawns and we would be seeing them in this dire situation after multiple warnings we gave them.
True #Dreamers stood up to the hijacking intentions when they saw GOPers using other Dreamers for their purpose. And it is those true Dreamers who should be remembered and are to be commended.
To the Democrats who did not understand that it was the Republican National Committee who adopted an anti-immigrant harsh anti immigrant platform in 2012 blessed by Kris Kobach (and not necessarily the DNC) — well, let this be a reminder to you to that President Obama was not so bad, was he? For the record, Ana Navarro did not speak up against the harsh anti immigrant RNC platform in 2012 and she became part of the problem that contributed to where the Republican Party is at today.
President Obama was never a king of a monarchy system where he could just wave a magic wand to create laws that would bypass Congress. He is was first black U.S. President and the last thing white people want to see is a black man shove a compassionate bill down their throat post-Obamacare. The best Obama could do was to issue a DACA and a DAPA executive order — and yet Democratic voters still seemed to complain not knowing that Obama had to spend a great deal of political capital on health care for all Americans before spending more capital on immigrants.
Last, but not least, and to the Bernie Sanders' supporters and 3rd party supporters: They did not know that helping Donald Trump would affect these kids like we are seeing now when they cast a spoiler vote. They did not take heed to Bernie Sanders supporting the minute men in his previous voting history and they certainly did not conduct their due diligence with regard to his voting record on immigration as a whole. In my strong view, Bernie Sanders was used to spoil the presidential election vote and the take-away I learned from Sander's campaign was that he spent his honeymoon in Russia of all places.
We are in a massive mess because people do not do their political homework. That is the bottom line. Ignorance mixed with white nationalist Trump supporting voters do not mix. This is what we have evolved to and we are a laughing stock to other global countries.
Calling all HuffPost superfans!
Sign up for membership to become a founding member and help shape HuffPost's next chapter
This post was published on the now-closed HuffPost Contributor platform. Contributors control their own work and posted freely to our site. If you need to flag this entry as abusive,
send us an email
.