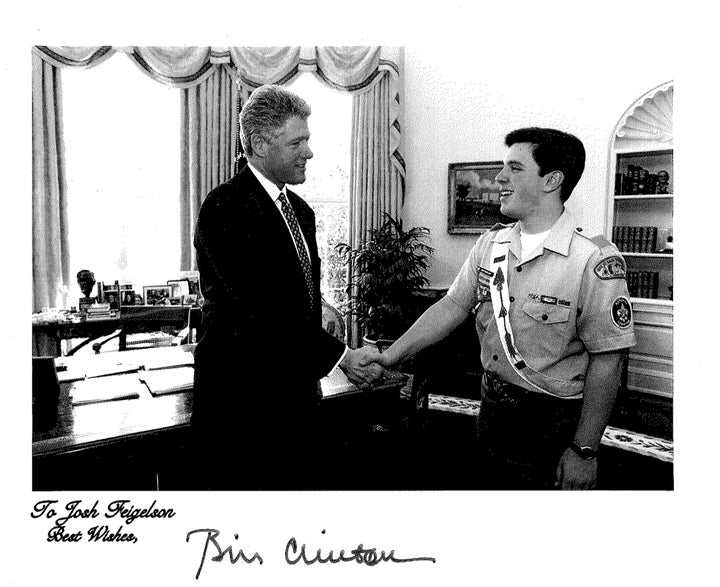 That's me on the right. I was 19 years old at the time, and serving as National Chief of the Order of the Arrow, the highest elected youth office in the Boy Scouts of America. I was also then, as now, center-left politically. And I was about to enter a nearly 20-year hiatus in active involvement in the Boy Scouts because, while I was straight, the BSA's policy on gay Scouts and Scout leaders was an egregious wrong in my eyes.
Two years ago, Robert Gates — former Secretary of Defense, and at the time the volunteer president of the BSA — led the organization to end its discriminatory policy. I made my way to a national Scouting conference in large measure so I could shake his hand and thank him.
In the wake of President Trump's speech at the Boy Scout National Jamboree this week, I fear that many people will take this moment as an opportunity to bash Scouting.
In the wake of President Trump's speech at the Boy Scout National Jamboree this week, I fear that many people will take this moment as an opportunity to bash Scouting. I think that would be a terrible missed opportunity, because the values of Scouting are precisely what Americans—left and right, Democrat and Republican—need to be talking about.
The very first thing a boy learns in Scouting is the Scout Law. "A Scout is: Trustworthy, loyal, helpful, friendly, courteous, kind, obedient, cheerful, thrifty, brave, clean, and reverent." I learned these words at a young age. My two older brothers were both Eagle Scouts, like my father and grandfather. My Dad was our Scoutmaster. I'm sure I knew the Scout Law well before I was 10 years old.
Like so many other boys, I learned practical skills and useful knowledge in Scouting. At summer camp, I learned to cook, tie knots, pitch a tent, portage a canoe, and save a drowning swimmer. Planning camping trips, I learned to budget, create programs, pack lightly, and make campfires. Earning the Citizenship in the Community merit badge, I met a local judge (also an Eagle Scout). Earning the Environmental Science merit badge, I studied the wildlife in the woods behind my elementary school. Working with other Scouts, I learned how to work as a team.
As a parent, I now realize that Scouting also provided something even more special and necessary: a community that unashamedly spoke a language of values. Because of Scouting, I was surrounded by adults and older boys who talked about what it meant to be a good person—the values of the Scout Law. Today, raising three boys, I am even more aware of how precious a thing it is to live in a community like that.
The Scout Law is not some fascistic prescription of unquestioning obedience. It is, or at least should be, the polar opposite: an invitation to reflection on being a good and virtuous person. When do we trust, and how are we worthy of the trust of others? How do we show loyalty? And when might loyalty involve speaking honest truth to a friend or ally? Who do we help, and how do we prioritize among those that need our help? And so on.
Lived and talked about this way, the Scout Law can be the touchstone for conversations between parents and children, neighbors, community members, and fellow citizens and residents. It can be, as it has been in the not-very-distant past, the stuff of our public language, words and ideas that we share. As a Scout, that's what the Scout Law was for me. As a clergyperson, academic, and educator today, it's what I hope it can be for society.
Now, as much as ever, we need to recover a language of values we can share as Americans. While the President embarrassed himself and his office at the Jamboree, we shouldn't confuse the issues here. The values of Scouting—values of personal and collective responsibility, trustworthiness, and integrity—are ones that matter to all of us. Let's make them the basis for our national, communal, and personal conversations.
REAL LIFE. REAL NEWS. REAL VOICES.
Help us tell more of the stories that matter from voices that too often remain unheard.