Foreign powers across Europe and around the globe swiftly criticized Trump's move to pull out of the international agreement to curb global warming, but May neglected to comment directly.
"The Prime Minister expressed her disappointment with the decision and stressed that the U.K. remained committed to the Paris Agreement," her spokesperson said, noting Trump called May before making his public announcement on Thursday.
May's signature was notably absent from a joint statement released later that day by France, Germany and Italy expressing regret at the U.S. withdrawal.
The Labour Party's foreign policy spokeswoman, Emily Thornberry, questioned May's reported decision to abstain from signing the statement as "a dereliction of her duty both to our country and to our planet."
"Given the chance to present a united front with our European partners, [May] has instead opted for cowardice and subservience to Donald Trump," she said. "It is bad enough that she failed so badly to persuade Trump to stick to the Paris agreement, but it is even worse that she lacks the backbone to stand up to him now."
Trump suggested the U.S. would consider rejoining the agreement if it could work out better terms. But France, Germany and Italy made clear in their statement that the deal is not renegotiable. 
French President Emmanuel Macron said he respected Trump's decision, but called it "a mistake, both for the U.S. and for our planet" in an English speech on Thursday evening. He even went so far as to encourage American scientists to "come and work here" in France, to support the global effort to "make our planet great again."
German Chancellor Angela Merkel, who has clashed with Trump over NATO obligations and other transnational issues, described the U.S. pullout as "extremely regrettable."
Scottish First Minister Nicola Sturgeon denounced May's failure to sign the joint statement as an "appalling abdication of leadership." Tensions between the two leaders are already high, as May has refused to grant Scotland permission to hold a second independence referendum before so-called Brexit negotiations are complete.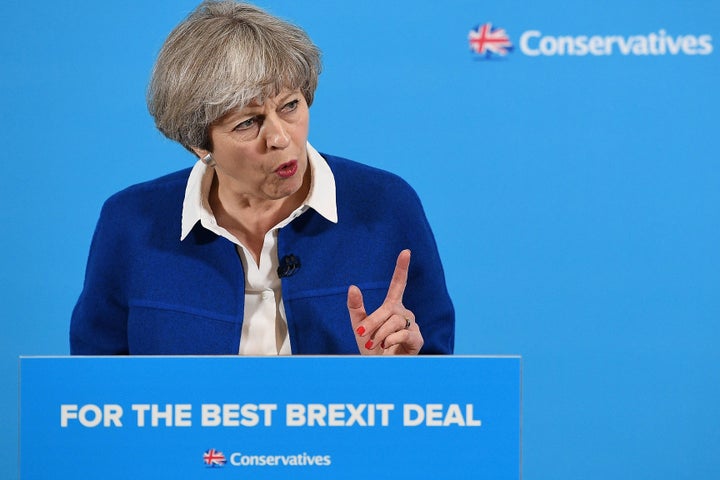 Britain has less than two years to work out an exit deal with the European Union, after Brits voted last June to leave the bloc in a stunning referendum that led to former Prime Minister David Cameron's resignation and May's sudden rise to power.
She has called for a snap election on June 8 to determine who will lead the talks as prime minister. But her accused weakness in dealing with Trump on the world stage could hurt her chances ahead of the vote. A Guardian poll released earlier this year revealed that half of Brits consider Trump to be "dangerous," and 56 percent think he is untrustworthy. 
May also took flack earlier this year for failing to stand up to Trump. She earned the disparaging nickname "Theresa The Appeaser" in January after she seemed reluctant to speak out against Trump's internationally condemned restrictions on U.S. immigration and refugee resettlement from several Muslim-majority nations.
"The United States is responsible for the United States' policy on refugees," she said when asked for comment. Angry backlash ensued, and she issued a statement saying she disagreed with the ban.
She echoed that sentiment Thursday morning, telling reporters, "It's up to the president of the United States to decide what position the United States is going to take" on the climate change deal.
May became the first foreign leader to visit Trump at the White House in January. The pair was photographed holding hands, and celebrated the "special relationship" between their two nations.
Her election rival, Labour Party leader Jeremy Corbyn, was quick to denounce Trump's withdrawal from the accord in a snarky tweet poking fun at his bond with May.
REAL LIFE. REAL NEWS. REAL VOICES.
Help us tell more of the stories that matter from voices that too often remain unheard.