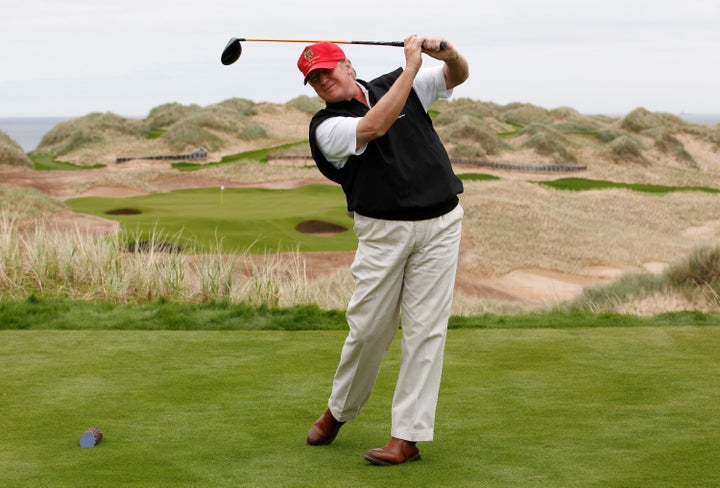 Nothing is safe from alternative facts ― even exercise.
After college, after Trump mostly gave up his personal athletic interests, he came to view time spent playing sports as time wasted. Trump believed the human body was like a battery, with a finite amount of energy, which exercise only depleted. So he didn't work out.
The book also states that when Trump learned that one of his top casino executives, John O'Donnell, was in the midst of training for an Ironman Triathlon, Trump told him, "You are going to die young because of this."
It's obvious that this belief is completely untrue (not to mention the fact that golf, one of Trump's favorite activities, is a form of exercise). But since the statement is out there, we're here to reiterate a few life-saving benefits of physical activity.
Take a look at just some of the ways working out can help a person's health below:
1. Physical activity boosts cardiovascular health.
Aerobic exercise, such as walking, biking, swimming or jogging, helps prevent heart disease, which is the nation's leading cause of death among adults, according to the American Heart Association. People should aim for 150 minutes of moderate activity per week to reap the benefits.
2. It helps maintain a healthy body weight.
Given that obesity is still slowly on the rise, this benefit is a big one. Regular exercise reduces body fat, fights against obesity and helps lower the risk of getting illnesses associated with obesity, like diabetes, according to the American College of Sports Medicine.
3. Exercise lowers stress.
4. And it leads to a happiness boost.
5. Physical activity can make a person stronger.
6. It improves longevity and lowers risk of disease.
According to the Mayo Clinic, people who exercise may be at a lower risk for stroke, type 2 diabetes, depression, cancer and arthritis (just to name a few).
7. Exercise helps you sleep better.
Running, biking, weightlifting, yoga and even gardening are associated with helping achieve better quality sleep than no exercise at all, according to research from the University of Pennsylvania. (And given that Trump says he only gets a few hours of sleep a night, this perk might be super useful.)
Just something to consider. Because the idea that exercise is terrible? It's just...