Donald Trump's critics are starting to get under his skin. Speaking at a rally in Davenport, Iowa, on Thursday, the GOP presidential nominee fumed about the criticism he was receiving from speakers at the Democratic National Convention in Philadelphia.
"I mean, the things that were said about me," Trump told the crowd. "I was going to hit a number of those speakers so hard their heads would spin, they'd never recover!"
What began as Trump griping, however, quickly turned menacing.
"I was going to hit one guy in particular, a very little guy. I was going to hit this guy so hard his head would spin. He wouldn't know what the hell happened."
Trump never named his target, but he seemed to confirm in a tweet Friday morning that it was former New York City Mayor Michael Bloomberg, one of the DNC speakers.
Bloomberg, a billionaire former Republican who is now an independent, took aim at Trump's business record during his convention speech. "Trump says he wants to run the nation like he's run his business," Bloomberg told the audience. "God help us."
Bloomberg's criticism seemed to take Trump by surprise. "He came out of nowhere!" Trump said Thursday night. "They made deals with me, [told me] 'Would you help me with this? Would you make this deal and solve this problem?' I solved the problem," the former reality TV star said, practically spitting out the words.
The angrier and more threatening Trump became, the more his audience loved it, interrupting his rant several times to applaud.
Trump also noted how "certain people" had failed to endorse him because he had hit them "so hard" in the past: "That's why I still don't have certain people endorsing me, they still haven't recovered."
Texas Sen. Ted Cruz and Ohio Gov. John Kasich are some of the most prominent Republicans who have yet to endorse Trump. Both were his rivals in the GOP primary and have been targets of his bullying.
As Trump raged, it gradually became clear that "hitting" people meant viciously insulting them, rather than resorting to actual physical violence. Still, to hear a major party's presidential nominee using such bloodthirsty language to describe his planned retaliation was chilling.
But wanting to hurt people is nothing new for Trump. Earlier this year, he told a crowd to be on the lookout for protesters and to "knock the crap out of them," adding "I promise you, I will pay for the legal fees."
At another rally in February, Trump spotted a protester and told the crowd he'd "like to punch him in the face."
Yet even as Trump delighted in approval from the rowdy crowd, his comments on Thursday played directly into Democrats' hands: One of their chief lines of attack against Trump is that his behavior sets a bad example for America's children. Democratic nominee Hillary Clinton's campaign has already released an ad featuring a medley of Trump's nastiest moments.
Michael McAuliff contributed reporting.
Before You Go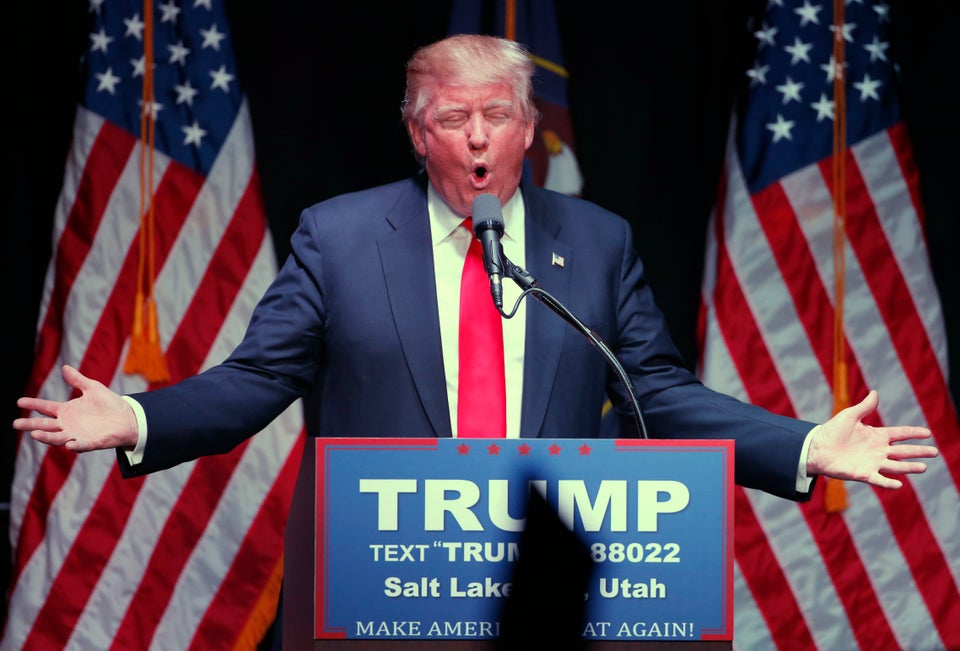 Scenes Of Hate At Donald Trump Rallies
Popular in the Community