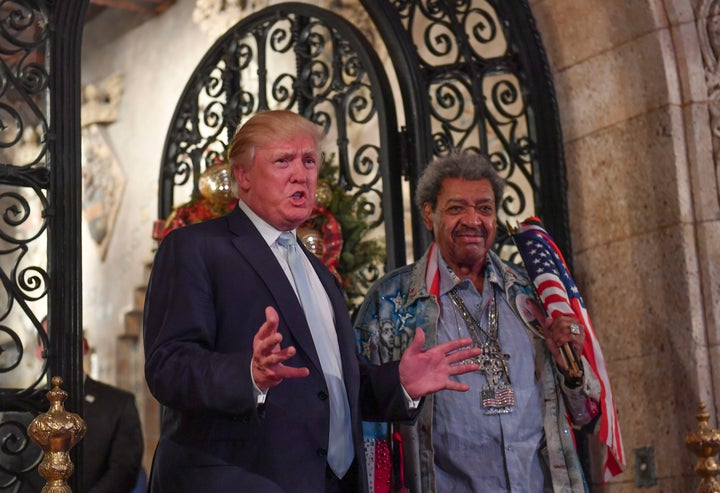 Tickets were on sale for a lavish New Year's Eve party that President-elect Donald Trump and his family are hosting at the Mar-a-Lago Club this weekend, which once again raises those thorny ethics question that have dogged Trump's presidential transition.
Mar-a-Lago sold the tickets, the Trump transition team confirmed to Politico. They cost $525 each for members of the Mar-a-Lago Club and $575 for guests. Since Trump himself owns the Palm Beach, Florida, resort, those sales profit him personally. 
Simply buying a ticket could be seen as an effort to curry favor with the president-elect. Those seeking an in-person audience with him also had an incentive to buy since Trump will be there.
So it's probably no surprise that the tickets sold out. Incoming White House Press Secretary Sean Spicer gave reporters the news on a Friday press call. He also noted that more than 800 guests are expected, including actor Sylvester Stallone and music producer Quincy Jones.
Despite Spicer's assertion that Jones was expected to be present, the legendary music producer tweeted on Friday night that he would be spending New Year's Eve in Los Angeles with family and friends. Jones' daughter Kenya Kinski-Jones called the claim that her father would attend the event "false information" and a "total lie."
Trump has hosted similar star-studded New Year's Eve parties at Mar-a-Lago many times in the past, including last year, when his presidential campaign was in full swing. But this year he's about to assume the highest office in the land.
Norm Eisen, who served as ethics counselor to President Barack Obama, had a one-word response to the spectacle:
Hope Hicks, a spokeswoman for the Trump transition team who will be White House director of strategic communications, dismissed the idea that the party posed a potential conflict of interest.
"The transition is not concerned about the appearance of a conflict," she told Politico. "This is an annual celebratory event at the private club, like others that have continued to occur since the election. Additionally, the president cannot and does not have a conflict."
Trump has struggled to quiet criticism that his sprawling international business will create multiple conflicts of interest for his presidency. He announced this past Saturday that he would be closing his charitable foundation to avoid the perception of such problems, but he has not laid out any plan to divest from his company and place his assets in a blind trust, as ethics experts recommend.
This article has been updated with the prices of the tickets and a comment from Hope Hicks. 
Calling all HuffPost superfans!
Sign up for membership to become a founding member and help shape HuffPost's next chapter
BEFORE YOU GO