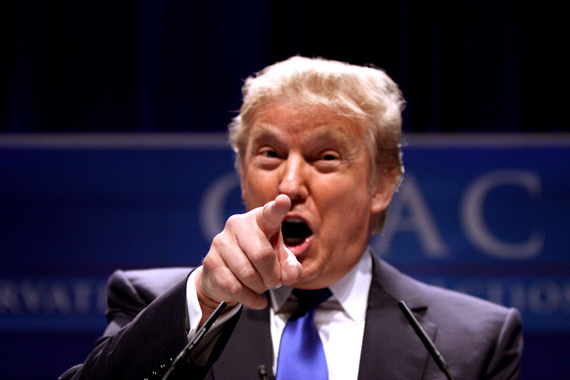 Photo by Gage Skidmore
Sources close to the presidential candidate claim that Trump's problem with CNN and FOX is that "they're morons." In an effort to be represented in the most honest and fair light, it is reported that Trump has just bought his own network: Trump That Media.
Donald Trump blames his slide in the polls on the "clowns" at the networks who are "not telling the truth. They're a bunch of losers. I don't want to use the word liars, but if it wasn't for those liars, I wouldn't have to buy my own network."
As for the journalists at Trump That Media, "They get it. They know how to treat a candidate fairly. They're very professional." Trump says, "I only hire smart people." From now on, all future interviews with Donald Trump will be produced and broadcast by Trump That Media, and "God forbid," any future Republican primary debates. "Hey, I'm crushing it in every poll. Do we really need another debate? I'm a busy guy," referring to his other successful careers as a real estate mogul, reality television star, beauty pageant owner and, now, media tycoon.
Anyone requesting an interview with Trump will be invited to appear on his network which airs 24/7, under the condition they ask questions from the network provided list. A sample of those questions are:
New England Patriots quarterback Tom Brady was suspended for his part in the so-called Deflategate scandal, then reinstated by the courts. Legalities aside, did Tom Brady cheat?
Is there a direct relationship between global warming and the size of the bikinis Miss Universe contestants wear? What does that say about climate change?
You claim to be "slaying it" in the polls with women voters. Why is that? Is it because, if elected, you plan to erect a massive wall between the U.S. and Mexico, or is it the way you dominate deal negotiations with China, or do you think it's because they're just physically attracted to you?
For the next Republican debate, producers at Trump That Media were given a list of mandates, among which are: "no ugly people" and "adequate air conditioning." Even with cooler temps, Trump expects some candidates will still visibly sweat. "These guys sweat more than anyone I've ever seen. Hey, if you can't take the heat! They'll probably just blame global warming for that too... Idiots."
Eva Lesko Natiello is the award winning author of bestseller, THE MEMORY BOX, a psychological thriller about a woman who Googles herself and discovers the shocking details of a past she doesn't remember.
Support HuffPost
The Stakes Have Never Been Higher
Related
Popular in the Community