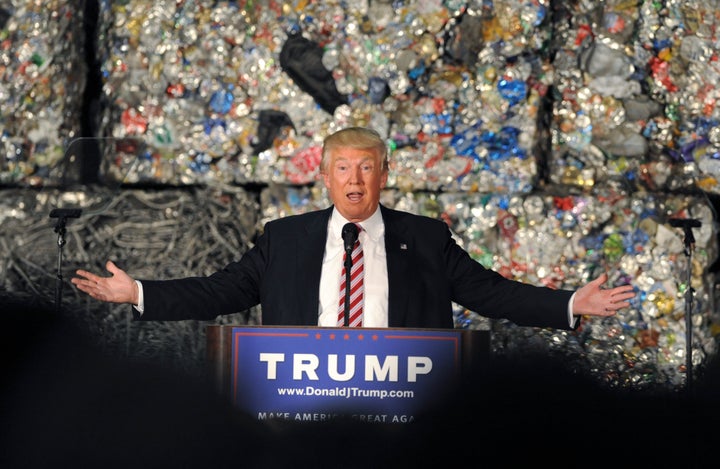 Donald Trump promised Tuesday to end what he called "the era of economic surrender" in America, and laid out a hot-tempered, isolationist vision for the nation's economy.
The presumptive Republican nominee for president focused almost exclusively on trade during his remarks at an aluminum plant in Monessen, Pennsylvania. There, he repeatedly accused foreign countries of cheating Americans out of manufacturing jobs, and claimed that weak and dishonest U.S. politicians are allowing it to happen.
"This is not some natural disaster," Trump said. "It is [a] politician-made disaster. It is the consequence of a leadership class that worships globalism over Americanism."
Trump regularly cites his negotiating skills as one of his main qualifications to be president, along with his personal wealth and his experience in the real estate and golf businesses. Not surprisingly, he argued that "the negotiation of great trade deals is the quickest way to bring our jobs back."
Trump depicted foreign nations not as America's trading partners, but as America's trading rivals. He claimed his policies would help U.S. workers recover the manufacturing jobs that have been outsourced to countries with fewer labor protections and lower standards of living.
At one point, Trump said that any imports brought into America effectively shrink the U.S. economy, a claim that ignores the millions of Americans who support their families with jobs tied to trade or retail sales, or who simply boost economic activity by purchasing goods.
The real estate mogul also sought to dampen the criticism that his campaign is short on specific proposals by running down a seven-point trade plan he said he would enact as president.
The items on his agenda included withdrawing from the as-yet-unsigned Trans-Pacific Partnership, re-negotiating the 25-year-old North American Free Trade Agreement and penalizing China for its allegedly unfair trade practices.
Of course, Trump is not the only politician to articulate these gripes. They're not even unique to the Republican Party. During the Democratic presidential primary, Sen. Bernie Sanders (I-Vt.) frequently voiced the concerns of progressive economists and labor unions when he questioned China's currency policies and the United States' trade agreements with developing countries. But Trump's comments ignore the benefits of trade, and his proposed solutions would make many Americans' economic pain far worse.
Three of the seven proposals Trump mentioned Tuesday relate directly to U.S.-China trade policy. Another two had already been proposed months ago by presumptive Democratic presidential nominee Hillary Clinton.
Trump also used the speech to compare his campaign to the "Brexit" movement in the United Kingdom, where voters on Thursday voted in favor of Great Britain breaking from the European Union.
"Our friends in Britain recently voted to take back control of their economy, politics and borders," Trump said.
His celebration of Brexit, however, could end up hurting him in the polls. The chaos in financial markets after the Brexit vote has already destroyed $3 trillion in wealth around the world, with global markets plummeting amid uncertainty over how Europe and the U.K. will maintain their economic ties.
"Layoffs in the UK will start in weeks," John Llewellyn, the former chief economist of the Organization for Economic Cooperation and Development, predicted on Monday, adding that he expected "recession in the coming quarters."
Closer to home, Trump said that if he were president, the coal and steel industries would boom again.
But that rosy projection ignores the fact that the Chinese coal and steel industries -- from which Trump is promising to bring jobs back to the U.S. -- are shedding jobs and closing mines. In February, the Chinese government announced a plan to lay off 1.8 million workers in the coal and steel sectors, about 15 percent of the country's workforce in those industries. China will also close 1,000 coal mines, or about 10 percent of its total, Reuters reported. Eventually, China plans to close half of its 10,000 coal mines.
Related
Popular in the Community