President Donald Trump went on a retweeting spree Wednesday, sharing posts to his Twitter account that targeted his most prominent critics, including one meme that suggested former President Barack Obama and the Clintons should be thrown in jail for treason.
After unleashing yet another attack on special counsel Robert Mueller's Russia probe, which he likened to the "McCarthy Era" of anti-communist hysteria, Trump shared tweets bashing several of his political foes, including the one he most often rants about: Hillary Clinton.
One tweet, originally shared by a fan account called "The Trump Train," shows the Clintons, Obama and Mueller all behind bars. Alongside them are former FBI Director James Comey, former Attorneys General Eric Holder and Loretta Lynch, and Deputy Attorney General Rod Rosenstein, who Trump appointed himself.
"Now that Russia collusion is a proven lie, when do the trials for treason begin?" the text on the image reads.
In reality, Mueller's investigation remains active and ongoing.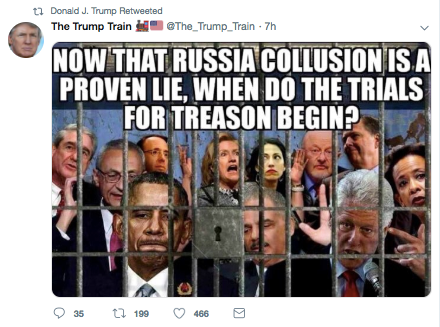 Mueller's investigation into Russian interference in the 2016 election, and whether the president obstructed justice, has long been an object of Trump's ire.
Though Trump has repeatedly called the probe a "witch hunt," dozens of people have been indicted in connection with the investigation, including his former national security adviser and several of his 2016 campaign officials.
The White House did not respond to HuffPost's request for comment about whether Trump believes Obama and others depicted in the image he shared should be tried for treason.
The president has ramped up his Twitter attacks against Mueller this week after the special counsel accused Paul Manafort, Trump's former 2016 campaign manager, of breaking his plea deal by lying to federal investigators.
"Mueller is a conflicted prosecutor gone rogue," Trump tweeted Tuesday.
Rosenstein's appointment of Mueller in May 2017, to take over the Russia investigation after Trump fired Comey, drew rare bipartisan praise.
Sen. Chuck Grassley (R-Iowa), chairman of the Judiciary Committee, applauded Mueller's selection at the time, saying the former FBI director "has a strong reputation for independence, and comes with the right credentials for this job."
The president declined to answer a question on whether he intends to fire Rosenstein, according to the Post.
The Department of Justice did not respond to HuffPost's request for comment.
Trump on Wednesday also shared tweets from the "Trump Train" account that bashed CNN and called for zero federal assistance for "illegals" ― a derogatory term for undocumented immigrants.
He also retweeted a fake Twitter account for Vice President Mike Pence that posted "I'm thankful for every day Hillary Clinton is not President!"
The account was named "The Vice President" and used the Twitter handle @MikePenceVP when Trump retweeted it. Later on Wednesday, the account changed its name to "VP FAN."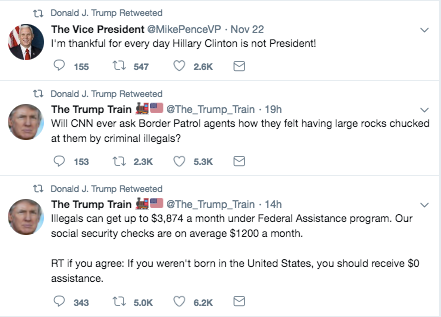 This story has been updated with Trump's comment to the New York Post.
Popular in the Community