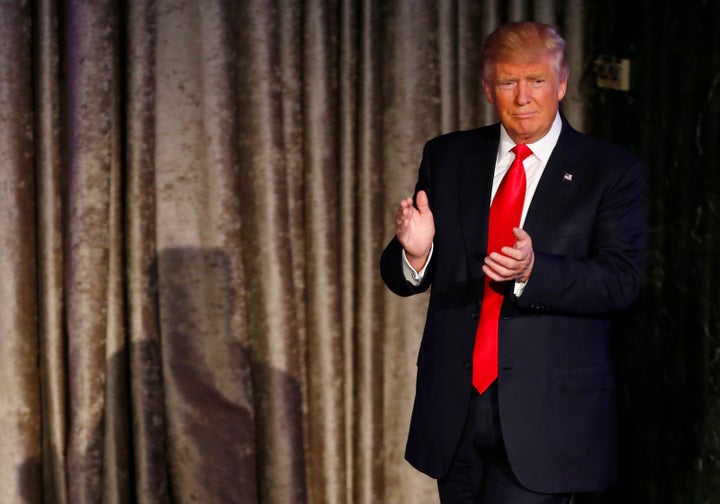 WASHINGTON ― When President-elect Donald Trump spoke to Turkish President Recep Tayyip Erdogan on Nov. 9, he mentioned one of his Turkish business partners as a "close friend" and passed on his remarks that he is "your great admirer."
The twinned Trump Towers bear the president-elect's name in Istanbul. Dogan Holding, a massive media and real estate conglomerate in Turkey, owns the conjoined buildings and pays the Trump Organization to license the Trump name and brand. It can now rely on that name and brand to be sitting in the Oval Office and singing its praises to President Erdogan.
In his call with the Turkish leader, Trump passed on praise for Erdogan from Mehmet Ali Yalcindag, son-in-law of Dogan Holding owner Aydin Dogan and former president of the Dogan Media Group. His wife, Arzuhan Dogan Yalcindage, sits on the board of Dogan Holding. He's friends with the Trump family and had worked closely on the Trump Towers project in Istanbul. On election night, he attended Trump's shocking victory celebration at the New York Hilton in Midtown Manhattan.
Trump's praise for Mehmet Ali Yalcindag was first reported by Amberin Zaman in the independent Turkish paper Diken. Zaman's report has since been picked up by other Turkish newspapers and television stations.
Vouching for his Turkish business partner in the call with Erdogan is just the most recent sign of Trump's near-impossible task in avoiding the significant conflicts of interest his global real estate business presents. During the campaign he promised to separate himself from his business and to work only for the American people.
"I wouldn't ever be involved because I wouldn't care about anything but our country, anything," he said in January.
Since his election, Trump has declared that he would hand off his business to three of his adult children, Ivanka, Donald Jr. and Eric Trump, in a so-called blind trust. He has done no such thing. Instead, he appointed his children to the executive committee of his presidential transition ― blending his business with his government activities.
One week after his election, he welcomed three of his Indian business partners to Trump Tower in Manhattan. The Trump Organization is involved in at least five real estate deals in India. Ivanka Trump, despite her supposed separate role as head of the Trump business, joined her father last week for his in-person meeting with Japanese Prime Minister Shinzo Abe.
The president-elect also reportedly handed the phone to Ivanka during a conversation with Argentinian President Mauricio Macri. Trump reportedly discussed the possibility of speeding up the permit process for a building that would bear his name in Buenos Aires. Spokesmen for both Macri and Trump denied that any such discussion took place.
Further, Trump recently told British politician and former head of the UK Independence Party Nigel Farage that he should help lead the opposition to offshore wind farms in Britain. Trump has long opposed the construction of such offshore wind farms near his golf course in Scotland. When the New York Times asked Trump on Tuesday if he had this conversation with Farage, he said, "I might have brought it up."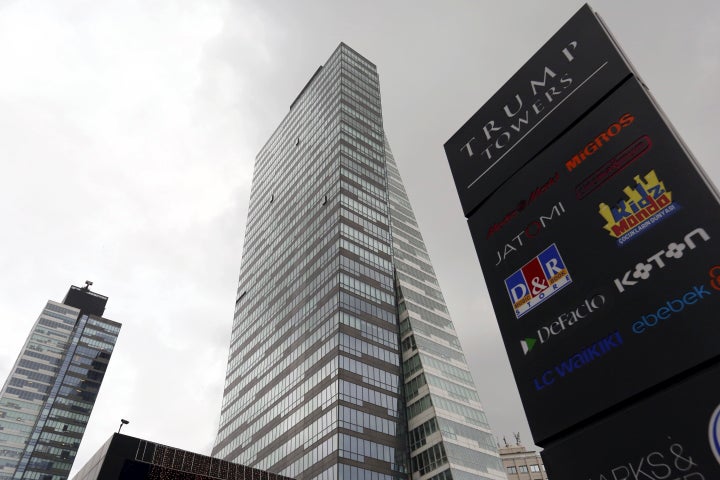 Norm Eisen, the former top ethics official for President Barack Obama and former ambassador to the Czech Republic, called Trump's references to his business partner in his conversation with Erdogan "entirely improper," "wrong" and "reprehensible."
"There should be a big, beautiful wall between his personal interests and the public interest," Eisen said. "It's only a matter of time before not only will his voters and the more than half of the voters who chose someone else get fed up, but when you disrespect these boundaries it's an invitation to people to disrespect them back."
For now, Trump's touting of Yalcindag provides a major benefit for the company and its leadership. There is a reason the company's stock briefly surged after Trump's victory. In recent years, the Dogan Media Group has butted heads with the authoritarian Erdogan as he sought to punish dissenting media.
"It will give them a layer of protection," said Henri Barkey, director of the Middle East program at the Wilson Center, a nonpartisan policy forum. "Not because Trump will necessarily defend them, but because the Turkish government will think twice about going after them because the president of the United States is supporting them and, also, Erdogan is really looking for Trump to change many of Obama's policies, especially in Syria and with respect to Iran. So he's not going after anything that would upset or annoy Trump."
In 2009, Erdogan's government levied a $2.5 billion fine on Aydin Dogan's company while Erdogan called for his supporters to boycott the company's television stations and newspapers. The massive fine was nearly equivalent to Dogan's entire net worth. Dogan was at the time an outspoken critic of Erdogan and his Islamist AK political party. The fine was compared at the time to efforts by Russian President Vladimir Putin to crush his wealthy political opponents, including Mikhail Khodorkovsky, a former oil tycoon who now lives in exile. And this was only one of many attacks the Erdogan government has made against Dogan and his business empire.
"In the last decade, Erdogan put a huge amount of political and economic pressure on Dogan Group, which ended up with two outcomes," said Soner Cagaptay, director of the Turkish Research Program at the nonprofit Washington Institute for Near East Policy. "One, sales of Dogan-owned media to government-owned businesses. Second, change of editorial tone and content. For example, prominent columnists have been fired. Editors have been demoted."
While not entirely losing its independent voice, Dogan Media Group properties have adopted pro-government stances in all but the most egregious instances.
The change was evident in its coverage of the 2013 popular protests in Istanbul's Taksim Square by CNN Turk, a Dogan Media Group property. Instead of covering the protests, CNN Turk aired documentaries about penguins. The penguin soon became a popular image among protesters.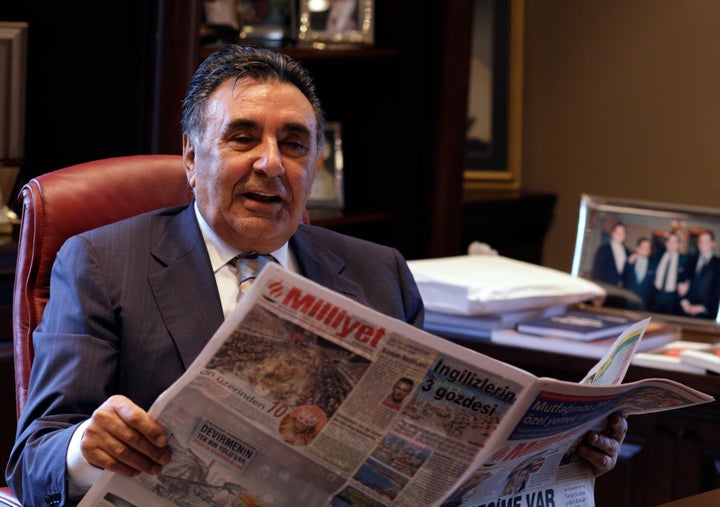 CNN Turk was also instrumental in Erdogan's successful defeat of the coup attempt in July. In a famous moment, Erdogan made his first appearance amid the chaos of the coup attempt on CNN Turk, when the anchor held up her phone with the Turkish president on the screen via FaceTime. He called for his supporters to flood the streets and show their support for his regime. It turned the tide in his favor.
After the coup was defeated, Erdogan adopted emergency powers. He has since shuttered at least 20 television and radio stations while arresting reporters and columnists accused of working with or holding sympathies with the coup plotters.
During this time, Yalcindag served as head of the Dogan Media Group. He resigned in September amid a computer hacking scandal that implied he coordinated with the government to censor news. A hacking collective released emails alleged to be from Yalcindag to Energy Minister Berat Albayrak, Erdogan's son-in-law, that purported to show the two ensuring the news stayed within bounds approved by the government. Yalcindag asserted that the hacked emails were fraudulent.
Now Yalcindag is the key middleman between the incoming president of the United States and the Turkish government.
Trump's victory may also help keep his name on that complex. In June, Erdogan denounced Trump's Islamophobia, stating that the then-candidate had "no tolerance for Muslims in America." The Turkish president called for Trump's name to be stripped from Trump Towers Istanbul and said that he regretted attending the opening ceremony. Now that the Trump brand is connected to American diplomacy, this topic apparently did not come up when the two leaders spoke.
None of this is worrying to the president-elect, who has dismissed any concerns about conflicts of interest. In a tweet sent Monday, he blamed the media for reporting on his potential conflicts and said that everyone knew he had these business ties when they voted for him. In his Tuesday interview with New York Times reporters, Trump asserted that he could continue to run his business while in the White House if he really wanted to.
He further laid down his explanation for this and all future conflicts as they present themselves: "The law is totally on my side, meaning, the president can't have a conflict of interest."
CORRECTION: An earlier version of this story said Trump had praised his business partner to Erdogan. In fact, according to the Turkish-language report, he passed on the business partner's praise of Erdogan.
Popular in the Community