Trump will weigh in "if he feels the need to respond" to anything Comey says, The Washington Post's Robert Costa reported on Tuesday.
"I was just talking to some White House officials this morning and their view is that the president himself wants to be the messenger, his own warrior, his own lawyer, his own spokesman," Costa said on MSNBC. "The president is expected to be tweeting on Thursday in response to Comey, not to stay quiet during the testimony, because he himself wants to be the one driving the process."
When asked if Trump would be watching the hearing, White House press secretary Sean Spicer, who frequently defends his boss' unhinged ramblings, demurred.
"It's going to be a very busy day, as all of his days are," Spicer said during the daily White House press briefing.
Trump will give a speech at a conservative conference in Washington on Thursday at 11:30 a.m. ― during Comey's hearing. But it would be unsurprising for him to tune in to Comey's testimony before or after the speech with unfiltered commentary on Twitter.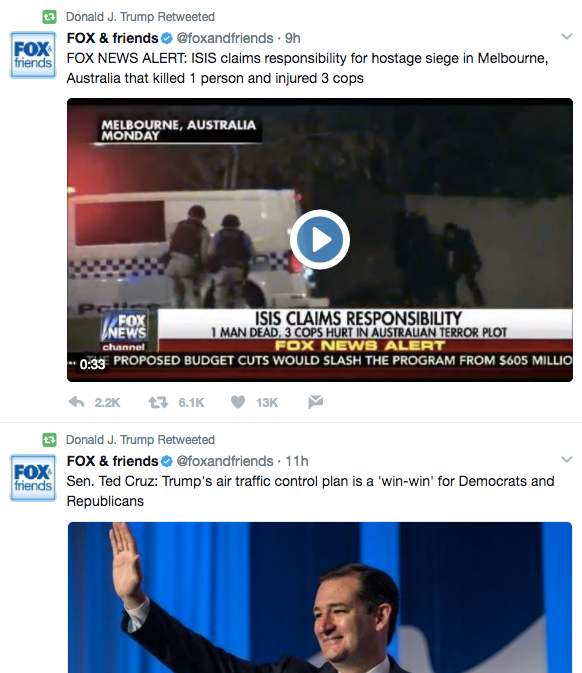 The White House has had difficulty defending Trump's Twitter activity. At times, his aides claim the tweets are "official statements" that allow the president to be "an effective messenger for his agenda." But they also distance themselves by dismissing the meanderings as just "social media." 
Spicer on Tuesday said the tweets "are considered official statements by the president of the United States." 
A day earlier, deputy press secretary Sarah Huckabee Sanders said Twitter gives Trump a "communications tool that isn't filtered through media bias." In the same sentence, she claimed that "the media obsesses over every period, dot."
White House counselor Kellyanne Conway on Monday criticized the media for "this obsession with covering everything he says on Twitter and very little what he does as president." 
If Trump does end up tweeting during Comey's testimony on Thursday, creating more trouble for his administration, expect Spicer to offer this defense: The "tweet speaks for itself." 
REAL LIFE. REAL NEWS. REAL VOICES.
Help us tell more of the stories that matter from voices that too often remain unheard.
BEFORE YOU GO
PHOTO GALLERY
Donald Trump Meets With Russian Officials