WASHINGTON ― There is a game that critics of Donald Trump like to play on Twitter.
After each successive revelation or major development concerning his administration, people resurface his old tweets as a commentary on the pile of contradictions that is the Trump presidency. The veritable gold mine of information found on Trump's Twitter page is a gift that truly keeps on giving ― offering detractors ample opportunity to note his hypocrisy at home and abroad.
"Trump is like Hallmark cards. There's an old tweet to celebrate every occasion," GOP strategist and CNN commentator Ana Navarro tweeted over the weekend, after Saudi Arabia and the United Arab Emirates pledged to donate $100 million to a World Bank fund for women entrepreneurs that was proposed by Ivanka Trump.
When former national security adviser Michael Flynn announced Monday he would invoke his the Fifth Amendment right against self-incrimination amid the investigation into Russian interference in last year's presidential election, critics highlighted statements Trump and his aides made about the investigation into Hillary Clinton's emails, the IRS scandal of 2013, and Bill Cosby.
Trump in 2012 called on former President Barack Obama to appoint an "independent counsel" to investigate leaks emanating from his administration. Last week, however, the president denounced the appointment of a special counsel to probe Russia's alleged meddling in the election, calling it a "witch hunt."
In 2014, Trump remarked that Obama appeared "exhausted," and later boasted about his own stamina as "one of my greatest assets."
But Trump's stamina didn't fare too well during his first trip abroad over the weekend. A White House official said the president was "exhausted" on Sunday when he dropped out of an event at the last minute in Saudi Arabia, the first stop of his trip to the Middle East and Europe.
Trump regularly criticized the Obama administration for failing to stand up to Saudi Arabia, taking issue with the "absolute fortune" the U.S. has spent to protect the Middle Eastern country.
Prior to the president's arrival there, however, Trump's administration announced it had sealed a $110 billion arms deal ― the largest in American history ― between the U.S. and Saudi King Salman's government. Jared Kushner, Trump's son-in-law, reportedly intervened to negotiate a lower price on a missile system for Saudi Arabia by personally phoning the CEO of Lockheed Martin.
In 2015, before he announced he was running for president, Trump criticized then-first lady Michelle Obama for not wearing a headscarf over her hair during a trip to Saudi Arabia.
But when Trump and his family visited the Islamic nation this weekend, first lady Melania Trump did the same thing.
Trump regularly fumed at Obama and Clinton on Twitter for refusing to use the phrase "radical Islamic terrorism," accusing them of being overly politically correct.
Yet in a major speech in Riyadh over the weekend, Trump softened his rhetoric on Islam and offered praise for a religion he once said hated America. "We are not here to lecture. We are not here to tell other people how to live, what to do, who to be, or how to worship," he said.
After Trump ordered a missile strike against Syria in retaliation for its use of chemical weapons last month, Twitter users tweaked the president for not seeking congressional authorization for the military action ― as he once called for during Obama's administration:
Like his predecessor, Trump hasn't had much luck halting North Korea's missile launches. In fact, its leader Kim Jong Un on Monday ordered mass production of a medium-range ballistic missile. Yet, in 2012, Trump tweeted:
Trump also attacked Obama over the issue of transparency, criticizing the former president for refusing to release records.
Trump's administration, however, refuses to make records of visitors to the White House available to the public. Moreover, the president has yet to release his tax returns ― a tradition followed by every presidential nominee in the last 40 years.
Perhaps the most egregious case of hypocrisy surrounding Trump centers on the game of golf. Trump constantly criticized Obama for spending his weekends playing golf, but so far during his presidency, he has spent far more time on the golf course.
The pace of earth-shattering revelations over the Russia investigations and the firing of former FBI director James Comey, in particular, prompted some Twitter users last week to resurface old Trump tweets in which he expressed concern over the direction the nation was headed.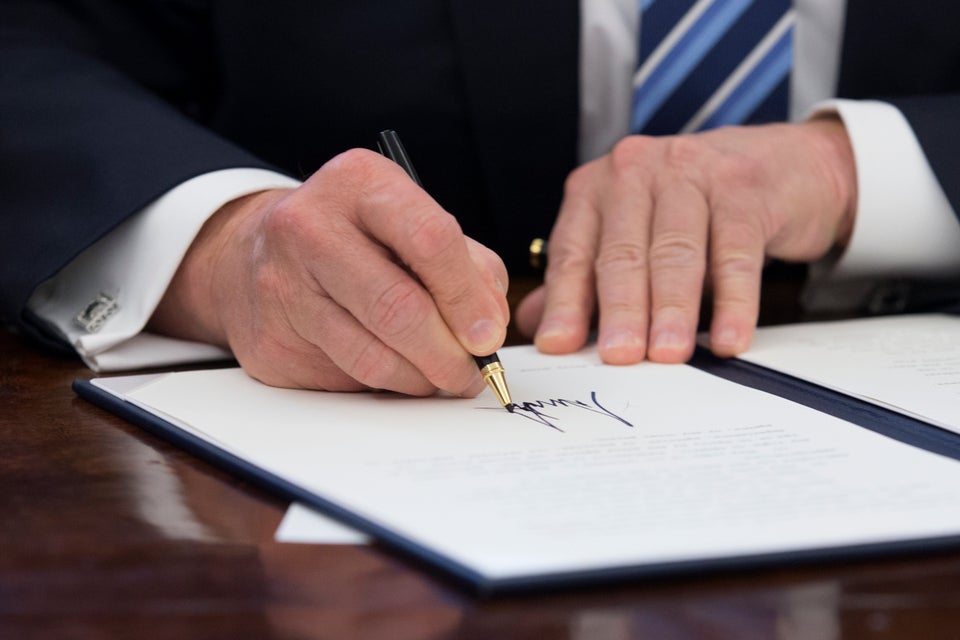 Donald Trump Loves Signing Things
Popular in the Community