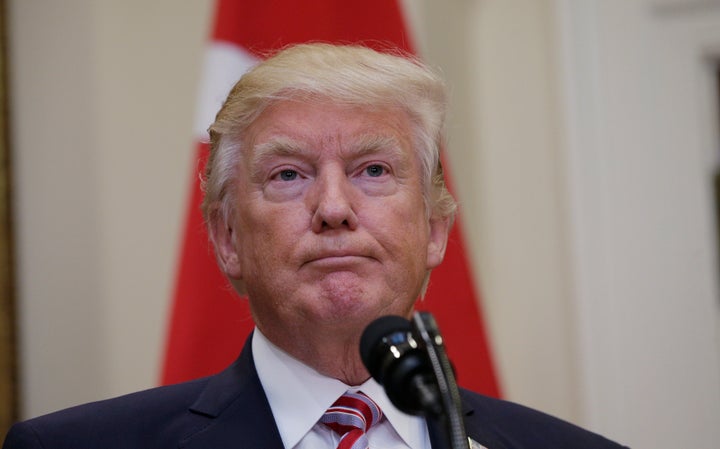 WASHINGTON ― A White House in a "downward spiral," as a key Republican senator called it, is making an already daunting task even harder: persuading qualified candidates to take important administration jobs.
Hundreds of key posts at the Department of Defense and the State Department remain unfilled heading into the fifth month of Donald Trump's presidency because of his insistence on personally approving all top hires. And the hiring crunch started before the most recent stretch of controversy that began with Trump firing the FBI director while the bureau was investigating the Trump campaign's possible collusion with Russia and was followed by an Oval Office meeting last week with Russian officials during which Trump reportedly revealed highly classified information. Then Tuesday came the multiple reports that Trump had asked FBI Director James Comey to end his investigation of Michael Flynn, Trump's first national security adviser.
"Up to now, many experienced national security hands had been barred from serving in this administration because they opposed candidate Trump," said Richard Haass, president of the nonpartisan Council on Foreign Relations and author of a new book, "A World in Disarray".  "The danger now for the country is that many of these same people will opt to stay out because they oppose President Trump."
The onslaught of unflattering revelations has even some Republican lawmakers calling for changes. Tennessee Republican and chairman of the Senate Foreign Relations Committee Bob Corker, a Trump ally, said Monday that the White House has to find a way to reverse this "downward spiral."
In short order, Trump has sparked a brain drain from within the government ranks ― dissuading those inclined to serve from submitting their résumés and prompting those already in place to consider leaving.
One long-serving former FBI official told HuffPost that morale at the agency has cratered since Comey's dismissal, with case agents and administrators petrified that the president is politicizing their work. "If it is political, it's a problem," the official said, predicting that few applicants would find the agency appealing if Trump chooses a politician to replace Comey.
Right, wrong or indifferent, an administration has to have its voice at the lowest echelons of agencies, and that's just not happening.

Todd A. Weiler, assistant secretary of defense in the Obama administration
A similar dynamic is shaping up in the national security agencies, where Trump has faced profound and sustained difficulties recruiting staff. A Republican foreign policy hand who turned down a spot in the administration during the presidential transition over concerns about the Trump team's ties to Russia said the situation actually looked much rosier just two weeks ago. "People were coming to the view that they could buckle down and work in this administration because they could make the administration better," the would-be appointee said on the condition of anonymity out of fear of angering the Trump administration.
That outlook has dimmed considerably. Trump publicly contradicted top aides on why he had fired Comey and then, less than a week later, put National Security Adviser H.R. McMaster before the press to knock down a critical Washington Post report Monday that Trump gave sensitive information to the Russians ― before admitting it Tuesday morning on Twitter.
"To have McMaster out there shilling on this is not sitting well with foreign policy professionals," the GOP foreign policy expert said. "They're concerned that they are dragging his reputation through the mud, and they look and say: 'If H.R. had this sterling reputation and may not survive this, how could I?'"
Unfilled political appointments have two consequences on a new administration's effectiveness. While some of those jobs are largely ceremonial ― glamorous ambassadorships, for example ― others entail nuts-and-bolts work. And those tasks either go undone or are passed down to lower-level employees, which in turn affects their ability to do their own jobs.
At another level, though, the failure to install management-level political appointees means the career service employees who do the majority of the work are likely to continue carrying out policies laid out by the previous administration.
"What we are seeing right now in the Pentagon for example ― my old world ― is careerists either trying to interpret what they think a team would want or in some cases going it on their own and for their own personal agendas taking action on certain items," said Todd A. Weiler, assistant secretary of defense in the Obama administration and deputy assistant secretary under President Bill Clinton. "And that's a dangerous way to do business. Right, wrong or indifferent, an administration has to have its voice at the lowest echelons of agencies, and that's just not happening."
Republican political consultant and longtime Trump critic Rick Wilson said some delay in filling jobs is to be expected, particularly at relatively lower levels. As a young political appointee of President George H.W. Bush in the early 1990s, Wilson stayed in his job a full 14 months into Democrat Bill Clinton's presidency until leaving in March 1994.
Yet Trump's challenge is even more difficult, Wilson said, because of his insistence on loyalty. In past administrations, the president has drawn not only from backers of his own campaign but also from those who had supported other candidates, even other party members. Trump, while he put former GOP rivals Ben Carson and Rick Perry on his Cabinet, has been less willing to hire supporters of other GOP presidential candidates.
"Unless you were a loyal Trump suck-up for the entire campaign, they're not even going to consider you," said Wilson, who added that that criterion left just a small group of prospects. "And they're lunatics."
Some of Trump's problem, of course, stems from Republicans who remain absolutely unwilling to work for Trump.
"I don't know anyone who worked for the governor who would work for President Trump," said John Weaver, who ran the Republican primary campaign of Ohio Gov. John Kasich. "Especially me."
And the more the Trump scandals pile up, Wilson said, the harder it will be to find good people.
"There's a talent gap already, and it's going to be an even worse talent gap," he said. "People aren't going to volunteer for a mission that's political suicide, that's career suicide."
Calling all HuffPost superfans!
Sign up for membership to become a founding member and help shape HuffPost's next chapter