President Donald Trump forcefully defended the United States and condemned North Korea and Iran in his first speech before the United Nations General Assembly, hailing "strong, sovereign nations" and urging fellow world leaders to "put your countries first," while trying to strike a cordial tone on the international alliances he had previously criticized.
"As president of the United States, I will always put America first," he said. "The United States will always be a great friend to the world and especially to its allies, but we can no longer be taken advantage of or enter into a one-sided deal in which the United States gets nothing in return."
Trump's speech Tuesday was an important test on the world stage, as the U.N. grapples with international crises, including North Korea's growing nuclear program, terrorism and climate change.
"Rocket Man is on a suicide mission for himself and for his regime," Trump said, referring to his nickname for North Korean leader Kim Jong Un.
He then said the U.S. "will have no choice but to totally destroy North Korea" if the regime does not tamp down its nuclear development and if it threatens the U.S. and its allies.
In a clear nod to his conservative base, Trump pledged to "crush the loser terrorists" and "stop radical Islamic terrorism."
He also strongly indicated that he would not remain in the Iranian nuclear deal, which is up for renewal next month, calling it "one of the worst and most one-sided transactions the U.S. has ever entered into" and "an embarrassment."
Trump's speech presented another opportunity to push his "America First" foreign policy vision, this time in front of an international body he has often maligned.
During his presidential campaign, Trump regularly criticized the United Nations for mismanagement and ineffectiveness. And in December, he referred to it as "a club for people to get together, talk and have a good time."
On Monday, he pledged to "make the United Nations great," a nod to his campaign slogan.
"The main message is 'make the United Nations great.' Not 'again.' Make the United Nations great," Trump told reporters. "Such tremendous potential, and I think we'll be able to do this."
In his speech Tuesday, Trump celebrated the international alliances formed after World War II, a sharp contrast from his campaign rhetoric.
Yet he remained critical of the United Nations' role and fiercely put forth his "America First" platform, boasting at the beginning of his scripted remarks that "the United States has done very well since Election Day."
The reaction to Trump's speech among the world leaders in the room was "muted at best" and "stone faced," according to a press pool report from The New York Times' Peter Baker. At the conclusion of the president's remarks, there was "fuller, polite applause, though not rousing or enthusiastic."
While in New York, Trump has been speaking with world leaders gathered for the U.N. meeting. On Monday, he met with Israeli Prime Minister Benjamin Netanyahu to discuss peace in the Middle East, which Trump has boasted he can reach, as well as the Iran nuclear agreement, which Netanyahu fiercely opposes.
"You'll see very soon," Trump told reporters, when asked if the U.S. would stay in the agreement.
Later in the day, Trump met with French President Emmanuel Macron, with climate change as one topic of contention. Macron has been trying to convince Trump to reverse the decision he made earlier this year to withdraw the United States from the Paris climate agreement.
According to the White House, the two leaders "discussed how best to protect the environment while promoting economic growth."
Trump's busy week has not gone without a hitch.
Ahead of his meeting with Macron, Trump told reporters that he wants a military-style parade down Pennsylvania Avenue in Washington on July Fourth, referring to the French Bastille Day parade he saw during his July visit to Paris on the invitation of Macron. Trump said Monday that he admired France's display of "military might."
Trump also took the time to promote one of his New York real estate properties before giving remarks at a meeting about U.N. reform.
"I actually saw great potential right across the street, to be honest with you," Trump said, apparently referring to his Trump World Tower property near the United Nations. "And it was only for the reason that the United Nations was here that that turned out to be such a successful project."
This article was updated with reaction to Trump's remarks.
Before You Go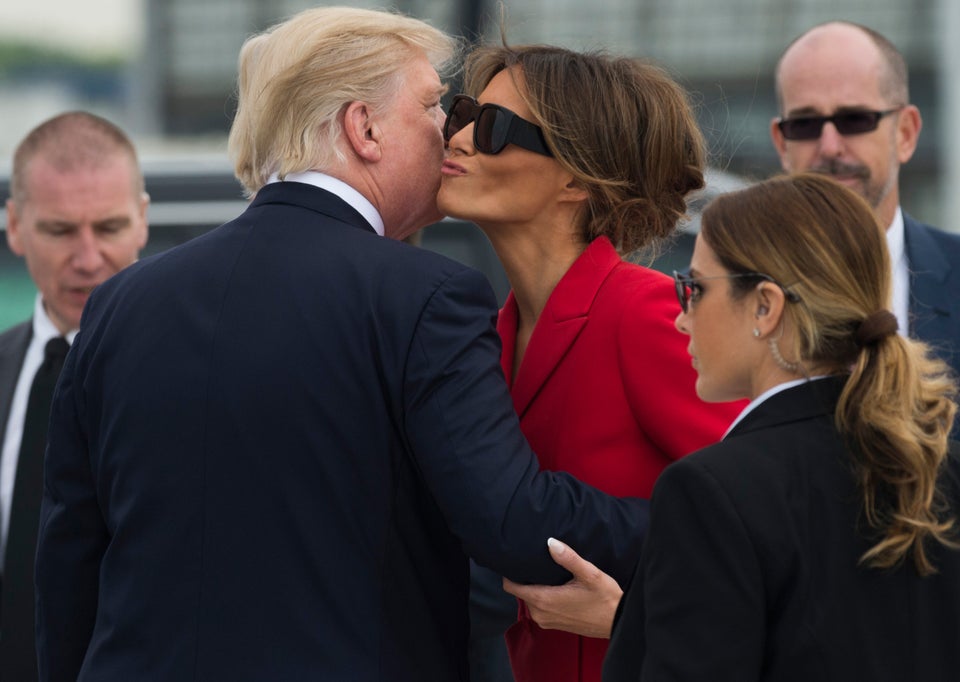 Trump Visits Paris
Popular in the Community