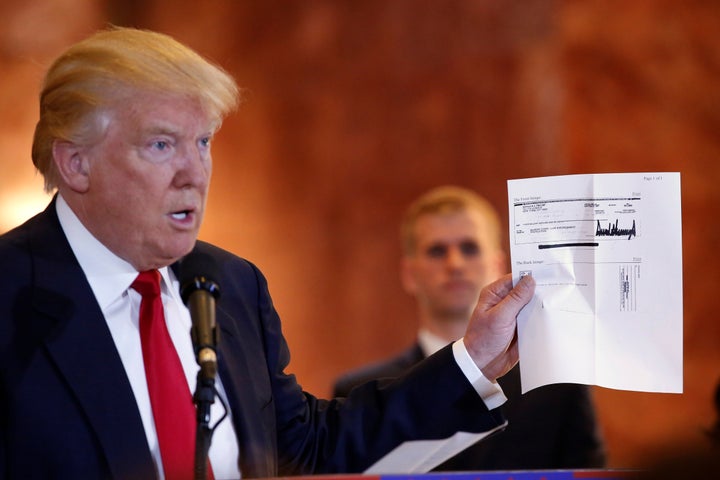 Iraq War veteran Corinne Sommer is not allowed to talk about the settlement she reached with Trump University after she was fired in 2007.
But in a deposition first made public on Tuesday, Sommer said she believed the real estate seminar provider terminated her because her military commitments as a reservist interfered -- a little -- with her work as an events planner for the company.
"I was fired because I was in the military," she told attorneys as part of an unrelated fraud case against Trump University. "At the end of my [performance] evaluation, they wrote that it was a problem that I was in the military." Sommer was an Army staff sergeant who had deployed to Iraq in 2003.
But at the Trump-owned Trump University, the time required by some reservists to fulfill their military commitments clashed with the demands of their seminar-providing duties. And some of their managers were seemingly unaware that it is a violation of federal law to penalize an employee for absences caused by military service.
A few months before Sommer was fired from Trump University in 2007, another veteran, Air Force Senior Master Sgt. Richard Wright, was fired from his job as a mentor at the Trump Institute, an affiliate of Trump University. Wright had just returned from a deployment to Afghanistan when his bosses told him that "all of your absences" had forced the company to "reevaluate your position with the Trump Institute."
In some ways, Sommer is an atypical veteran. A graduate of the University of Connecticut with a degree in cultural photography, she enlisted in the Army in May 2001 and deployed to Tikrit, Iraq, in the early months of the 2003 U.S. invasion.
"Imagine driving to work everyday and having to worry about getting shot, IED'd (improvised explosive device) or RPG'd (rocket-propelled grenade)," Sommer told the Danbury News-Times in a 2004 interview from Iraq. "Imagine going to sleep listening to explosions going off around you. Imagine walking to chow and listening to a whizzing of mortars overhead, and thinking, oh God, don't let it hit me. Imagine listening to your friends tell stories how they were hit by an IED and the pure terror they felt. And then imagine your friends who were not so lucky to tell that story."
Three years after she returned home, Sommer started working for Trump University.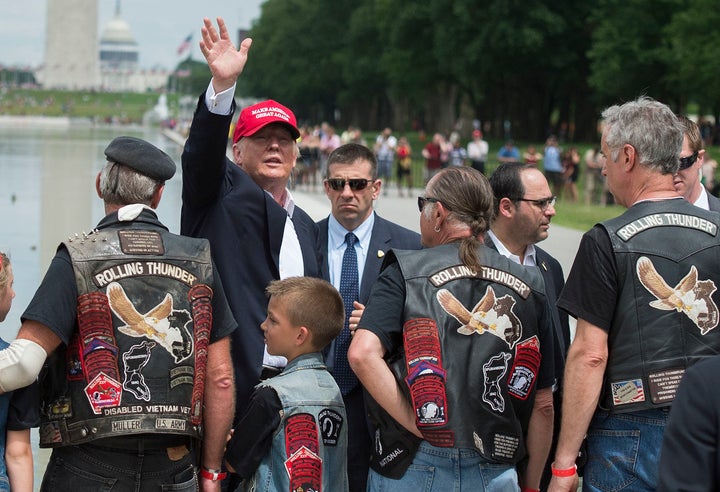 There, she said in her 2012 deposition, her boss David Highbloom "complained when I would take days off to do my military service." Sommer said that she would take those days off during the week so that she could be at Trump U events over the weekend. Her reservist commitment amounted to two days a month, she said.
Her supervisors at Trump University wrote that she was a "weekend warrior" on her performance review, according to Sommer. She considered that term "derogatory ... especially when I'm an Iraq veteran."
The Huffington Post left messages for Sommer at her home and Highbloom at his workplace. Neither of them returned calls.
According to the deposition, Trump University would claim that Sommer was fired for poor performance. But she said the company was pushing her to work even more hours just before they fired her. She refused and returned home from a vacation trip to learn that she didn't have a job anymore.
In her employment lawsuit, Sommer recalled, she accused Trump University of firing her because of her military commitments and of discriminating against because of her age (she was in her early 20s at the time).
She said she "won" her case when the company agreed to settle with her, rather than go to trial. "They found that there was probable cause enough to settle," she said. The exact resolution of the case is covered by a "confidentiality provision," Trump U's lawyer noted in the deposition.
A spokeswoman for the Trump Organization told HuffPost, "While we do not comment on the circumstances surrounding the termination of employees, the allegations in Ms. Sommer's lawsuit were completely meritless and Trump University in no way admitted the allegations in settling the dispute."
Trump University, which closed down in 2011, is now facing fraud charges in multiple states. Thousands of former customers and staff, including Sommer, contend that the real estate seminars were little more than a two-bit scam.
On the campaign trail, Donald Trump has sought to defend those seminars while also downplaying his involvement in the company.
The class action lawsuit in California alleging fraud by Trump is moving forward, and is expected to go to trial in late November.
This story has been updated with a comment from the Trump Organization.
Popular in the Community