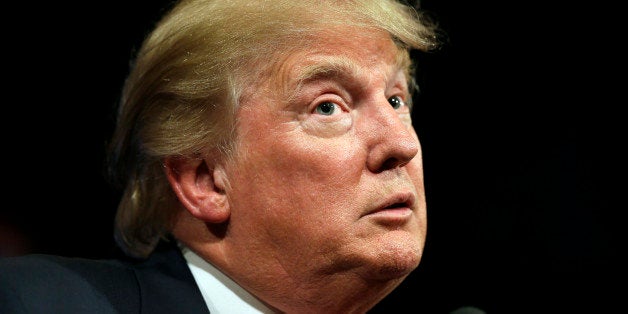 Donald Trump says he will sue Univision for "hundreds of millions of dollars" if the network holds to its decision to not air the Miss USA pageant next month.
Univision announced Thursday it will not air the Miss USA pageant on July 12 "or [work] on any other projects tied to the Trump Organization" after the businessman made disparaging remarks about Mexicans earlier this month during a speech announcing his candidacy for the 2016 Republican presidential nomination. Trump is a part owner of the Miss Universe Organization.
"The U.S. has become a dumping ground for everybody else's problems," Trump said during his announcement. "It's true, and these are the best and the finest. When Mexico sends its people, they're not sending their best. They're not sending you. They're not sending you. They're sending people that have lots of problems, and they're bringing those problems with us. They're bringing drugs. They're bringing crime. They're rapists. And some, I assume, are good people."
The 69-year-old mogul told TMZ that Univision has a five-year, iron-clad deal with the Miss Universe Organization to air the show and he will sue because the network has "no legal right" to back out of it. He told TMZ that Univision was "immediately apologetic after pulling the plug."
NBCUniversal and the Miss Universe Organization entered a long-term partnership with Univision in January to co-produce the Miss USA and Miss Universe pageants and bring them to the network.
Trump claimed Univision caved to pressure from the Mexican government.
"They don't want me saying that Mexico is killing the United States in trade and killing the United States at the border," Trump told The Associated Press on Thursday. "Univision is totally laying down for the Mexican government. ... They want to silence Donald Trump. And Donald Trump can't be silenced. ... I have great respect for Mexico and I love the Mexican people, but my loyalty is to the United States."
Actress Roselyn Sanchez, who was supposed to co-host the pageant, and Colombian singer J Balvin, who was scheduled to perform, have announced they'll no longer participate in the event.
A Univision representative declined to comment on Trump's lawsuit threat.
Support HuffPost
Every Voice Matters
Popular in the Community