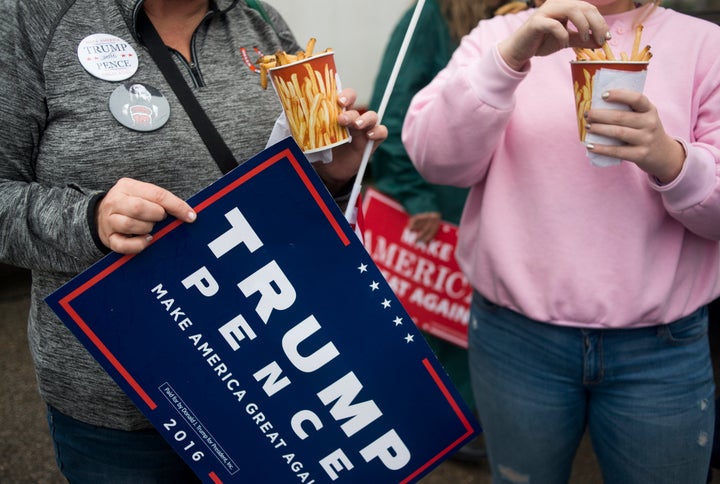 We don't know much about what President-elect Donald Trump plans to do about the many problems — like food insecurity, environmental pollution, unsustainable farming practices and obesity — facing the U.S. food system.
But what we do know so far is cause for alarm to many food advocates.
To date, Trump has not announced his pick for the secretary of the U.S. Department of Agriculture. Though various reports have narrowed the list to a half-dozen or so names, the final selection likely won't be made for at least another week or two.
In the meantime, focus has shifted to the names of the individuals Trump previously tasked to direct the transition of the department as part of his agriculture advisory committee, a group initially headed up by veteran D.C. food and agriculture lobbyist Michael Torrey.
Torrey, whose recent clients include Little Caesar's, the Snack Food Association and the soda-pushing American Beverage Association, abruptly resigned from the post last month after Trump announced a ban on lobbyists serving in the transition effort. Appointed in Torrey's place was Joel Leftwich, staff director of the Senate Agriculture Committee and a long-time advisor for Senator Pat Roberts (R-Kansas).
Leftwich himself is a former lobbyist, having worked for two years as senior director of public policy and government affairs for PepsiCo between 2013 and 2015 and, prior to that, serving for three months as the program manager of federal government affairs at chemical giant DuPont in 2010.
Prior to that, Leftwich did work for a year as a congressional liaison to the USDA. (That was between 2004 and 2005, during George W. Bush's second administration). But the industry ties of Leftwich and many other members of Trump's ag advisory committee are alarming, if not surprising, to advocates for a healthy and sustainable food system.
They fear that advancements on such issues during the Obama administration could be slowed or reversed altogether in the coming years.
Jim O'Hara, director of health promotion policy at the nonprofit Center for Science in the Public Interest, told The Huffington Post that Leftwich's background indicates industry interests may be prioritized by Trump's USDA. This could mean a rollback of food safety laws or nutrition initiatives.
"Obviously, having pro-industry folks on the transition team who are likely to put in place pro-business policies without balancing public health concerns is an issue of concern," O'Hara said.
Tiffany Finck-Haynes, food futures campaigner at the Friends of the Earth environmental nonprofit, agreed. Leftwich's close affiliation with Sen. Roberts, the lead opponent to legislation allowing states to approve laws requiring genetically modified foods to be labeled, is alarming, she said.
"Basically, Trump is replacing a lobbyist with a former lobbyist," Finck-Haynes said. "That indicates to us that he is much more serious about protecting corporate interests than protecting the American public and the environment."
But other advocates are less concerned with the direction the Trump administration's ag appointments appear to be heading.
Scott Faber, vice president at the Environmental Working Group, described Leftwich's past connections to industry as an asset given that many companies, including PepsiCo, are working to better cater their products to consumers' demand for healthier, more sustainable choices.
"He sort of straddles the divide where food companies tend to think the customer's always right, while many farm lobbyists tend to think the customer's always wrong," Faber told HuffPost.
Further, the revolving door between lobbying and posts like Leftwich's isn't particularly unusual — and that's true of both Democratic and Republican administrations, according to Ferd Hoefner, policy director at the National Sustainable Agriculture Coalition.
While representing NSAC on the hill, Hoefner took part in meetings with Leftwich on the Senate Agriculture Committee, on issues like authorizing a farm-to-school program as part of the 2010 Child Nutrition Act. He described the experience as positive.
"Joel certainly is someone who knows how things work," Hoefner said. "He has a practical side. We may not always agree on positions, but we can certainly easily work together to move things forward."
Still, it will be too early to know exactly what a Trump administration will mean for our food system until the USDA secretary pick is announced.
One apparent front-runner, Texas Agriculture Commissioner Sid Miller, a Republican, has raised eyebrows for both his temperament and food policy positions.
Miller called Democratic presidential nominee Hillary Clinton a "cunt" on Twitter last month, in a tweet he blamed on an error made by a campaign staffer. And he's been labeled a "king of cupcakes and deep-fried advocate" for his junk food-inclusive approach to school nutrition.
Trump's selection this week of U.S. Rep. Tom Price (R-Ga.) as secretary of health and human services, the agency that oversees the Food and Drug Administration, has also prompted concerns.
As Politico reported Wednesday, Price's congressional record includes voting against the Food Safety and Modernization Act and the Healthy Hunger-Free Kids Act. He also opposed menu labeling rules for convenience stores and grocers under the Affordable Care Act.
Still, food advocates are pressing on.
Regardless of whom the Trump administration selects as agriculture secretary, Tom Colicchio, celebrity chef and co-founder of the food advocacy group Food Policy Action, emphasized that his organization will push them to "take care of the health of our country across the board."
"We encourage Washington to keep turning the dial forward towards good food policy because that is what consumers want and every American deserves," Colicchio said in an email.
Joseph Erbentraut covers promising innovations and challenges in the areas of food and water. In addition, Erbentraut explores the evolving ways Americans are identifying and defining themselves. Follow Erbentraut on Twitter at @robojojo. Tips? Email joseph.erbentraut@huffingtonpost.com.
Calling all HuffPost superfans!
Sign up for membership to become a founding member and help shape HuffPost's next chapter
BEFORE YOU GO
PHOTO GALLERY
Donald Trump's Environment Guy Doesn't Believe In Climate Change