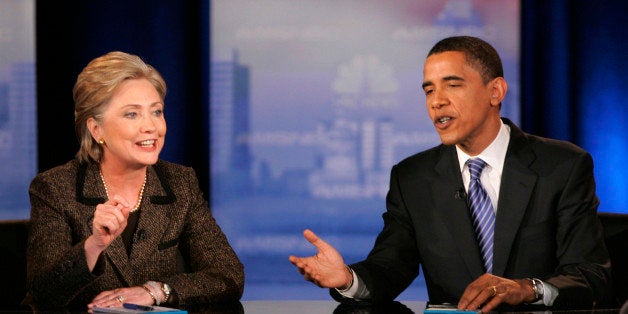 To say Donald Trump is a racist ideologue might be an understatement, given his overtly xenophobic statements about Muslims, as well as his views on undocumented immigrants. He's insulted everyone from John McCain and Megyn Kelley to Kareem Abdul-Jabbar, so it's obvious that Trump is either delusional, or simply doing everything possible to stay in the limelight. However, it's important for all Americans, especially Democrats, to look in the mirror.
Trump is a reflection of our society, as well as a mirror of what we're willing to tolerate, especially when "our" side is fighting for political power. The truth is that Hillary Clinton utilized race and Islamophobia against Barack Obama in 2008, even though Democrats aren't supposed to reach into this well of prejudice and ignorance.
The Guardian in 2008 published an article titled Clinton aides claim Obama photo wasn't intended as a smear, highlighting that a leading Democrat was willing to utilize "dirty tricks" pertaining to race and Islamophobia, even against a Christian man born in the U.S.:

Barack Obama's campaign team today accused Hillary Clinton's beleaguered staff of mounting a desperate dirty tricks operation by circulating a picture of him in African dress, feeding into false claims on US websites that he is a Muslim.

Obama's campaign manager, David Plouffe, described it as "the most shameful, offensive fear-mongering we've seen from either party in this election." Obama has had to spend much of the campaign stressing he is a Christian not a Muslim and did not study at a madrassa.

The picture showing Obama in a turban during a visit to Kenya in 2006 first appeared on the Drudge Report website today.

The site said it was circulated by Clinton's staffers and quoted one saying: "Wouldn't we be seeing this on the cover of every magazine if it were [Clinton]?"

The picture was taken when Obama went on a visit to Africa as a senator. Obama, whose father was Kenyan, visited Wajir in the Kenyan north-east, close to the Somali and Ethiopian borders, and was dressed by locals as a Somali elder.

The Clinton team hit back at the criticism today, saying Obama's team had turned the picture into a row to distract attention from a foreign policy speech she gave today.
I didn't make this up, nor does reminding the public equate to a nefarious agenda. The picture in The Guardian piece was utilized by Clinton's staff for a reason ("feeding into false claims on US websites that he is a Muslim"), which is why Obama's campaign called it "the most shameful, offensive fear-mongering we've seen from either party in this election."
Get ready for the defense attorneys among Clinton supporters to explain why circulating the picture above wasn't a shameful misrepresentation utilizing Islamophobia, or why I must have an agenda for pointing out this fact.
In addition to circulating a photo of Obama in African dress, knowing full well how certain voters in 2008 would view the picture, there's Clinton's 3:00 a.m. ad. Harvard Sociology Professor Orlando Patterson wrote an op-ed in The New York Times about this political attack during the 2008 campaign. Titled The Red Phone in Black and White, Patterson's op-ed explains exactly how Clinton's campaign utilized a "racist sub-message" in addition to Islamophobia:
ON first watching Hillary Clinton's recent "It's 3 a.m." advertisement, I was left with an uneasy feeling that something was not quite right -- something that went beyond my disappointment that she had decided to go negative...

I have spent my life studying the pictures and symbols of racism and slavery, and when I saw the Clinton ad's central image -- innocent sleeping children and a mother in the middle of the night at risk of mortal danger -- it brought to my mind scenes from the past. I couldn't help but think of D. W. Griffith's "Birth of a Nation," the racist movie epic that helped revive the Ku Klux Klan, with its portrayal of black men lurking in the bushes around white society...

The ad could easily have removed its racist sub-message by including images of a black child, mother or father -- or by stating that the danger was external terrorism. Instead, the child on whom the camera first focuses is blond...

It is striking, too, that during the same weekend the ad was broadcast, Mrs. Clinton refused to state unambiguously that Mr. Obama is a Christian and has never been a Muslim.
No, I'm not trying to say Hillary Clinton is the equivalent of Trump, although both have utilized race and Islamophobia to attain political power. As a Democrat, however, Clinton should be held to a higher standard, especially since black voters in South Carolina and throughout the nation are the key to any hope at winning the White House. When Patterson writes, "Clinton refused to state unambiguously that Mr. Obama is a Christian and has never been a Muslim," America saw a more nuanced version of Trump's vitriol.
As for South Carolina, Clinton supporters gleefully boast of her popularity among non-white Democrats, conveniently forgetting that Congressman James Clyburn once denounced both Clintons on their use of race. According to a New York Times piece in 2008 titled Black Leader in House Denounces Bill Clinton's Remarks:
Representative James E. Clyburn, an undeclared superdelegate from South Carolina who is the Democratic whip in the House, said that "black people are incensed over all of this," referring to statements that Mr. Clinton had made in the course of the heated race between his wife, Senator Hillary Rodham Clinton, and Senator Barack Obama.

In an interview with The New York Times late Thursday, Mr. Clyburn said Mr. Clinton's conduct in this campaign had caused what might be an irreparable breach between Mr. Clinton and an African­-American constituency that once revered him. "When he was going through his impeachment problems, it was the black community that bellied up to the bar," Mr. Clyburn said. "I think black folks feel strongly that that this is a strange way for President Clinton to show his appreciation."

Mr. Clyburn added that there appeared to be an almost "unanimous" view among African-­Americans that Mr. and Mrs. Clinton were "committed to doing everything they possibly can to damage Obama to a point that he could never win."

If the roles were reversed, and a Republicans had been "committed to doing everything they possibly can to damage Obama to a point that he could never win," how would we feel about this dynamic?

It was only seven years ago when Congressman Clyburn stated, "black people are incensed over all of this," regarding the rhetoric spoken by Hillary Clinton's biggest campaign presence at the time.

Finally, while Trump's diatribes are rooted in a devious form of political grandstanding, it's also important to move beyond words. Hillary Clinton, a Democrat, has accepted campaign donations from two major prison lobbyists, and Democrats and progressives have already acknowledged that racism plays a role in America's criminal justice system. The same people whose interests are to promote mass incarceration have helped fund Clinton's campaign, according to a Huffington Post article titled Hillary Clinton Says She'll End Private Prisons, Stop Accepting Their Money:
Lobbying firms that work for two major private prison giants, GEO Group and Corrections Corporation of America, gave $133,246 to the Ready for Hillary PAC, according to Vice. Those companies operate a number of criminal and immigrant detention facilities, some of which have been plagued by allegations of abuse and poor treatment of detainees.

Immigrant and civil rights groups have urged Clinton to stop accepting contributions from donors with ties to GEO and CCA.
So, in addition to utilizing an undercurrent of prejudice against Obama in 2008, Clinton has accepted money from prison lobbyists, at a time when race plays an overwhelming factor in sentencing and incarceration.
No doubt, this piece will be labeled as hate against Hillary, even though I harbor no hatred towards Clinton or anyone. Pointing out Clinton's use of xenophobia isn't an exercise in hate, nor do these prior actions become less vile, simply because Donald Trump is worse. True, I'm voting only for Bernie Sanders, mainly because he's the antithesis of Trump or Clinton (as I explain here), but it's important to remember the past. We view Trump today as a political pariah, but conveniently forget that Clinton used a more nuanced, far more surreptitious, version of the same political rhetoric.
Calling all HuffPost superfans!
Sign up for membership to become a founding member and help shape HuffPost's next chapter