President-elect Donald Trump's skepticism about the safety of childhood vaccines contrasts not only with the scientific consensus, but also with the opinions of Americans ― fewer than one-quarter of whom think immunization should be a matter of personal choice.
By a more than 2-1 margin, 54 percent to 26 percent, Americans say that the science supporting the safety of childhood vaccination is "indisputable," rather than something that requires future debate, a new HuffPost/YouGov survey finds, although partisan divides on the issue are widening.
Two-thirds of Americans say that the issue of vaccinating children is a matter of public health, with just 24 percent considering it a matter of personal choice. A 56 percent majority of those polled say they have at least a fair amount of trust in the government to set vaccination policies. 
Among public health experts, there's little disagreement that immunization is safe and effective and one of the greatest public health achievements in modern times.
Trump has advocated the debunked theory that vaccines cause autism. Last week, he met with Robert F. Kennedy Jr., a proponent of the autism theory, and Kennedy told reporters that Trump had asked him to lead an official commission investigating vaccine safety.
Trump spokeswoman Hope Hicks sort of denied that Trump will create such a commission.
"There is no decision made on this position or commission," she wrote in an email.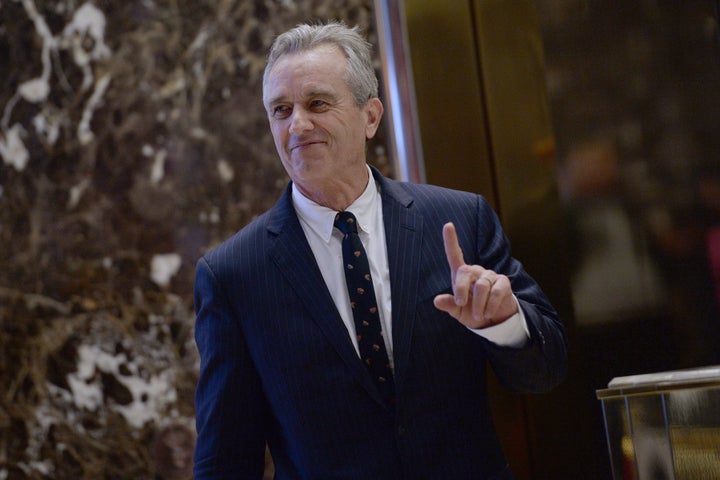 The link between vaccines and autism has been thoroughly investigated and disproved. Establishing a commission to investigate the matter could itself be harmful, experts say, since it could lead people to think the question hasn't been answered or that vaccines don't already go through a rigorous approval process. Sowing such doubts could lead to a drop in vaccination rates, needlessly exposing vulnerable groups like children to preventable diseases.
"It seems that at the highest level of our government, data is being ignored, scientific fact is being ignored," said Alison Singer, president of the Autism Science Foundation, a nonprofit that supports research into causes of autism ― but not into the dubious vaccine link.
"That act of ignoring data will put children's lives at risk," Singer said.
Trump's flirtation with vaccine-safety skeptics is dangerous, said Amy Pisani, director of Every Child By Two, a group that advocates in favor of timely childhood immunizations. But she said she believed Trump would come around.
"As soon as the Trump administration sits down and starts to read the science, and gets together with the proper autism groups," Pisani said, "they're going to come to realize the science is in on this issue and that focusing on vaccines will only take away precious resources that should be allocated to promising autism science."
That act of ignoring data will put children's lives at risk.

Alison Singer, Autism Science Foundation
The general public's opinion on all these metrics has remained relatively stable in recent years. A HuffPost/YouGov poll conducted in February 2015 found that 59 percent of Americans believed that the safety of childhood vaccinations was indisputable (54 percent said this in the most recent poll), and 70 percent believed that vaccinations were a matter of public health (now 66 percent). In the February 2015 poll, 52 percent of respondents expressed faith in the government's policies on the issue (now 56 percent). 
But although a majority of Democrats and Republicans still support vaccination, the minor partisan divides present in the 2015 survey appear to have modestly widened.
Democrats have become even more staunch advocates for vaccines in the past two years. Two-thirds say that vaccine science is indisputable, up 6 points from 2015. Seventy-seven percent still consider childhood vaccines a matter of public health.
In contrast, while 64 percent of Republicans think vaccination is a public health issue, that's down 7 points since the previous survey. Fifty-three percent consider childhood vaccines indisputably safe, down 9 points from 2015.
With a Republican about to enter the White House, however, more Republicans say they trust the government. Fifty-three percent of Republicans now have at least a "fair amount" of trust in the government's vaccination policies, up 13 points.
One other finding from the previous survey remains relevant, and could be promising for vaccination advocates: Liberals and conservatives are both more likely to tar the other side as anti-vaccine than to accept the label for themselves.
Self-described liberals say by a 13-point margin that conservatives are more likely to have doubts about vaccines than liberals are, while self-described conservatives say by a 16-point margin that liberals are more likely than conservatives to harbor doubts.
The HuffPost/YouGov poll consisted of 1,000 completed interviews conducted Jan. 11-12 among U.S. adults, using a sample selected from YouGov's opt-in online panel to match the demographics and other characteristics of the adult U.S. population.
The Huffington Post has teamed up with YouGov to conduct daily opinion polls. You can learn more about this project and take part in YouGov's nationally representative opinion polling. Data from all HuffPost/YouGov polls can be found here. More details on the polls' methodology are available here.
Most surveys report a margin of error that represents some, but not all, potential survey errors. YouGov's reports include a model-based margin of error, which rests on a specific set of statistical assumptions about the selected sample, rather than the standard methodology for random probability sampling. If these assumptions are wrong, the model-based margin of error may also be inaccurate. Click here for a more detailed explanation of the model-based margin of error.  
Calling all HuffPost superfans!
Sign up for membership to become a founding member and help shape HuffPost's next chapter