GOP presidential nominee Donald Trump tried to show how much he knows about the issue of veteran suicides Wednesday night by correcting a veteran who'd asked him a question. But Trump's attempt to demonstrate his knowledge failed ― the veteran had the right statistic, not Trump.
Rachel Fredericks specialized in aviations operations in the Marine Corps. She lost two friends to suicide, and she herself has post-traumatic stress disorder. During the Iraq and Afghanistan Veterans of America Commander-in-Chief Forum Wednesday night, Fredericks asked Trump what he was going to do to stop 20 veterans a day from killing themselves.
"Actually, it's 22," Trump replied. "It's almost impossible to conceive that this is happening in our country."
When Trump corrected Fredericks, the veteran shook her head, and a man behind her could be seen shaking his head as well.
Fredericks, in fact, cited the correct number. In July, the Department of Veterans Affairs revised its figures on suicide. Per The Wall Street Journal:
Twenty military veterans commit suicide every day in the U.S., according to new statistics released Thursday by the Department of Veterans Affairs.

That number replaces prior VA estimates of 22 veteran suicides a day, a figure used for years and which was disputed by veterans groups, health care experts and the department itself. The new number remains persistently high despite department efforts to address the issue and comes soon after an investigation showed major failings at a VA mental-crisis call center. ...

The new report draws on 55 million veteran records from across the U.S. over a nearly 40-year period ending in 2014. The previous suicide estimate was based on data from only 3 million records ending in 2010, an incomplete database which led people to question its accuracy.
Although Hillary Clinton correctly cited the 20 suicides a day in her remarks at the forum, the now-outdated "22" statistic is the one that many people on both sides of the aisle are most familiar with.
Individuals ages 50 and over are particularly hit hard by this epidemic. In 2014, they accounted for roughly 65 percent of veteran suicides.
Trump said a major problem is that veterans are "killing themselves over the fact that they're in tremendous pain and they can't see a doctor." He promised to make veteran care "efficient" and "good."
"We're going to speed up the process," he said. "We're going to create a great mental health division. They need help. They need help. They need tremendous help, and we're doing nothing for them. The VA is really, almost, you could say, a corrupt enterprise... We are going to make it efficient and good. And if it's not good, you're out going to private hospitals, public hospitals and doctors."
Trump later put out a press release titled "Veterans Administration reforms that will make America great again," which described plans to "increase funding for post-traumatic stress disorder (PTSD), traumatic brain injury and suicide prevention services to address our veterans' invisible wounds... This funding will help provide more and better counseling and care."
Clinton pointed to her policy plans on mental health care for veterans, saying the stigma around the issue needs to be erased.
"We've got to help people currently serving not to feel that if they report their sense of unease, their depression, that somehow it's going to be a mark against them," she said. "We have to do more about addiction ― not only drugs, but also alcohol."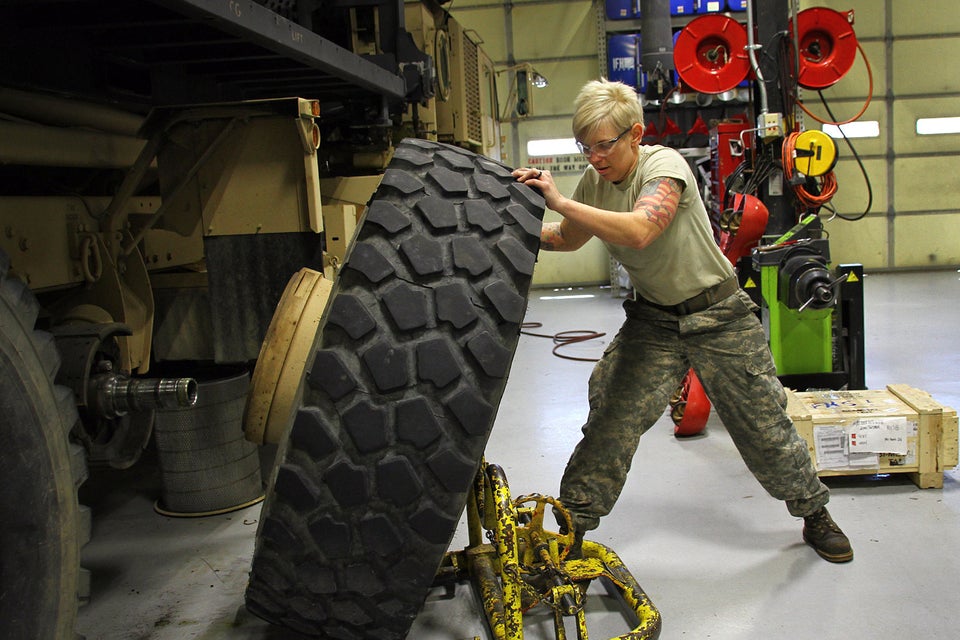 Military Women
Popular in the Community