President-elect Donald Trump is nominating David Shulkin, the Department of Veterans Affairs' undersecretary of health, to lead the federal agency.
Trump announced Shulkin's selection at a Wednesday press conference.
"I'll tell you about David, he's fantastic," Trump said. "He will do a truly great job."
Picking Shulkin, who as the VA's undersecretary of health, runs the department's network of 1,700 hospitals and other medical facilities, amounts to a vote of confidence in the current VA leadership's efforts to improve the health care it provides.
But Trump added that the incoming administration is going to solicit help for Shulkin, who is also a physician, from "some of the great hospitals of the world," including the Cleveland Clinic and the Mayo Clinic.
Trump was extremely critical of the VA's medical services as a presidential candidate, promising to improve the services available to veterans.
The president-elect reiterated this commitment on Wednesday.
"One of the commitments I've made is that we're going to straighten out the whole situation for our veterans. Our veterans have been treated horribly," he said.
The wait times currently facing veterans seeking care at VA facilities are "not going to happen," Trump promised.
It is unclear whether the selection of a senior VA official in the agency's current leadership signals a change in the Trump administration's plans to dramatically overhaul the VA, however.
Trump transition officials have suggested that as part of the administration's plans to reform the VA, the president-elect intends to increase the role of private health care providers in one form or another. Some possibilities include privatizing the VA, or partially privatizing it, by allowing veterans to opt in to private care.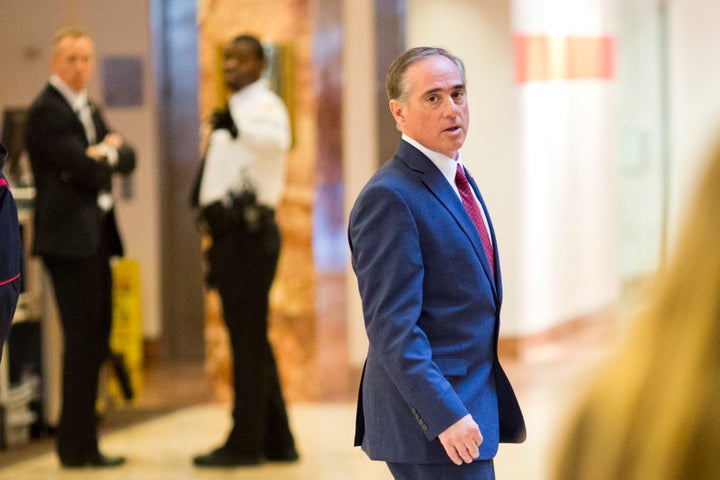 Top veterans groups such as the American Legion vehemently oppose these changes, arguing that only a federally run system is properly equipped to meet the unique health care needs of returning military service members.
Demand for VA services has grown significantly in recent years due to the influx of veterans returning from Iraq and Afghanistan, and the aging of Vietnam War veterans.
The VA has proved ill-equipped to deal with this increase. The agency has endured withering criticism for the wait times facing veterans and the efforts of some VA personnel to conceal those backlogs.
Retired Gen. Eric Shinseki resigned as VA secretary under pressure in May 2014 amid rising anger over lack of access to care and evidence of several schemes to cover up wait times. Robert McDonald was confirmed as the next secretary in July 2014.
Further, a bipartisan reform effort in August 2014, led by Sen. Bernie Sanders (I-Vt.) and then-Rep. Jeff Miller (R-Fla.), allocated $5 billion in additional funding for the VA medical system and created a path for veterans to seek private care under select circumstances, among other changes.
Advocates point to some signs of progress ― and many veterans groups had urged Trump to retain McDonald instead of nominating a new VA secretary ― but major problems still plague the agency. As of October, there were 3,000 more veterans than there were in 2014 waiting for an appointment at a VA facility for over 125 days, according to a report by the VA's inspector general.
Veterans of Foreign Wars of the United States, one of the veterans organizations that urged Trump to reappoint McDonald, applauded Shulkin's selection.
"The VFW is proud to support the nomination of Dr. David Shulkin as the next Secretary of Veterans Affairs, and we are most appreciative of his willingness to continue serving veterans and making the VA better," said Brian Duffy, national commander of the VFW.
AMVETS, which also pushed Trump to keep McDonald on, said it was "pleasantly surprised" by Shulkin's nomination, given reports that Trump might select a more ideological individual with the goal of privatizing the agency.
"In the absence of clarity about who was to lead the VA, we grew more than a little concerned that political considerations might undermine veterans' best interests," AMVETS Executive Director Joe Chenelly said in a statement. "But this wise decision by President-elect Trump validates what we've long known and said ― that the Veterans Health Administration is on the right track despite a prolonged, concerted smear campaign aimed at dismantling and privatizing veterans care. We applaud the transition team's diligence."
Iraq and Afghanistan Veterans of America praised Shulkin's record, but struck a more ambivalent tone, noting his lack of personal experience as a veteran.
"We are optimistic about the nomination of Dr. Shulkin by the President-elect. He is well known to us, a man of character and has been a trusted partner of IAVA at VA. However, his selection is unprecedented. Our membership overwhelmingly supported the selection of a veteran for this critical leadership position," Paul Rieckhoff founder and CEO of IAVA said in a statement.
AMVETS' Chenelly also noted his members' preference for a veteran, but said he was "heartened by the fact that Dr. Shulkin seems to legitimately 'get it.'"
Concerned Veterans for America, a conservative veterans group founded by the billionaire Koch brothers, avoided judgment in its reaction to Shulkin's nomination.
"It is no secret that the VA has been failing veterans for years," Concerned Veterans for America Executive Director Mark Lucas said in a statement. "While Shulkin already holds a leadership position at the VA, as Secretary, he will now have ultimate responsibility over the agency and we are hopeful he will take it in a new direction."
Lucas' remarks are notable for their absence of negativity, given Concerned Veterans for America's relentless criticism of the federal agency and work advocating the privatization of the VA's health care system. In an apparent blow to CVA, Trump also decided against naming Pete Hegseth, a former CEO of CVA and current Fox News contributor, to head the VA.
Lucas suggested, however, that CVA will continue to push for expanding veterans' access to private care providers.
"CVA will seek to partner with Shulkin on urgently needed reforms, such as empowering veterans to access care outside the VA when the VA is failing them," Lucas said.
Even Connecticut Sen. Richard Blumenthal, the ranking Democrat on the Senate Veterans Affairs Committee, expressed cautious optimism about Shulkin.
"I welcome the opportunity to hear from David Shulkin on how he will continue to work with me on significantly improving the services and benefits we owe our veterans ― which all too often our nation has failed to provide. Among Cabinet nominees who lack experience or expertise necessary to run the Departments they have been nominated to lead, David is a welcome exception," Blumenthal said in a statement.
Amanda Terkel contributed reporting. This post has been updated with reaction from veterans groups and Blumenthal.