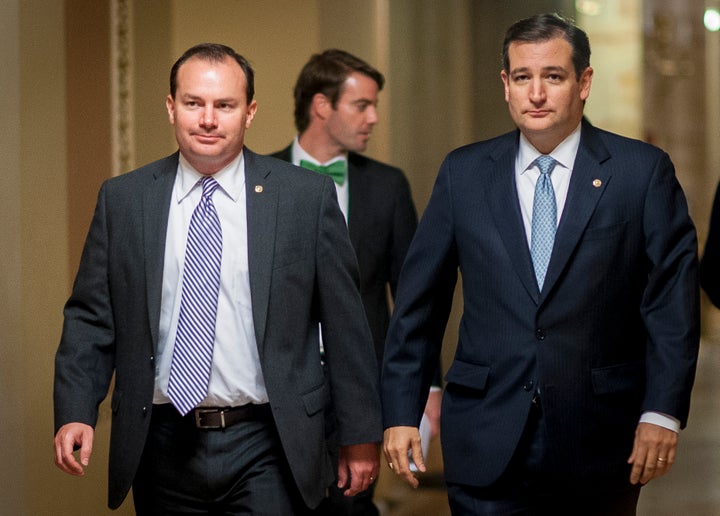 Sen. Mike Lee (R-Utah), one of Donald Trump's more outspoken skeptics, urged the presumptive nominee to appoint one of three Republican senators as his running mate in order to calm conservative concern over his candidacy.
In an interview with The Huffington Post, Lee said that Sens. Ted Cruz (R-Texas) and Marco Rubio (R-Fla.) should be on Trump's short list, calling the two good choices. Asked about another colleague, Sen. Rand Paul (R-Ky.), Lee initially balked but then said that he too would help flesh out Trump's ticket.  
"I think Trump needs to gain the trust of the conservative base within the Republican Party and he needs a VP who would help him do that," said Lee. "Cruz, Paul and Rubio all have substantial followings. They were all presidential candidates and they are all respected among members of the conservative grass-roots activist base and I think Trump really needs that."
If anyone is aware of the type of conservative skeptic that Trump needs to reach, it's Lee himself. The Utah Republican has refused to endorse Trump, and on Wednesday, he erupted on a conservative radio talk show host for asking why he was refusing to support the candidate.
"I mean, we can get into the fact that he accused my best friend's father of conspiring to kill JFK," Lee responded, referencing the time that Trump discussed a National Enquirer item saying that Cruz's dad was pictured in New Orleans with Lee Harvey Oswald in 1963.
Lee told HuffPost that it wasn't just Trump's bombast that compelled him to withhold his support, but Trump's penchant for authoritarian-like policy too. In particular, Trump's declaration that he would unilaterally ban Muslims from immigrating to the United States struck Lee as likely unconstitutional -- "I'm not aware of any authority the president would have to simply say, that's it, I'm single-handedly banning all types of immigration of this sort or that sort" -- and dangerously similar to the type of persecution that his Mormon ancestors faced.
"There are lots of reasons why, as a religious minority myself, as a religious minority who belongs to a church whose people were ordered exterminated by the governor of Missouri in 1838, I find that kind of statement disquieting to say the least," Lee said. "It does a lot to explain his poll numbers in Utah. So yeah, that worries me."
By choosing someone like Cruz, Rubio or Paul as his running mate, Trump would soothe those worries. But that's all premised on those senators agreeing to serve on the same ticket. Rubio has ruled it out, choosing to run for re-election instead. Cruz has not endorsed Trump. And while Paul apparently hasn't discussed it much (if at all), there have been few if any reports that Trump has taken him into consideration.
CORRECTION: This article previously misstated that the National Enquirer claimed Ted Cruz's father knew Lee Harvey Oswald in Cuba; its story claimed that the senior Cruz had been photographed with Oswald in New Orleans in 1963.
Calling all HuffPost superfans!
Sign up for membership to become a founding member and help shape HuffPost's next chapter