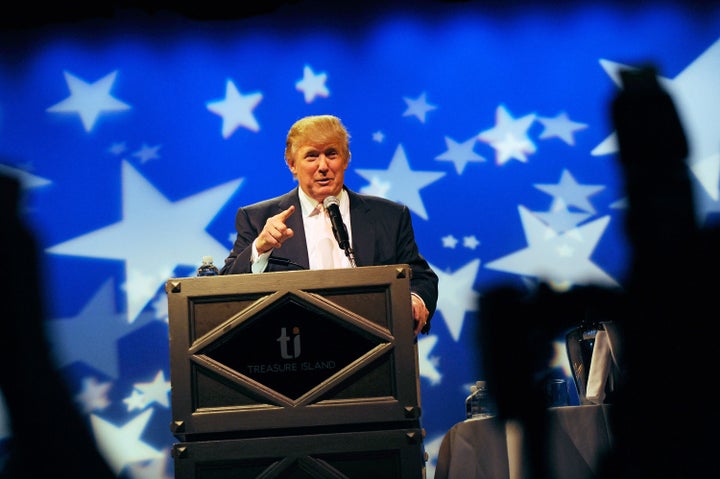 Earlier this week, Donald Trump said during an interview that he avoided being called to serve in the Vietnam War because he "got lucky" and "had a very high draft number." The Smoking Gun reports, however, that appears not to have been the case.
According to the website, Selective Service records tell a different story:
By the time his number (356) was drawn during the December 1, 1969 draft lottery, Trump had already received four student deferments and a medical deferment, according to military records on file with the National Archives and Records Administration. An extract of Trump's Selective Classification record, seen here, was provided in response to a TSG records request.

(Click here to view the records obtained by The Smoking Gun.)
National Review Online relays what Trump initially told New York-based station WNYW about the matter earlier this week. "I was sitting at college, watching," he said to the local outlet, "I was going to the Wharton School of Finance. And I was watching as they did the draft numbers and I got a very, very high number and those numbers [they] never got up to."
The Smoking Gun reports, however, that the draft lottery that took place in December of 1969 came eighteen months after Trump graduated from the Wharton School at the University of Pennsylvania.
National Review Online questioned the claims made by Trump to WNYW on Thursday. Brian Bolduc wrote:
But in her biography of Trump, Donald Trump: Master Apprentice, journalist Gwenda Blair attributes the Donald's escape of the draft to another factor: "Donald's military career ended with NYMA graduation; despite his athletic prowess, in 1968 he received a medical deferment from the military draft."
Trump has yet to announce whether he plans to run for president in the next election cycle. During a stop in Las Vegas on Thursday night he said he could be expected to make his plans known by June 1. When one woman at the event shouted "run for president," the billionaire reportedly responded, "I think I am going to make you very happy on that."