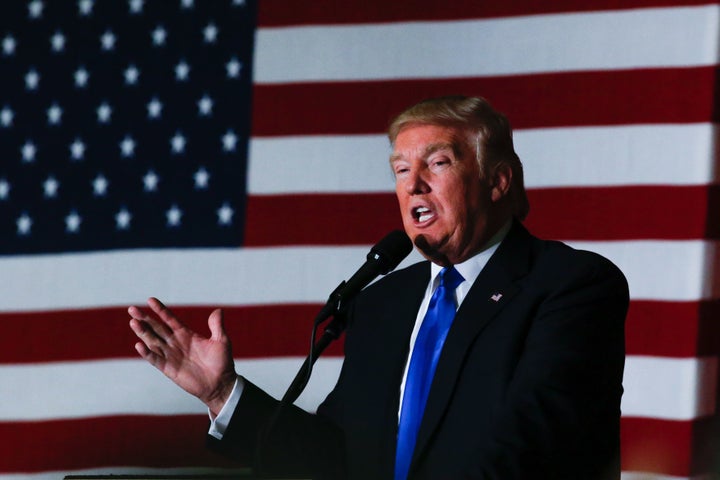 NEW YORK -- The Clintons didn't kill Vince Foster. There was no evidence decades ago to support conspiracy theories surrounding the former Clinton White House aide's suicide -- and none now.
Yet the 23-year-old accusation was resurrected Monday night after presumptive Republican nominee Donald Trump told The Washington Post there's something "very fishy" about Foster's death, suspicions that reporter Robert Costa, who interviewed the Republican candidate, highlighted on Twitter.
"It's the one thing with her, whether it's Whitewater or whether it's Vince or whether it's Benghazi," Trump told The Post. "It's always a mess with Hillary."
Trump suggested Foster "knew everything that was going on, and then all of a sudden he committed suicide." Just, ya know, pointing out an interesting sequence of events.
Such suspicions were quickly picked up by major news outlets, shared on social media and hashed out Tuesday on CNN, MSNBC and Fox News. The article, splashed across The Drudge Report, was The Post's most-read piece on Tuesday afternoon. The spread of Trump's baseless suspicions raises a simple question: Why are we even talking about any of this to begin with?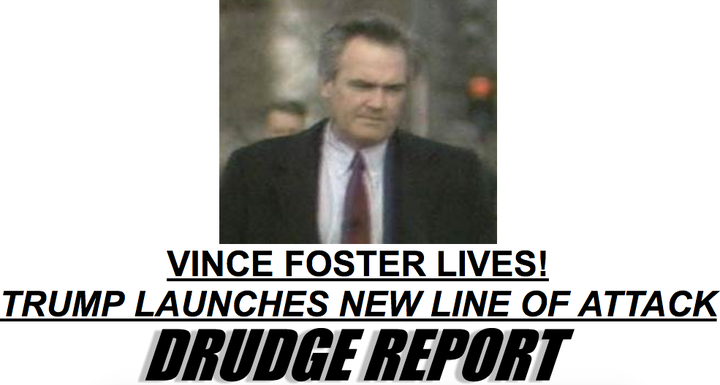 Trump, like any candidate, bears responsibility for his remarks in the press. But The Post acknowledged having initially brought up Foster's death, thereby giving the decades-old conspiracy theory oxygen while simultaneously describing it as "far-fetched":
When asked in an interview last week about the Foster case, Trump dealt with it as he has with many edgy topics — raising doubts about the official version of events even as he says he does not plan to talk about it on the campaign trail.

He called theories of possible foul play "very serious" and the circumstances of Foster's death "very fishy."
Last week, Costa and reporter Philip Rucker talked to Trump for an article about how the controversial candidate was planning to "rehabilitate his image" for the general election. Some of Trump's comments from that May 16 interview appeared in an article the following day. The remarks about Clinton and Foster weren't published until Monday.
"The topic of Vince Foster came up during a lengthy and wide-ranging interview last week with Donald Trump," Washington Post Senior Politics Editor Steven Ginsberg said in an email to HuffPost. "His comments are newsworthy, especially given his willingness to bring up long-discredited conspiracy theories as part of his presidential campaign."
Foster, in short, was journalist bait: something thrown out there to see just how far Trump was willing to go. And he's clearly willing to go far. Trump's tendency to latch onto conspiracy theories had even prompted RedState Managing Editor Leon Wolf to suggest earlier this month that reporters ask him about the Foster affair.
As The Post sees it, the question serves a larger purpose of showing a presidential candidate willing to peddle falsehoods and Internet rumors. But it comes with the risk of legitimizing those very conspiracy theories that probably should die.
Instead of just admitting that the theory of Clinton killing Foster was false, for example, some supporters, like former Mississippi Gov. Haley Barbour, tried deflecting blame away from Trump and toward The Post for asking the question in the first place.
"If I asked you, 'What do you think about Vince Foster's death in 1993?' I know what your response would be. You'd stay away from it," MSNBC's Joe Scarborough told Barbour on Tuesday's show.
"Every other respected Republican politician on Capitol Hill that you and I both know that would want to be president of the United States would stay away from it," Scarborough continued. "Instead Donald Trump talked about it. He talked about it at length."
Popular in the Community