CLEVELAND -- Despite rebukes and calls for civility from Republicans like Ted Cruz and Marco Rubio, Donald Trump's army of supporters are with him now more than ever.
A day after protesters forced the GOP front-runner to cancel an event in Chicago amid ugly clashes not seen during political rallies in decades, the atmosphere among supporters in Cleveland felt more subdued thanks to a beefed-up security presence.
The rally, held at a massive exhibition center near the Cleveland airport, felt pretty run-of-the-mill compared to other Trump events. Families and children clad in Trump gear munched on pizza and enjoyed ice cream, giving the venue somewhat of a carnival vibe. It was a far cry from Friday's skirmishes, nor did it require U.S. Secret Service members to hurriedly encircle the candidate after a man rushed the stage, as occurred at a rally earlier in the day in Dayton.
Still, the presidential hopeful's nearly 40-minute-long speech was interrupted seven times by protesters, some of who shouted "Black Lives Matter," the slogan protesting violence toward African Americans. Trump claimed they were organized by Democratic presidential candidate Sen. Bernie Sanders (I-Vt.), who denied the allegation later in the day.
"These are Bernie's people," Trump said, repeating the charge after each successive protester was led out of the room. "They have no voice. It's a Bernie person. Hey, Bernie, get your people in line!"
"My people aren't violent."
Trump further blamed the Chicago protesters for the violence that occurred Friday night, warning that the incident would only gin up his supporters to hand him a "resounding victory" in Tuesday's primaries.
"Yesterday in Chicago we had a little bit of a problem. We were not allowed to exercise our First Amendment rights," he said. "It just makes all of our friends and supporters more angry."
"My people aren't violent," he added, to huge applause. "It's these people that come in."
Friday's violence prompted condemnations from Trump's rivals, even those who have been hesitant to criticize the brash businessman in the past. Ohio Gov. John Kasich (R), whom Trump criticized heavily during Saturday's rally, accused the real estate mogul of fostering a "toxic environment" at his events. A visibly disturbed Sen. Marco Rubio (R-Fla.) said Saturday that Trump's rhetoric reminded him of "third-world strongmen" and further seemed to back away from his vow to support the future GOP nominee, whoever he may be. And Sen. Ted Cruz (R-Texas) said that Trump's campaign "affirmatively encourages violence."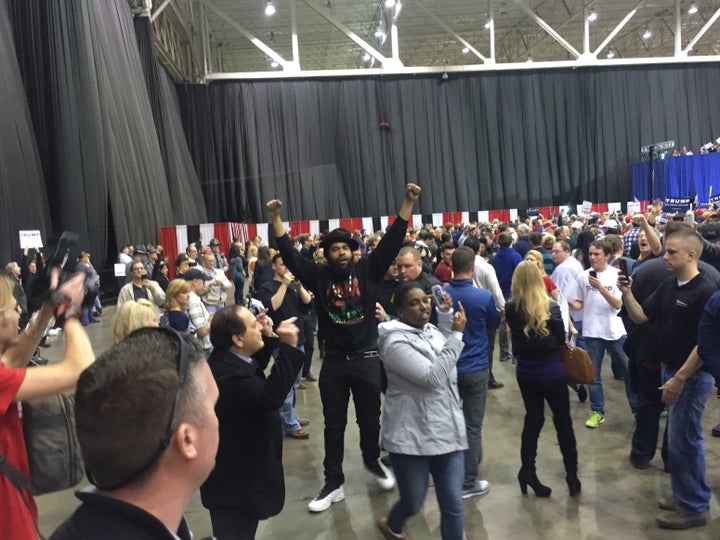 But the calls for civility fell on deaf ears at Trump's rally in Cleveland. If anything, according to Trump's fans, the protesters had no business being there, and some even deserved a punch in the face.
"Those people come to get punched," said Ed Honeywill, a 60-year-old wearing Harley-Davidson gear who sells car stereos in Pittsburgh. "Those people come to object to what's going on. We didn't ask for them to come. We're here having a meeting. And they want to come disrupt it? They deserve what they get. They brought that upon themselves when they walked in that door, that hell might break out. And it did. What did they think was going to happen?"
Susan Dzomba, a resident of suburban Cleveland, said Friday's incident nearly made her cancel her plans to attend Saturday's rally. But, she said, another culprit was to blame.
"People are nuts. The world is crazy," she said. "I don't think he's out of control at all. If anything, I think the media's out of control."
Other Trump supporters said they saw a more sinister -- if not outlandish -- scheme at the heart of Friday's violence in Chicago.
"That was all staged by the higher-ups in the Republican Party, because they're afraid of Trump," said Jeff Marshaus, 53. "You won't get the top names coming out saying it, but they don't want Trump."
Marshaus, who works as a truck driver in Cleveland, added, "Trump can't control it. He's just one person. It's not like he's saying go out and do this. We're all individuals. He can't control everybody."
After a week marked by violence on the campaign trail -- a black protester was punched in the face at a Trump rally in North Carolina on Wednesday -- Saturday's event was something of a return to normalcy. But tensions were still high. At one point before Trump made his entrance on stage, a loudspeaker played a recording warning not to "harm or touch" protesters, drawing boos from supporters.
Outside the exhibition hall, long after Trump had finished speaking, groups of attendees fiercely argued with anti-Trump protesters, many of whom carried signs reading "Dump Trump." Police encircled the area on foot and horseback in case of skirmishes. Some Trump supporters shouted at black protesters, creating a particularly ugly scene.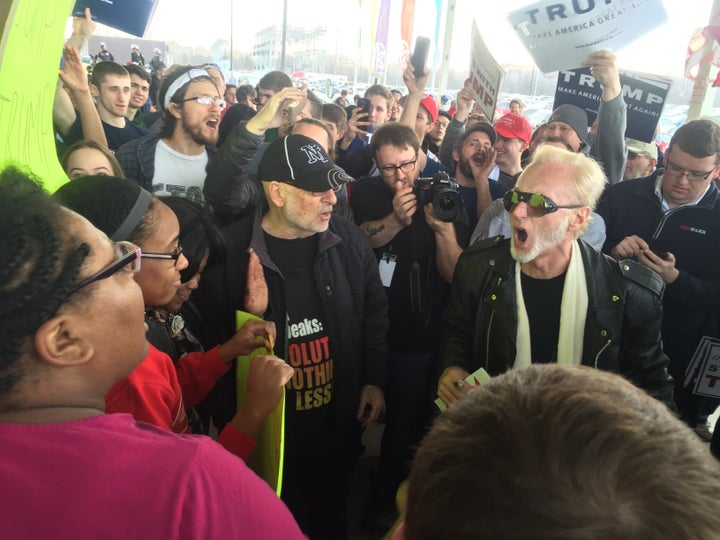 "Go back to Africa!" yelled one man dressed in camouflage clothing.
Another man trailed the black protesters as they dispersed, taunting them with, "I like your hair! Nice weaves!"
At one point Honeywill got in on the action, getting into the face of a young black college student.
"Get off welfare!" he screamed, before adding, "Dogs!"
A short distance away from the main group of quarreling supporters, two men angrily shouted at each other over whether America was turning into Nazi Germany.
Elisabeth Weems, a black college student who demonstrated inside and outside the exhibition hall, described her experience.
"It's terrifying. I was really reluctant to go in because I wasn't exactly sure, with the notoriety of Trump supporters in these rallies," she said. "It's almost the same feeling of an undercover black person walking into a Klu Klux Klan rally and feeling like you're going to be exposed and feeling like you're in this atmosphere of hatred and negativity."
Before You Go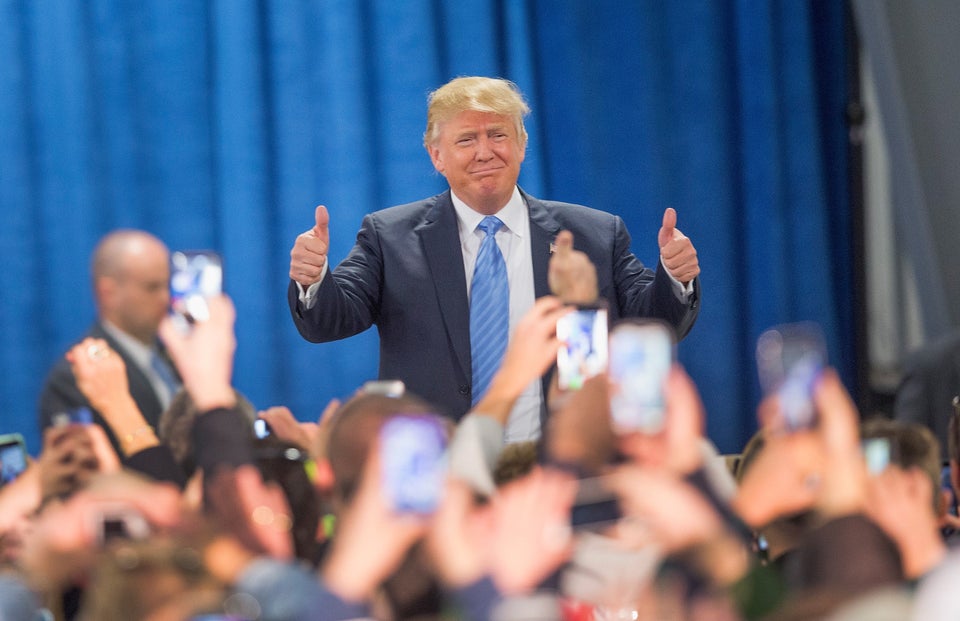 Donald Trump On The Campaign Trail
Popular in the Community