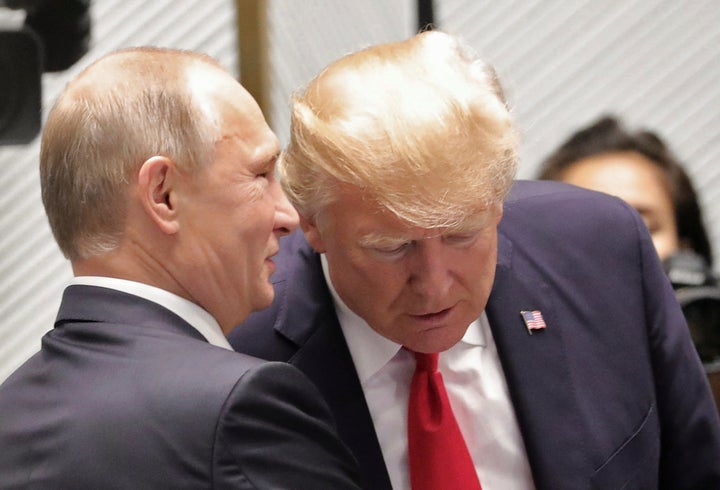 President Donald Trump on Wednesday tweeted a bizarre and ominous defense of his widely criticized decision to congratulate Russian leader Vladimir Putin, who was re-elected on Sunday.
Despite an explicit, all-caps warning from his advisers to "NOT CONGRATULATE" Putin ― likely because Trump's campaign aides are under investigation for alleged collusion with Moscow ― Trump called him up and the pair had what he described as "a very good call."
"Getting along with Russia (and others) is a good thing, not a bad thing," Trump tweeted. "They can help solve problems with North Korea, Syria, Ukraine, ISIS, Iran and even the coming Arms Race ... PEACE THROUGH STRENGTH!"
It's not clear what "coming arms race" he's referring to ― rising tensions between Washington and Pyongyang have started to simmer since Trump and North Korean leader Kim Jong Un arranged a meeting to be held in May to negotiate the isolated nation's denuclearization.
Meanwhile, Putin unveiled his country's new, "invincible" nuclear weapons earlier this month and claimed they could reach "anywhere in the world." He used visual presentations to show off their purported strength, including one that appeared to show missiles raining down over Florida. The U.S. State Department responded by saying the veiled threat did not represent "the behavior of a responsible international player."
"The Russians are laughing at us that we are moving back from the world stage, and they are moving forward ― taking whatever they want without any resistance."
It's also unclear how, exactly, Trump expects Russia to "help solve problems" in Ukraine. Under Putin's rule, Russia annexed Crimea from Ukraine in 2014, which sparked a violent political crisis. Putin visited Crimea this month to rally additional support ahead of his election, which Ukrainian President Petro Poroshenko decried as "a dangerous provocation."
And Trump's suggestion that Russia can "help" with Syria is equally puzzling. Moscow continues to back the Syrian regime's slaughter and besiegement of its own citizens. Russian airstrikes, including indiscriminate attacks on hospitals and school buildings, have demolished Syrian neighborhoods and killed thousands of civilians in the war-torn country with impunity. Experts say Russia avoided targeting areas controlled by the Islamic State group for much of its intervention in Syria, instead focusing on rebel-held areas in an effort to prop up Syrian President Bashar Assad.
MSNBC national security analyst Clint Watts described Trump's assertion that Russia can "help" the U.S. as simply "ridiculous."
″[Trump] says they could help us? What we're doing is helping [Putin]," Watts said. "The Russians are laughing at us that we are moving back from the world stage, and they are moving forward ― taking whatever they want without any resistance."
Related
Before You Go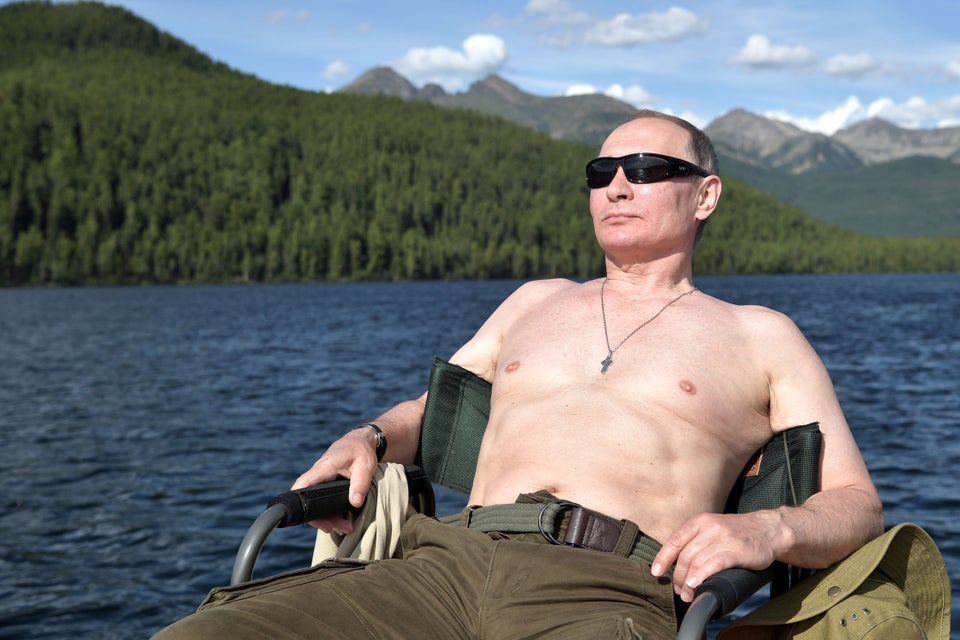 Putin Being Putin
Popular in the Community