President Donald Trump's false claim that millions of people voted illegally in the 2016 presidential election is easy to disprove, but his call to investigate voter fraud is likely to empower Republicans across the country to pass restrictive photo ID bills and other voter suppression laws.
Trump has claimed, without evidence, that between 3 and 5 million people voted illegally in the 2016 election and is calling for an investigation. His fear-mongering comes as Republicans push for laws that largely make voting more difficult for low-income people and minorities. Last year, federal courts struck down voter ID laws in North Carolina, Texas and Wisconsin.
Allegations of widespread voter fraud coming from the president of the United States lend credibility to a claim that's simply untrue. And top Senate Republicans have begun bolstering Trump's lies by refusing to call him out.
"A lot of times, when state politicians are making it harder to vote, like [by passing] strict voter ID laws, they'll often say, 'Oh, you know, my constituents want it.' And a lot of times, that public concern really comes from statements like these," said Jennifer Clark, counsel in the democracy program at the Brennan Center for Justice.
"Unfounded statements that really aren't traced to any facts, but that people hear, and they hear again and again ... creep into the public consciousness. So it's definitely, I think, a huge cause for concern," Clark added.
"When the president lies – and lies about the voting actions of 'millions' of Americans – he directly threatens democracy."
Trump has already shown an ability to bring fringe theories into the mainstream. He launched his political career on the lie that President Barack Obama was not born in the United States and stoked theories during the presidential campaign that his Democratic opponent, Hillary Clinton, was hiding an illness.
Conspiracy theories about voter fraud have long been floating around, but backing from the president of the United States has elevated them to an entirely new level, said Allegra Chapman, director of voting and elections and senior counsel at Common Cause.
"You bet I'm concerned," Chapman wrote in an email. "When the president lies – and lies about the voting actions of 'millions' of Americans – he directly threatens democracy. We've heard this nonsense from some, but from the president? It's outlandish and worrisome."
"We hope state legislators have better sense than to pick up on these lies and introduce suppressive measures," she continued. "If nothing else, they should be deterred from doing so based on what the courts are starting to say. Strict photo ID laws are discriminatory, keep people of color from the voting booth, and are a proposed 'solution without a cure.' Any legislature following up on Pres. Trump's remarks with strict photo ID laws should be prepared for a losing battle."
Some Democrats on Capitol Hill have already said they will fight to block any effort to impose restrictive voting laws.
In the early 2000s, the Department of Justice spent five years investigating claims of voter fraud and found barely any instances of it. The investigation discovered that 120 people had been charged with voter fraud and just 86 had been convicted between 2002 and 2007. Even though it turned up miniscule evidence of voter fraud, Clark said the probe stoked public concern and led states to begin passing restrictive voter ID laws.
How will Trump's first 100 days impact you? Sign up for our weekly newsletter and get breaking updates on Trump's presidency by messaging us here.
Sign up for the HuffPost Must Reads newsletter. Each Sunday, we will bring you the best original reporting, longform writing and breaking news from The Huffington Post and around the web, plus behind-the-scenes looks at how it's all made. Click here to sign up!
Before You Go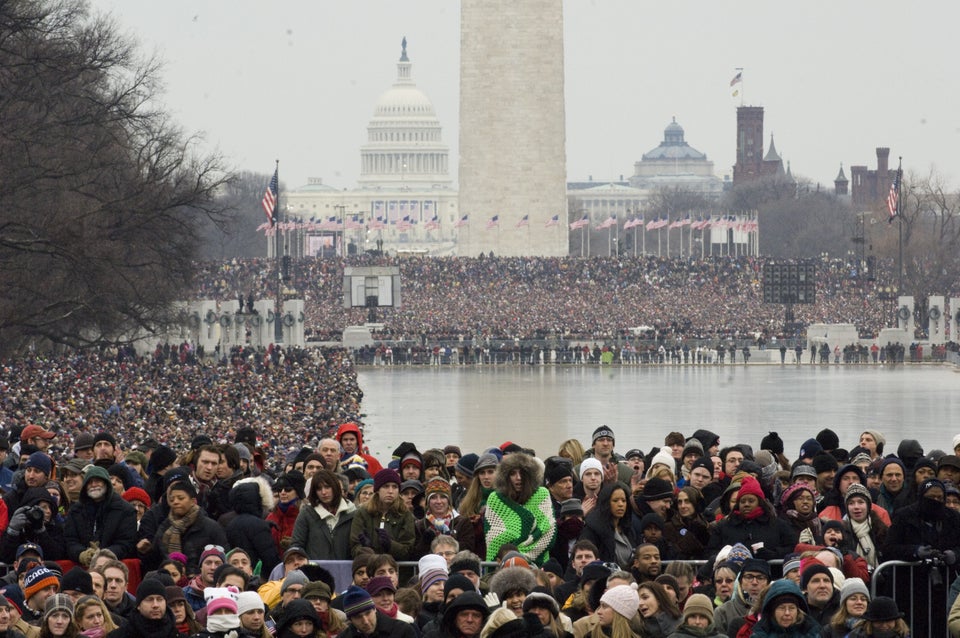 Obama and Trump Inauguration Crowds
Popular in the Community