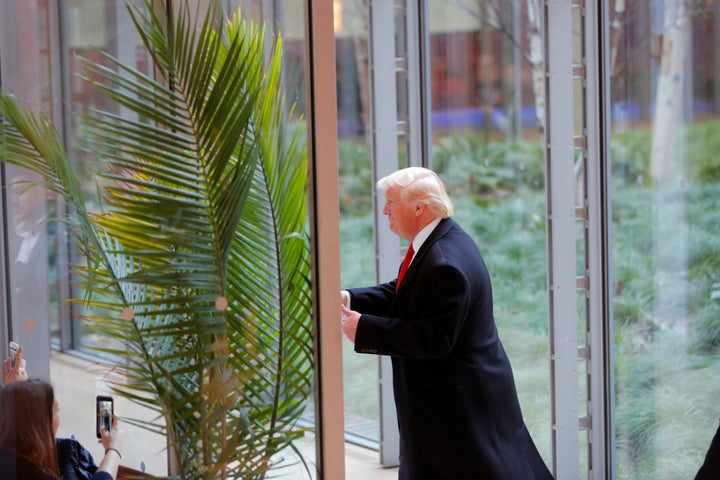 Americans who voted for Donald Trump think his transition team is making a bad decision by backing away from his threat to appoint a special prosecutor to investigate Hillary Clinton's use of a private email account and server while she was secretary of state, according to a new HuffPost/YouGov survey.
Few Americans overall think an investigation would be a good idea. Just 34 percent would favor Trump's appointing a special prosecutor, while 42 percent would oppose him doing so, and 24 percent aren't sure.
Many of Trump's voters, however, aren't yet willing to retire the "lock her up" chants. Sixty-eight percent of those who voted for Trump said they'd favor asking a special prosecutor to investigate Clinton. Among that group, 42 percent said that it's "very important" that Trump launch such an investigation, with a total 79 percent saying it's at least "somewhat important" to them.
When told that Trump has seemingly decided not to have Clinton investigated, those who voted for him said by a 7-point margin ― 36 percent to 29 percent — that he's made a bad decision. Perhaps caught between a desire to punish the Democratic nominee and an unwillingness to criticize Trump, a substantial portion, 36 percent, said they're not sure.
They're are evenly split on whether or not he's breaking a campaign promise, with 37 percent saying that he has, 37 percent that he has not and 26 percent that they don't know whether or not he's doing so.
Still, Trump's voters largely feel that he's so far carried out what he's promised to do. Americans who voted for the president-elect said by a 40-point margin, 45 percent to 5 percent, that he's so far living up to his campaign promises, with the remaining 50 percent saying it's still too early to tell. By contrast, just 6 percent of Clinton voters think Trump is fulfilling his promises, with 45 percent saying that he is not and 49 percent that it's too early to know.
The HuffPost/YouGov poll consisted of 1,000 completed interviews conducted Nov. 24-28 among U.S. adults, using a sample selected from YouGov's opt-in online panel to match the demographics and other characteristics of the adult U.S. population.
The Huffington Post has teamed up with YouGov to conduct daily opinion polls.You can learn more about this project and take part in YouGov's nationally representative opinion polling. Data from all HuffPost/YouGov polls can be found here. More details on the polls' methodology are available here.
Most surveys report a margin of error that represents some, but not all, potential survey errors. YouGov's reports include a model-based margin of error, which rests on a specific set of statistical assumptions about the selected sample, rather than the standard methodology for random probability sampling. If these assumptions are wrong, the model-based margin of error may also be inaccurate. Click here for a more detailed explanation of the model-based margin of error.
Popular in the Community