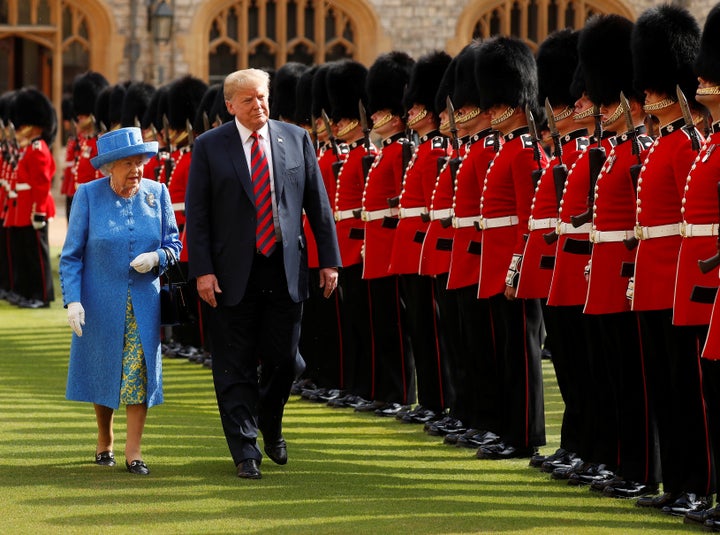 The royal family adheres to a strict code of etiquette and behavior. So when the ever-boisterous President Donald Trump met with Queen Elizabeth II for tea at Windsor Castle on Friday, many expected him to serve up some awkward interactions.
Of course, Trump did not disappoint.
The president's critics on Twitter were quick to call him out for briefly walking in front of the queen, which is reportedly a social faux pas, during a ceremonial inspection of the Guard of Honor.
Reuters noted that Trump "halted abruptly" during the inspection, forcing Queen Elizabeth to walk around him.
Video of their meeting shows the 92-year-old queen gesturing to Trump as he makes his way down the line of guards, slightly ahead of her. She shuffles briefly behind Trump, at one point disappearing behind him altogether. Eventually, the pair walk side by side to complete the inspection.
The awkward moment had many on Twitter asking: Did Trump just walk directly in front of Her Majesty, Queen Elizabeth II?
While walking ahead of the queen is frowned upon, it isn't outright banned by the royal family. The royals' website offers a list of etiquette rules to consider when in the presence of royalty, but it notes that "there are no obligatory codes of behavior."
However, it does note: "Many people wish to observe the traditional forms."
Grant Harold, a former butler for the royal family, told ITV News before Trump's visit that the most important protocol he should follow is letting the queen lead whenever they are walking together.
"The Queen very much will take the lead, so for example, if they're going somewhere or having a walk around, the Queen will actually walk slightly in front or alongside Mr. Trump," Harold said.
The rest of Donald and Melania Trump's visit with Queen Elizabeth appeared to continue smoothly. According to CNN, the Trumps chatted with the queen after the inspection ceremony, listened to the military band play and watched the Coldstream Guards march in formation before heading into the castle for tea.
In London, Trump's presence wasn't as happily welcomed.
Large crowds gathered to protest the president's visit. The daylong protests included a 20-foot blimp that looked like an angry baby Trump and signs that criticized the Trump administration's policies.
Before You Go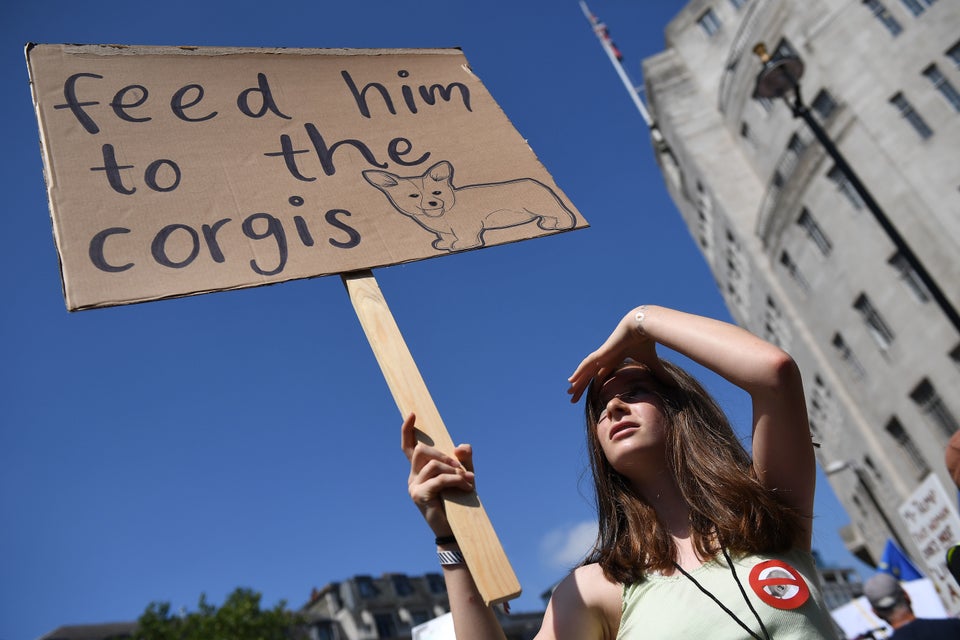 Best Trump U.K. Protest Signs
Popular in the Community